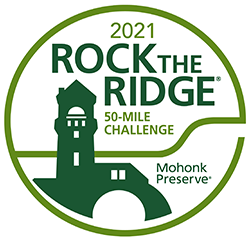 Rock The Ridge  | September 25, 2021
Registration has reopened for a limited time. Don't wait! Register today.
---
Rock The Ridge is a 50-mile endurance challenge...
Set in the natural beauty of the Shawangunk Mountains of New York's Hudson Valley, an area described as "one of Earth's last great places," the goal is to run or hike a 50-mile course within 18 hours. What better way to spend a day than winding along well-maintained carriage roads, through lush forests and over ridgelines with magnificent vistas.
Rock The Ridge supports a great cause...
This event supports Mohonk Preserve's mission to protect the Shawangunk Mountains region and inspire people to care for, enjoy, and explore their natural world.  With over 8,000 acres of mountain ridges, forests, fields, streams, ponds, and other unique and beautiful places, Mohonk Preserve is the largest member and visitor-supported nature preserve in New York State. 
Each year, funds raised during Rock The Ridge helps Mohonk Preserve continue to provide:

We salute all Ridge Rockers, who since 2013 have collectively raised over $1,800,000 to support Mohonk Preserve's award-winning conservation science, environmental education, land protection, and stewardship programs. 
Rock The Ridge is a major achievement...
With a 6 am start, the 18-hour time limit accommodates people with a range of abilities, including hikers, joggers, runners, and ultramarathoners. We've hosted elite athletes alongside first-time 50-milers and relay teams that walked the entire distance. Any distance can be a struggle if you don't prepare properly, but with a good training program, 50 miles is an achievable goal! And, for those who aren't ready for 50-miles, the Relay division allows Ridge Rockers to complete the course in two-or four-member teams.
Whether you hike, run, or do some of each, Rock The Ridge will be an accomplishment that you'll remember with pride.
For questions about Rock The Ridge, please contact Tom Leader, Special Events Manager, Mohonk Preserve at tleader@mohonkpreserve.org or 845-255-0919 ext. 1241.
Banner Photo by John Aylward; Nora Cronin Presentation Academy of Newburgh during a Stream Ecology program by Karen Maloy Brady; American Kestrel being banded for research by Marc Sweet; Pin Oak Allee by Gerald Liddelow; Ridge Rocker on a carriage road by Kate Schoonmaker