A Heritage of Preservation in Harmony with Nature
With origins dating back to 1963, Mohonk Preserve has long been a place of recreation, reflection, and restoration. Through the support of our members, donors, and partners, the Preserve has been a leading voice for conservation, speaking with passion and authority to safeguard the natural lands in the Shawangunks, the Hudson Valley, and beyond. Today, Mohonk Preserve protects and manages in perpetuity over 8,000 acres of mountain ridges, forests, fields, streams, ponds, and other unique environments. As New York State's largest nonprofit nature preserve, every year we welcome 200,000 visitors who come to rock climb, mountain bike, hike, ski, and study and enjoy nature.
To accomplish our goal of protecting one of the region's most treasured and beautiful places for generations to come, we conduct programs in four key areas:
In order to protect and perpetuate life on the Preserve's lands, we use the latest generation of scientific research techniques, and support our research staff, visiting scientists, and interns who monitor the environmental systems of the Shawangunk Ridge as part of our "living laboratory." Click here to learn more.
At Mohonk Preserve, we protect the places you love and we make sure that they stay protected forever. Since our founding in 1963 we have protected over 8,000 acres of breathtaking cliffs, forested hollows, hidden wetlands, and pristine streams. With help from our members and supporters, we do this through careful prioritization and adherence to strict quality standards for land conservation and nonprofit management. Our professional staff and volunteers are dedicated to protecting the places that make the Shawangunks special and upholding the Preserve's land ethic in perpetuity. Click here to learn more.
For over three decades, Mohonk Preserve® has been providing innovative education programs that have gotten over 100,000 children into nature. Our award-winning NatureAccess® program provides quality outdoor education for people of all abilities, and our summer camps help children discover the wonders of the natural world. Our many diverse programs and events offer something for everyone, from recreationists to naturalists-at-heart, supporting lifelong learning and strengthening connections to the land. Click here to learn more.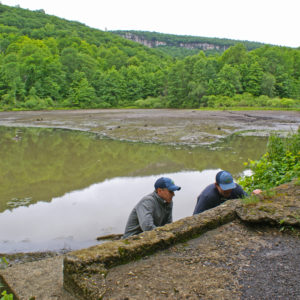 One of Mohonk Preserve's most important challenges is expanding opportunities for recreation in nature while protecting culturally and environmentally significant areas. Nowhere is this balancing act more apparent than in the dedicated work of our Land Stewardship staff. Click here to learn more.
The Preserve's Visitor Experience team focuses on the human dynamic at the Preserve with recreation, safety and support services. With recent increases in visitation, including new audiences, nurturing the experiences members and visitors have at the Preserve is more important than ever. The Visitor Experience team is committed to maintaining the critical balance between recreation and conservation, while promoting low-impact, Leave-No-Trace principles for all visitors.  Click here to learn more.
Banner Photo: Barred Owl by Karen Maloy Brady