Samuel F. Pryor III Shawangunk Gateway Campground
The Samuel F. Pryor III Shawangunk Gateway Campground is now open for the 2022 season through November 13, 2022!
Prices per campsite (up to two tents and four people):
American Alpine Club or Mohonk Preserve members – $24 per night
Non-members – $38 per night
Mohonk Preserve members use promo code: MohonkPreserve2022 when booking your campsite. Be sure to click the promo code checkbox after entering your code. You will then need to text a photo of your valid Preserve Membership card, or receipt if a new member and you have not received your card yet, to 303.951.4571 to complete your registration.
Your valid Preserve membership card may be checked again upon arrival at the campground.
Not a current Mohonk Preserve member? Join or renew today!
To book your campsite, click here.
Created in partnership by the American Alpine Club, Mohonk Preserve, New York State OPRHP, and the Palisades Interstate Park Commission, the Samuel F. Pryor III Shawangunk Gateway Campground opened in 2015 as the first new public campground in New York State in over thirty years and is a major addition to the Shawangunk Mountains region's lodging facilities. The campground is dedicated to the memory of Sam Pryor, an extraordinary conservationist whose life's work included bringing this project to fruition.
The American Alpine Club and Mohonk Preserve are cooperatively managing the tent-camping only campground. Campground amenities include a pavilion and cooking area, bathhouse and restroom facilities, and circulation trails. There are 24 drive-in spots (one vehicle per site) and 26 walk-in spots. All sites accommodate up to two tents (and four people) per pad. Recreational vehicles are not permitted.
Campers may access Mohonk Preserve, New York State's largest nonprofit nature preserve, via a connector trail to the Preserve's Visitor Center and historic carriage road network for world-class rock climbing and bouldering, hiking, mountain biking, trail running, and nature exploration. Memberships and day-use passes are available at the Visitor Center and all Preserve trailheads.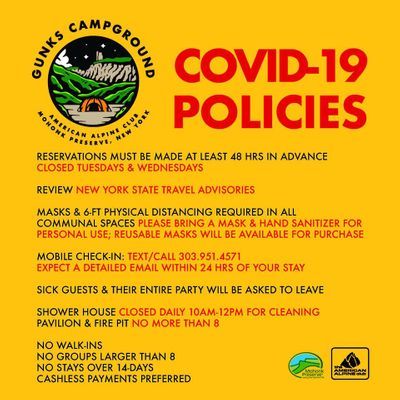 Banner photo by Jeff Severson