So that everyone has the opportunity to enjoy the outdoors…
Mohonk Preserve actively promotes the inclusion of people with disabilities on the land and within our programs. We offer a variety of services for visitors, including consultation before you arrive, as well as universally designed programs wherever possible.
Accessibility Report from New York State
How does it work? In advance of a visit to the Preserve, contact our Director of Education, Kathy Ambrosini, at kambrosini@mohonkpreserve.org to ask questions or discuss needs and concerns. Our staff includes New York State Certified Inclusivity Assessors and has expertise in therapeutic recreation, inclusive outdoor education and special education.
Many programs are universally designed, but our varied terrain and changing seasonal conditions should be a consideration in planning your visit. Staff with expertise in inclusion, special education, and outdoor education work to accommodate a wide diversity of abilities and learning styles. Accessibility consultations at the Mohonk Preserve are available for:
Individuals and Families
School Field studies classes
Summer camps
Public programs*
Outreach programs
Self-guided group visits
Public Programs and Events
Mohonk Preserve is committed to inclusive programming wherever possible. Special seating requests are often possible for lecture-style presentations and many public programs may be ASL-interpreted (American Sign Language) if requested a minimum of 10 business days in advance.  For additional information and/or to place a request contact kambrosini@mohonkpreserve.org. ASL-interpretation is not available for guided hikes.
Borrow our All-Terrain Wheelchair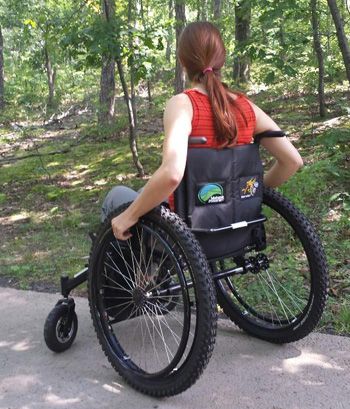 We are pleased to offer the use of our All-terrain Wheelchair for day visitors at the Mohonk Preserve.
Loan of the chair is available at our Visitor Center by reservation or on a first-come first-served basis. Users must be able to self-transfer from their existing mobility device to the all-terrain wheelchair and must not exceed the 250-pound weight limit.
Day loan of the chair requires a signed Waiver and Release of Liability and adherence to the following conditions of use:

Day use of the wheelchair is provided as a service to Mohonk Preserve visitors for use on Mohonk Preserve property only. There is no fee for use. All visitors must carry with them a valid day pass or membership card and must sign the waiver and release of liability. A valid driver's license belonging to the user or their personal care attendant will be photocopied.
The wheelchair must be returned in good condition to the Visitor Center at least 1 hour before closing (check Visitor Center hours of operation before departing).
Wheelchair use is restricted to the carriage roads and additionally on the Visitor Center's Grafton Sensory Trail and the path from the Coxing Entry lot to the picnic area. Off-trail use is not permitted.
Mohonk Preserve reserves the right to restrict use of the wheelchair seasonally and as trail conditions dictate.
Call 845-255-0919 ext. 1221 to reserve the All-terrain Wheelchair in advance, to be held until one hour past the selected pick-up time.
Accessibility Resources and NatureAccess®
We offer accessibility trainings for outdoor professionals at parks, nature centers, NGOs and governmental organizations, which are tailored to the needs of each organization.
Making Outdoor Programs Accessible is a 62-page, soft-cover "how to" manual that provides strategies from the NatureAccess® program and the tools needed to create programs to include diverse audiences. Click here for a brochure on the NatureAccess® program. Check out an excerpt from the program manual and order a copy.
Since 1994, the Preserve's accessibility program, NatureAccess®, has become a model for training outdoor professionals nationwide. In 1996, Mohonk Preserve received the Statewide Accessibility Award from the Association of Independent Living Centers of New York State. In 2006, the Preserve's Director of Education, Kathy Ambrosini, was recognized with the Beyond the Letter of the Law Award from the Resource Center for Accessible Living for leadership in pioneering the NatureAccess program, and was named 2010 Inclusivity Hero by the New York State Inclusive Recreation Resource Center.
Banner Photo by June Archer