We are proud of our sustainability efforts
At Mohonk Preserve, environmental stewardship is part of our DNA. Our founders, Daniel and Keith Smiley, were land stewards before conservation was part of the collective consciousness. At the beginning of the 20th Century, the brothers embarked on a study of natural history that would form the basis of the Preserve's conservation science-based land management and help shape the organization's stewardship ethic.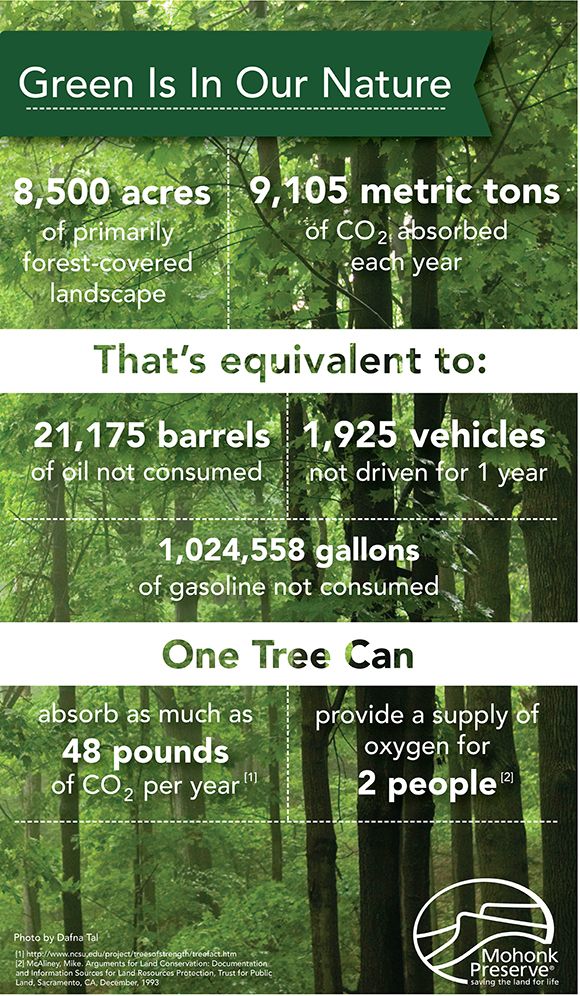 Eco-Friendly Building Design
The Mohonk Preserve Visitor Center features a number of environmentally friendly design features. The Preserve was on the forefront of integrating into its primary visitor service facility many of the environmentally friendly practices now promoted through Leadership in Energy and Environmental Design (LEED).
The Preserve was an early adopter of geothermal heat-exchange, an environmentally-sound technology comprised of 480-foot deep wells that use the constant temperature of the earth to heat and cool the Visitor Center – eliminating the need to burn fossil fuels.  We also incorporated low-e glass to optimize solar gain, high performance building insulation and our building site is micro-oriented into the sloped landscape to maximize thermal insulating of earth and wind impacts. The passive solar design of the building maximizes solar angles and optimizes daylighting. We carefully recycled wood and stone in the construction using trees harvested from the site and installed a 100 year natural slate roof.
The 2012 Visitor Center renovation took green design several steps further – we retrofitted the building's roof with permeable pavers, which help to control and recycle stormwater, reducing runoff and improving water quality. We also incorporated a "green roof" garden with native plants.
The Visitor Center has received green design awards by international, national, and regional design/building associations. We were recognized by the National Arbor Day Foundation/ National Association of Home Builders with the "Building With Trees Award of Excellence" and also received the "Excellence in Sustainable Design Award", recognition from the Environmental Guild of the New Hampshire Chapter of the AIA.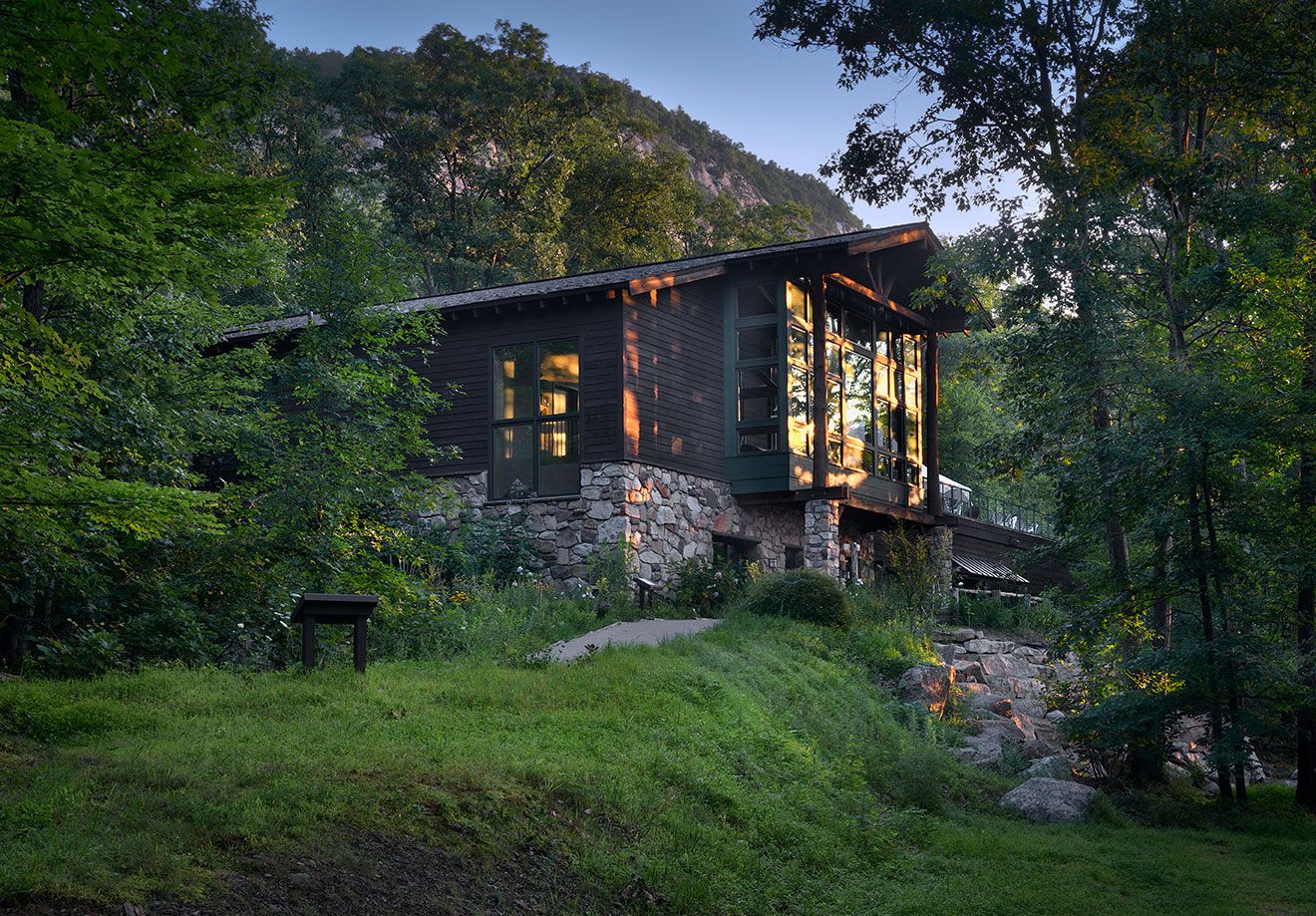 Photo: Visitor Center by Gerald Berliner
Environmentally Friendly Activities
Get to know the Preserve in an eco-friendly way!
 Kids can participate in the Junior Ranger Program as well as Summer Camps, which introduces children to the wonders of the outdoors with a hands-on approach.
Our staff and volunteers lead nature-inspired Public Programs for visitors of all ages and abilities.
Onsite exhibits, Orientation Theater, Children's Forest, hiking, rock climbing, biking, and nature study invite visitors to explore the Shawangunk Ridge.
Energy Saving, Recycling, and Conservation Efforts
Our staff makes every effort to conserve energy and recycle materials. Employing energy-efficient light bulbs, biodegradable cleaning products and recycled paper products, the Preserve continuously strives to reduce its carbon footprint.
Energy:
    Installation of low-energy use electric hand driers save 55,000 paper towels per year.
    Lighting upgrades are ongoing. We are continuing to switch our interior light bulbs to LEDs and all exterior lights have LEDs.
    Motion-sensor lighting is used in some interior locations. Timers are used on some exterior lighting.
    We use programmable thermostats in our Visitor Center.
    New appliance and computer purchases are Energy Star rated.
Water Conservation: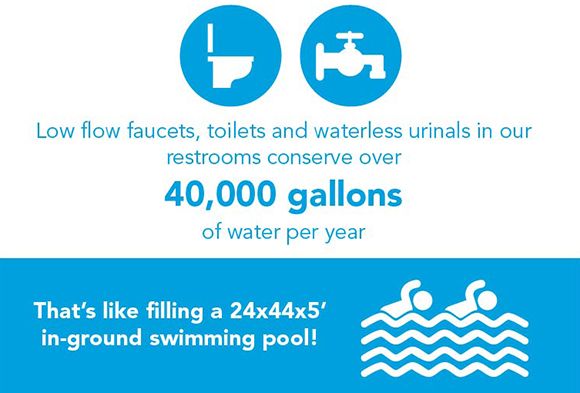 We recapture rainwater for watering gardens.
Mohonk Preserve offers New York State-sourced and locally delivered 5-gallon water dispensers at our trailheads.
At our Visitor Center we sell New York State-sourced, locally distributed, sustainable and traceable bottled water and encourage plastic recycling.
Recycling Efforts:
By recycling paper, glass, aluminum, cardboard, plastic, and more the Preserve is reducing its waste sent to landfills.
The Preserve composts kitchen waste at our office locations.
Our office uses reusable coffee filters in its single serve coffee makers.
Paper:
In 2016 we transitioned from a printed Annual Publication to an online version.
We have transitioned our annual calendar to FSC-certified paper and soy ink.
Our general and program brochures are printed on recycled paper.
In 2010 we transitioned from a print to electronic newsletter and we are using social media and e-blasts to share Preserve news.
We use Green Seal certified paper products (paper towels, toilet paper)
We have instituted online registration for Summer Camps, Junior Rangers and Public Programs saving reams of paper each year.
In 2015 we began using electronic sign-ups at our twice-yearly Healthy Ulster week – saving thousands of paper forms annually.
Hudson Valley Stewardship
 We have been committed to the NYS Adopt-A-Highway program for many years. Twice each year staff picks up an average of over 200 pounds of trash from our five miles of adopted roadway.
 We are working in collaboration with local land conservation partners to provide opportunities to the community to enjoy the ridge and surrounding outdoor opportunities without burning fossil fuels.

 Wallkill Valley Rail Trail – The Preserve launched a pilot program to share stewardship services surrounding the Giant's Ledges pocket park, the Wallkill Valley Rail trestle and Joppenbergh Mountain.
 Marbletown Rail Trail Association –The Preserve supported the Rail Trail Project signage initiative to enhance recreational experiences for the community.
 Mill Brook Preserve – The Preserve supported the Mill Brook Preserve Project in the Village of New Paltz, a project to establish a nature preserve in the heart of New Paltz, which will provide opportunities for educational experiences for the community.
 With grant funding the Preserve has been able to provide stewardship training for other New York land trusts & natural area management organizations to promote, encourage, and support the use of emerging and best practices to balance landscape and ecological protection with compatible human uses.
Travel/Vehicles
 The Preserve has long promoted carpooling through a link on our website to 511NYRideshare, a ride matching system that matches riders and drivers going to the same destination.
 The Preserve systematically replaces old fleet vehicles with new fuel-efficient models.
The Preserve installed EV charging stations at our Testimonial Gateway Trailhead.
 The Preserve is working with our colleagues at Open Space Institute, SUNY New Paltz, and the Town and Village of New Paltz on developing transportation alternatives to reach the ridge and environs.
Along with Open Space Institute, the Mohonk Preserve Foothills hosts part of the River-to-Ridge Trail that facilitates safe, off-road pedestrian and bike access from the Town and Village of New Paltz to the Shawangunk Ridge. We're also participating with SUNY New Paltz and the Town of New Paltz on planning for additional pedestrian, bike, and bus access to the ridge, which would have the dual benefits of reducing traffic and increasing healthy outdoor activity.
For the Future
At Mohonk Preserve, every day is Earth day and we never stop exploring ways we can grow greener. Some of the ideas we are investigating include:
    Install additional EV charging stations
    Solar Farm Installation
    Use online methods for program evaluation forms
    Use of compostables for events, meetings and activities
    Offer Sustainability workshops as Public Programs
Photo by Maryalice Citera