Dear Supporters,

Generous supporters like you make Mohonk Preserve's conservation mission possible. We are deeply grateful for your giving, which has a real impact.

Throughout 2018 the Preserve staff and board, with input from stakeholders, worked on our next Strategic Plan "Vision 2020 and Beyond," creating four Strategic Intentions to:

Foster Conservation – advance land protection, science-based land management, environmental monitoring, and place-based education and interpretation to foster a strong conservation ethic and help mitigate the impacts of climate change; Deepen Connections – emphasize the importance of conservation through recreational, educational, and cultural experiences in nature for our members, visitors and the larger community; Be Inclusive – inform our decisions, policies and programs with the values of diversity, equity and inclusion to be more representative of and welcoming to all people; and Nurture Resilience – balance resources and opportunities, and align capacity so that our excellent staff can succeed and thrive.

An ambitious priority initiative continues to be creating our first new trailhead in 25 years in the Mohonk Preserve Foothills – a gateway to nature that will enable more recreational, citizen science, and educational opportunities for our visitors and members, unite the valley and ridge, and foster accessible experiences on gentle terrain.

People come to the Preserve for many different reasons, but they support one common mission.
You're the folks who make it all possible and we are proud to partner with you as we protect and sustain the Preserve now and for future generations.  
Thank you so much!
Glenn Hoagland, President

Russ Clune, Board Chair
---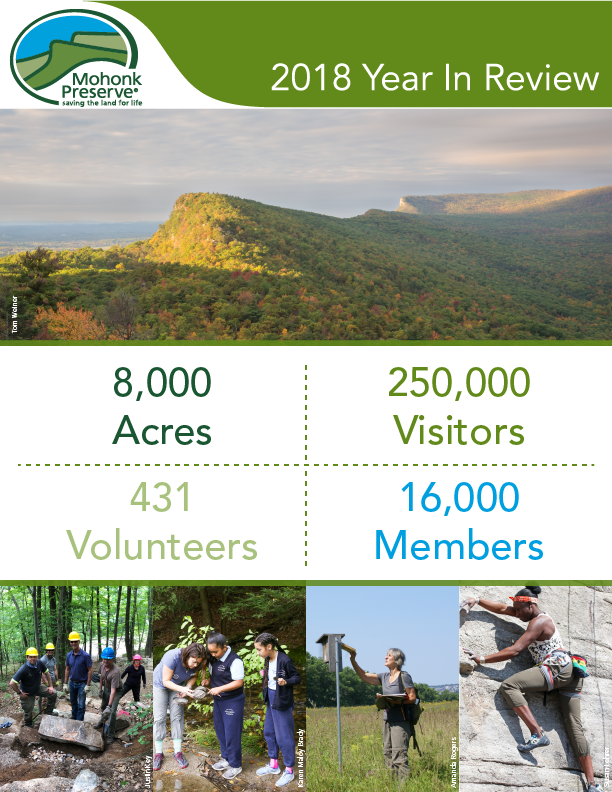 Land Protection

Land Stewardship

Conservation Science

Environmental Education

Development & Communications

Financial Highlights
Click on the images above to enlarge
---
Mohonk Preserve is grateful to everyone who supports our mission to protect the Shawangunk Mountains region and inspire
people to care for, enjoy, and explore their natural world. Their generosity enables us to carry out our important work.
 
While this list includes private individuals with cumulative contributions of $1,000 or more received between January 1, 2018 and December 31, 2018, we dedicate this annual Year in Review to each and every one of our supporters.
To view and download the Annual Report above as a PDF, click here.
---
Who We Are
With over 8,000 acres of cliffs, forests, fields, ponds, streams, and other unique and beautiful places, Mohonk Preserve is the largest member-and visitor-supported nature preserve in New York State.
Our mission is to protect the Shawangunk Mountains region and inspire people to care for, enjoy, and explore their natural world.
What We Do
Education - We serve over 14,000 children and adults each year through our award-winning innovative outdoor education programs.
Land Protection - We protect key recreational areas, fragile habitats, and scenic viewsheds.
Land Stewardship - We manage over 8,000 acres and provide a safe, participatory experience in nature for over 200,000 visitors each year.
Conservation Science - We use the latest scientific techniques and a century of natural history data to monitor and manage the diverse ecosystems on the ridge.
2018 Board of Directors
Russell Clune, Chair
Kathleen C. Weathers, Vice Chair
Michael J. Embler, Treasurer
Michael Tannen, Secretary
Jonathan Chenette
Donald P. Christian
Gary W. Finger
George C.W. Gatch
Norman L. Goluskin
Eric M. Gullickson
Karen Halliday
Ronald G. Knapp
Floyd Lattin
Lynn E. McGrew
Patrick D. Paul
Carol S. Rietsma
Raymond V.J. Schrag
Sara S. Senior
Albert K. Smiley
Arthur O. Sulzberger Jr.
Laurel Sweeney
Directors Emeriti
Louis L. Cornell
Terrence J. English
Harvey K. Flad
Thomas J. Murphy
Anna S. Perry
General Council
Paul T. Kellar Esq.
 
A copy of our latest financial report may be obtained here or by writing to the New York State Office of the Attorney General, Department of Law, Charities Bureau, 120 Broadway, New York, NY 10271.
Banner photo by Tom Weiner