SCALING UP CONSERVATION WITH LOW-IMPACT CLIMBING
Significant increases in climbing at Mohonk Preserve in recent years have necessitated extra steps for the preservation of climbing areas to avoid environmental damage. As part of our efforts, we have launched an educational campaign to promote low-impact climbing and Leave No Trace principles to promote mindful engagement with the cliffs. The project will expand long-term efforts to preserve the cliffs and surrounding vegetation and wildlife through new and increased informational and wayfinding signage at popular climbing spots.
While experienced climbers generally climb in ways that allow them to return to the base without leaving equipment or utilizing anchors on trees, novices tend to descend using what is right in front of them. For many climbers, it may take years to build the technical skill and wayfinding knowledge needed to climb with as little impact as possible.
Mohonk Preserve's Patrol Rangers are facilitating efforts to promote low-impact climbing methods that will preserve the rock faces, the vegetation on and around them, and the wildlife that makes their homes there, such as Peregrine falcons. As part of those efforts, we have created and installed signs addressing topics including Conserving Natural Habitats, Protecting Natural Resources, Advancing Resilient Access, and Supporting Community Climbing.
Additionally, we're installing a series of wayfinding signs, raising awareness of and directing climbers to the Preserve's rappel stations. We are also using the Preserve's sizable social media reach to promote the program over Facebook and Instagram and holding public programs on low-impact climbing and Leave No Trace principles.
Central to Mohonk Preserve's mission is the concept of inspiring people to care for their natural world. Through new signage and programming, we are explaining and encouraging the use of low-impact climbing practices, such as our new anchor stations and access routes. Collaborating with the climbing community, we continue to explore new ways to recreate responsibly and deepen our relationship with nature.
Support for this project was provided by an American Alpine Club Cornerstone Conservation Grant and the Waterman Fund.
Protect Nature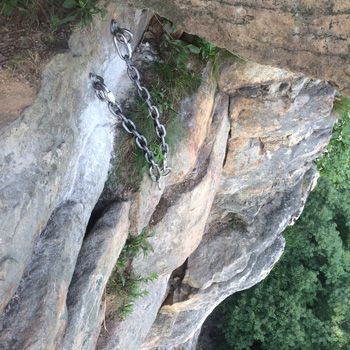 Use Designated Rappel Routes & Trails
Avoid soil compaction – it is harmful to trees and plants
Do not trample the vegetation
Use durable surfaces (e.g. exposed rock) when possible
Using Trees as Anchors is Prohibited
Friction from webbing and ropes can cause irreparable damage to a tree's health
Respect Closures
Endangered Peregrine falcon closures
Roped-off restoration or other work areas
Carry Out Food Waste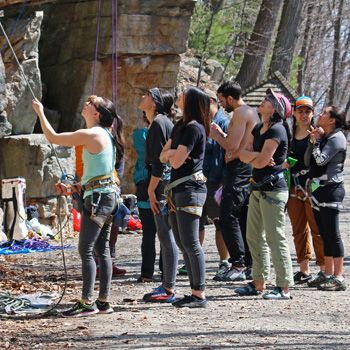 Limit impact to wildlife & soil biology – your food waste is not part of this ecosystem
Please compost food waste at home or at an authorized facility
Visit Mindfully
Follow Leave No Trace Practices
Pack out all trash. Glass is prohibited on Mohonk Preserve lands

Pack out all feces and toilet paper (including dog feces)

Camping and campfires are prohibited (camping is available at the nearby

Samuel F. Pryor III Shawangunk Gateway Campground

)
Keep Unnecessary Noise to a Minimum
Portable speakers and amplified music are prohibited

Keep yelling to a minimum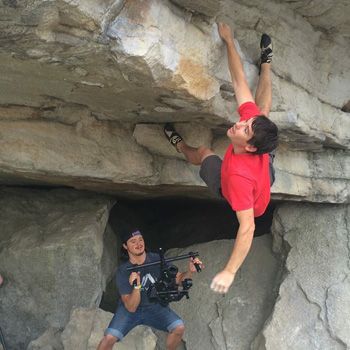 Control Dogs
Leashes are required at all times

Do not leave dogs unattended

Tying your dog to a tree while you're on a multi-pitch route is not acceptable
Smoking is Prohibited on All Mohonk Preserve Lands
This helps prevent forest fires
Keep Trails & Carriage Roads Clear
Keep your possessions off the carriage roads & trails so that others may pass

When bouldering pads are not in use, please move them off of the carriage roads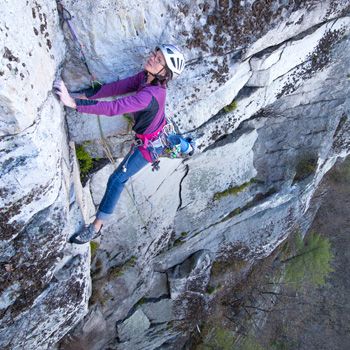 When there is an emergency, be aware ranger vehicles will need to pass quickly
Alterations to the Environment are Prohibited
Chipping holds, placing new pitons or bolts, rock trundling, & dry-tooling are prohibited

Do not remove anything from the Mohonk Preserve that was a natural part of the environment. This includes rocks, trees, plants, animals, etc.

Leave the land and habitats the way you find them – do not build with natural materials or deface any of the landscape

through graffiti, carving, cairns, etc.
Use of a Drone on Mohonk Preserve Land Requires a Permit
Drones can disturb both visitors and wildlife
For more information on Low-Impact Rock Climbing please visit the rock-climbing page at the Leave No Trace Center for Outdoor Ethics website.
Banner photo by June Archer