Studying The Seasons
Phenology can be considered Nature's calendar. It is the study of seasonal and cyclical changes in plants and animals, like the flowering of plants, the emergence of insects, or the migration of birds. 
The timing of these events are influenced by environmental triggers (sunlight, temperature, and precipitation) making phenology a leading indicator of climate change.
Phenology records around Mohonk Lake date back to 1925, when Daniel and Keith Smiley started noting the date of spring bird arrivals. The Preserve's Daniel Smiley Research Center continue this tradition of natural history observation and have expanded the scope of the Smileys' phenology records to monitor seasonal changes in plants and other fauna at Mohonk Preserve on local, regional, and national levels.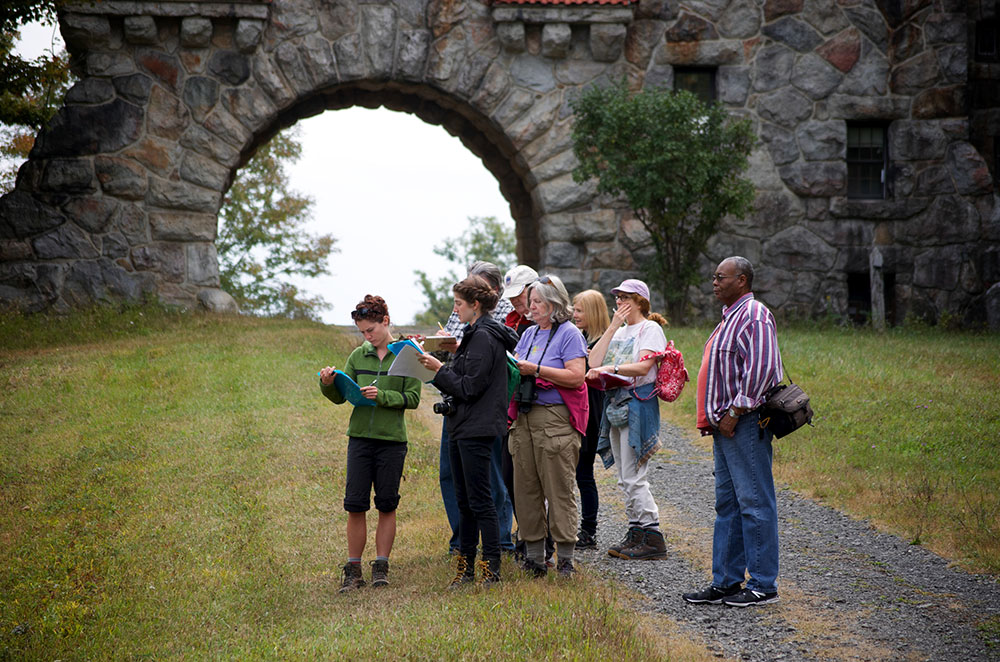 Mohonk Preserve Phenology Trail
Phenology Project Volunteer Observers document distinct stages in select trees, shrubs, spring ephemerals, butterflies, amphibians, and reptiles throughout the year. 
Foothills Phenology Trail

Originated in 2014
Located on the Mohonk Preserve Foothills near the iconic Testimonial Gateway tower.
Volunteer as a Phenology Observer
Join a dynamic group of volunteers
All ages and experience levels are welcome
No prior science or research background required
Receive training and group learning opportunities and workshops
Spend time outdoors
Scheduling incredibly flexible
Hone skills in data collection, species identification, and botany
Gain a deeper understanding of the local impacts of climate change
Receive the Phenology Trail Newsletter to see what is happening out on the trail
When and How to Observe
Once trained, volunteers observe on their own schedule
Observers look specific life cycle stages occurring for a given species at each visit.
"Negative data" is collected too (observation continues during the winter months, even when observed species are mostly dormant)
Connections Regionally and Nationally
The Phenology Project uses protocols developed by the USA National Phenology Network (USANPN) for their program, Nature's Notebook. This data is immediately available to scientists, land managers, educators, and citizens everywhere to answer questions about how plants and animals are responding to environmental change.
For more information about the Foothills Phenology Project please contact: 
Natalie Feldsine
Research Collection Citizen Science Coordinator
(845) 255-0919 ext. 1271
nfeldsine@mohonkpreserve.org
Resources:
Photos: Banner Photo by Jay Diggs; Phenology Trail by Jacob B. Reibel