Protecting Peregrines in the Gunks
The history of monitoring and protecting Peregrine Falcons on the Shawangunk Ridge dates back to the 1920s when brothers Dan and Keith Smiley began recording Peregrine sightings on Mohonk Mountain House and what are now Mohonk Preserve lands. On June 17, 1929, Dan and Keith scrambled down to the "Duck Hawk Ledge" on Sky Top to band two young Peregrines. The male that they banded flew east to west, traveling 1,300 miles in 3 months and marking the first documentation of an east to west, rather than north to south, migration.
From this early monitoring began a rich legacy of Peregrine Falcon research and an environmental success story in wildlife conservation. Dan Smiley continued to observe Peregrines throughout his lifetime and in May of 1955 he assisted Dr. Heinz Meng in banding a Peregrine on Undercliff. Dan noted that, "when Heinz purchased the rope for this job at a local hardware store, he was told that if the rope failed it would be replaced without charge."
Dan noticed a slow decline in Peregrines over the decades, particularly in the 1940s and 1950s when DDT and other pesticides wreaked havoc on bird populations. The pesticides interfered with egg production and strength. By 1968, there were no known Peregrine nests east of the Mississippi River, where previously 400 pairs had been supported. In 1974, Dr. Meng began raising Peregrines in captivity and reintroducing them into the Gunks.
Finally in 1998, after an absence of over 40 years, Peregrines returned to nest in the Gunks almost every year since. In 2005, a Peregrine was banded at the Preserve for the first time in 50 years.
As a New York State Endangered Species and protected under other Federal regulations, Peregrine Falcons are an integral part of the ecosystem and Mohonk Preserve cooperates with the New York State Department of Environmental Conservation to ensure the continued recovery of the species. In 2018, we had our first successful Peregrine fledglings in the Trapps since 2005!
Each year, the Peregrines are monitored by Conservation Science staff and volunteers as part of the Peregrine Watch program. This program runs from late February through August. Participants monitor and observe Peregrine behavior and breeding activity to identify cliff areas that should be temporarily closed off to protect breeding falcons. Once nest sites are identified, observers continue to document the breeding season and record nest activity data – egg laying, incubation, prey exchanges, presence of chicks, chick feeding, chick fledging, and young in flight. Participants also contribute to public outreach about the importance of Peregrine conservation.

Volunteer as a Peregrine Watch Volunteer
Join a knowledgeable group of birding volunteers
No prior science, research, or bird background required (However, Bird Knowledge is Highly Recommended)
Required equipment includes a personal pair of binoculars
Receive training and group learning opportunities
Spend time outdoors
Scheduling is flexible but weekly observations are expected for the duration of the breeding season
Hone skills in data collection and bird identification
Volunteers must be able to submit observation reports online within 24 hours (must have access to internet and a computer).
Volunteers may submit Peregrine Observation Reports online here. Or download a print version here.
Hawk Watch
Beginning in the 1950s, Dan Smiley archived daily counts of migrating raptors over the Ridge during the fall migration. Today, Hawk Watch volunteers continue to observe raptor migration from late August through November at a migration count station on the Near Trapps off of the Millbrook Mountain Trail. Migrant raptors are identified and counted daily by volunteers. This data is then submitted to the Hawk Migration Association of North America (HMANA). Between 2,000 and 5,000 raptors can be expected to migrate over the Shawangunks Ridge each autumn. This project is solely run by a group of volunteers that help to cover daily observations. For more information on Mohonk Preserve's HMANA contribution, you can visit the Hawk Count Profile and Daily and Monthly Data Summaries. 

Volunteer as a Hawk Watch Volunteer
All ages and experience levels are welcome
No prior science, research, or bird background required o However, Bird Knowledge is Highly Recommended
Receive training and group learning opportunities
Scheduling is flexible
Hone skills in data collection and bird identification
Contribute to a national dataset with the Hawk Migration Association of North America
Bluebird Trail
Bluebird Trail is the newest citizen science program at the Mohonk Preserve, with the kick-off season starting in 2018. In 2017, with help from students from the San Miguel Academy of Newburgh and other volunteer groups, bluebird boxes were installed in grassland areas within the Preserve in efforts to promote the recovery of bluebirds and other native cavity-nesting bird species. The Bluebird Trail project seeks to monitor and record occupancy and productivity over time in relation to habitat quality. Volunteer citizen scientists will be trained in specific data collection and naturalist observation protocols and will conduct regular monitoring at assigned bluebird boxes located throughout the Preserve.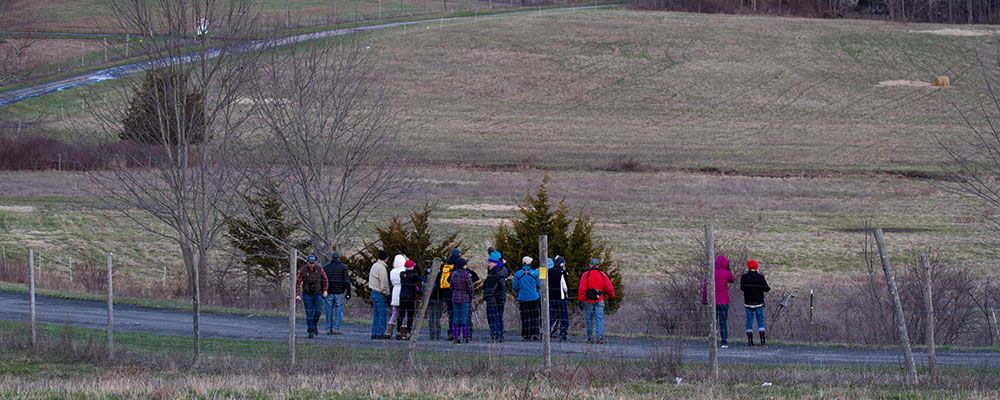 Volunteer with the Bluebird Trail: 
Ability to identify common bird species strongly preferred. 
Monitoring takes places from the beginning of April through the end of August
Required equipment includes a personal pair of binoculars and camera (can be a phone camera)
Hone skills in data collection and bird observation
Be willing to hike off-trail through unmaintained fields
Receive training in assessment of nest progression
Must commit to observe bluebird boxes every 5-8 days
Must submit data via online form on the same day as observation
 
 
For more information about the Bird Programs in the Citizen Science Program, please contact: 
Natalie Feldsine
Research Collection Citizen Science Coordinator
(845) 255-0919 ext. 1271
nfeldsine@mohonkpreserve.org
Banner photo by Tom Weiner; Peregrine Watch by Carl Mueller; Breeding Bird Census by Deb Tracy-Kral; Hawk Watch by Karen Maloy-Brady; Christmas Bird Count by Carl Mueller; Bluebird Trail by John Mizel