Peregrine Watch
The Peregrine Falcon is one of the fastest animals in the world. This bird can reach speeds of 160-mph or more when they dive or stoop. Peregrines were extirpated from Eastern North America due to the widespread use of persistent pesticides that impacted their reproduction. Reintroduced into the wild after the banning of DDT in 1972, the peregrine population largely recovered. The peregrine falcon was removed from the Federal Endangered Species List in 1999 but is still considered endangered in New York State.
Today, Mohonk Preserve cooperates with the New York State Department of Environmental Conservation and the U.S. Fish and Wildlife Service in monitoring Peregrines to ensure the continued recovery of the species. Peregrine Falcons have been studied in the Shawangunk Mountains since 1926 and were first banded in 1929. Falcons bed in the Shawangunks until 1955 when their population died out in this area. In 1998, Peregrines returned back to the Gunks Ridge and a pair has been nesting on the same cliff, producing an average of only one fledgling per year since then.
The Preserve temporarily closes areas of the Shawangunks Cliff to help support undisturbed breeding areas for the peregrines (usually in Late March through the beginning of summer). This volunteer opportunity ranges from Late February through June. Volunteers monitor and observe peregrine falcon behavior and breeding activity (courtship and copulation) to identify areas that should be temporarily closed off for the breeding falcons. Once breeding nest sites are identified, volunteers observe in three locations of the Ridge to view the breeding season and record their observations of the nest activity (egg laying, incubation, prey exchanges, presence of chicks, chick feeding, chick fledging, and young in flight). Volunteers also contribute to public outreach and interpretation of the importance of Peregrine Conservation.

Volunteer as a Peregrine Watch Volunteer
Join a knowledgeable group of birding volunteers
All ages and experience levels are welcome
No prior science, research, or bird background required (However, Bird Knowledge is Highly Recommended)
Receive training and group learning opportunities
Spend time outdoors
Scheduling is flexible
Hone skills in data collection and bird identification
Volunteers must be able to submit observation reports online (must have access to internet and a computer).
Volunteers may submit Peregrine Observation Reports online here. Or download a print version here.
Breeding Bird Census
Since 1991, the Preserve has conducted an annual Breeding Bird Census. From May to June, staff and volunteers employ a point-count technique to document all birds seen or heard within the survey area, generating an estimate of abundance for breeding species over the course of repeated visits. The Breeding Bird Census yields insight into the habitat preferences of different bird species, documents changes in species composition and abundance, and supplies the Preserve with critical information about how best to manage fields and forests for Species of Greatest Conservation Need. The census has also been a source of discovery—the first confirmed Acadian Flycatcher record at Mohonk Preserve was documented on the Breeding Bird Census!
Census Areas
The location of the annual survey has historically rotated between six sites, representing varied habitat types across Preserve lands. In 2015, the Mohonk Preserve Foothills was added as sixth site in order to better understand the avian diversity on this newly acquired parcel. Each study area has a set walking route that volunteers use for data collection and observation. Study Areas Include:
Spring Farm—Old Fields
Upper Coxing/Clove—Hemlock Northern Hardwood Forest
Sleepy Hollow—Swamp and Cliff Edge
Duck Pond—Chestnut Oak Forest, BeechMaple
Mesic Forest, Pond Edge
Near Trapps—Ridgetop Pitch Pine Barrens
High Peterskill—Chestnut Oak Forest
Mohonk Preserve Foothills—Pasture, Wet Meadow, Marsh 

Volunteer with the Breeding Bird Census
Join a knowledgeable group of birding volunteers
Annual Census takes place over twelve or thirteen outings centered around the height of the nesting season from mid-May through June
Volunteers conduct surveys early in morning within three hours after sunrise with at least one evening session included annually
Enhance and hone in on birding knowledge (by sight and sound)
Use spot matting technique to plot occurrences and compile territory maps
Spend time outdoors
Hawk Watch
Beginning in the 1950s, Dan Smiley archived daily counts of migrating raptors over the Ridge during the fall migration. Today, Hawk Watch volunteers continue to observe raptor migration from September through November at a migration count station on the Near Trapps off of the Millbrook Mountain Trail. Migrant raptors are identified and counted daily by volunteers. This data is then submitted to the Hawk Migration Association of North America (HMANA). Between 2,000 and 5,000 raptors can be expected to migrate over the Shawangunks Ridge each autumn. This project is solely run by a group of volunteers that help to cover daily observations. For more information on Mohonk Preserve's HMANA contribution, you can visit the Hawk Count Profile and Daily and Monthly Data Summaries. 

Volunteer as a Hawk Watch Volunteer
All ages and experience levels are welcome
No prior science, research, or bird background required o However, Bird Knowledge is Highly Recommended
Receive training and group learning opportunities
Scheduling is flexible
Hone skills in data collection and bird identification
Contribute to a national dataset with the Hawk Migration Association of North America
The Mohonk Preserve Daniel Smiley Research Center participates in the Annual Audubon Christmas Bird Count. Apart of the Mohonk Lake/Ashokan Reservoir (NYML) – Ulster County Sector, Christmas Bird Count Volunteers identify and count avian visitors along the same route started by Daniel Smiley in 1949.
This project invites knowledgeable birders to walk around the Mohonk Mountain House and Mohonk Preserve properties to identify and count avian visitors. Bring your binoculars, a scarf, and a thermos of a warm beverage as you test your hearing and visual bird identification skills.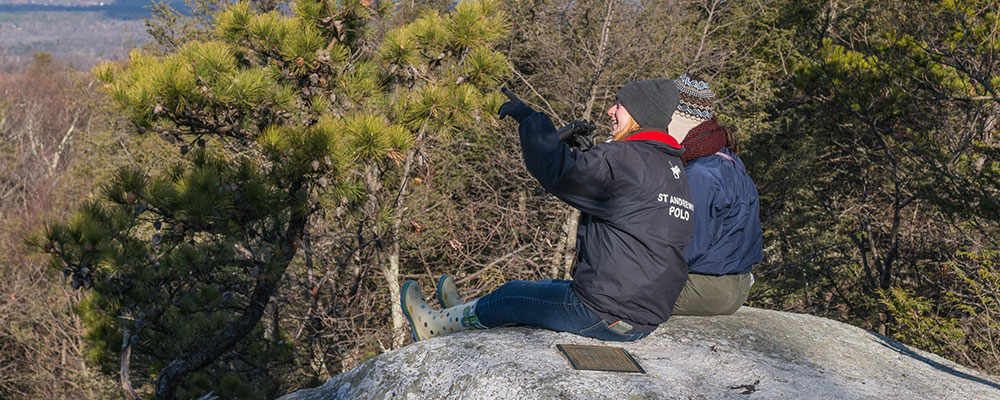 Volunteer a Christmas Bird Count Volunteer
Participate in two sessions during the Count Day
Morning Session: 8:30 A.M. to Noon o Break for Lunch
Afternoon Session: 12:30 P.M. to 4:30 P.M.
Enhance your bird identification skills
All ages and experience levels are welcome
Bird Knowledge is Highly Recommended
Spend time outdoors on the Mohonk Mountain House Property
Count Day is Pre-Scheduled Ahead of Time (1-day/year opportunity)
Contribute to the National Audubon Society's Annual Bird Event
See the Mohonk Preserve 2015 Christmas Bird Count Summary
See the NYMP Christmas Bird Count Report 
Bluebird Trail
Bluebird Trail is the newest citizen science program at the Mohonk Preserve, with the kick-off season starting in 2018. In 2017, with help from students from the San Miguel Academy of Newburgh and other volunteer groups, bluebird boxes were installed in grassland areas within the Preserve in efforts to promote the recovery of bluebirds and other native cavity-nesting bird species. The Bluebird Trail project seeks to monitor and record occupancy and productivity over time in relation to habitat quality. Volunteer citizen scientists will be trained in specific data collection and naturalist observation protocols and will conduct regular monitoring at assigned bluebird boxes located throughout the Preserve.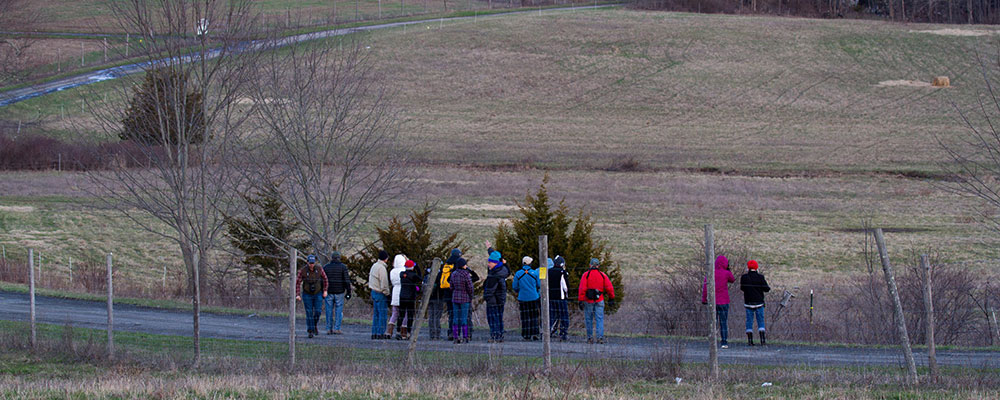 Volunteer with the Bluebird Trail: 
Ability to identify common bird species strongly preferred. 
Monitoring takes places from the beginning of April through the end of August
Required equipment includes a personal pair of binoculars and camera (can be a phone camera)
Hone skills in data collection and bird observation
Be willing to hike off-trail through unmaintained fields
Receive training in assessment of nest progression
Observe bluebird boxes every 5-8 days
Must submit observations via online form on the same day as observation
 
 
For more information about the Bird Programs in the Citizen Science Program, please contact: 
Natalie Feldsine
Research Collection Citizen Science Coordinator
(845) 255-0919 ext. 1271
nfeldsine@mohonkpreserve.org
Banner Photo by John Mizel; Peregrine Watch by Carl Mueller; Breeding Bird Census by Deb Tracy-Kral; Hawk Watch by Karen Maloy-Brady; Christmas Bird Count by Carl Mueller; Bluebird Trail by John Mizel