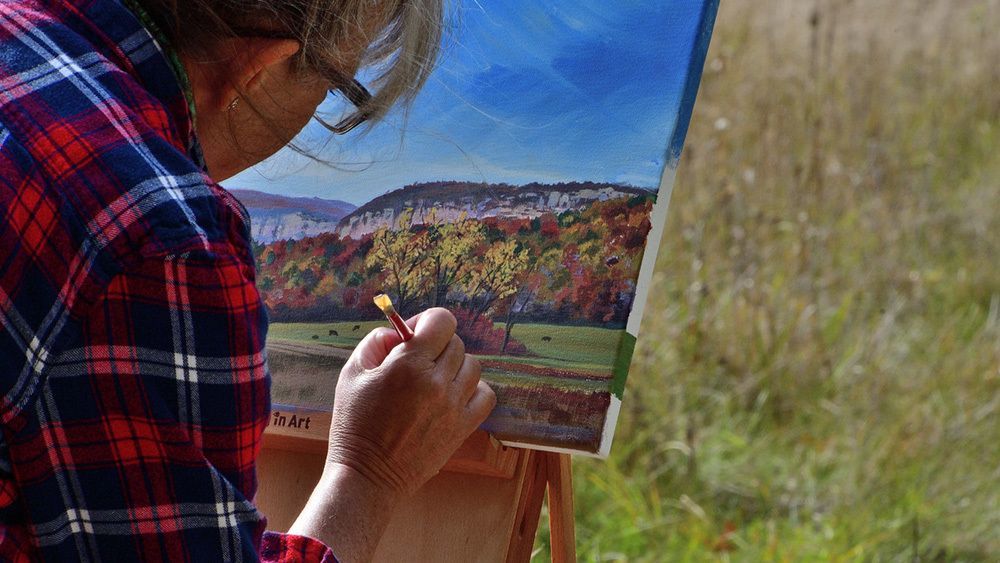 The Art Of Nature
Mohonk Preserve and Roost Studios are collaborating once again on a Plein Air Art Walk and Auction, an inspirational project connecting land, art and community, at the Mohonk Preserve Testimonial Gateway Trailhead, on Saturday, May 22, 2021 from 10 a.m. to 3 p.m. (rain date Sunday, May 23).
"Last year's October event featuring 19 Hudson Valley artists was a great success," said Mohonk Preserve Special Events Manager Tom Leader. "We're working together with Roost Studios on selecting this year's expanded group of 24 artists, which will include some returnees from last year's event, along with first-time participants."
The Testimonial Gateway Trailhead landscape in which the artists will work features the historic Testimonial Gateway Tower and magnificent views of the Shawangunk Ridge and surrounding Mohonk Preserve Foothills' fields and historic farms.
The artists will be stationed along the tree-lined Pin Oak Allee on the Lenape Lane carriage road and the Ridgeview Trail, part of the Mohonk Preserve Foothills Loop of the River-to-Ridge Trail. Each artist will create art in the form of a painting or drawing, on site in plein air based on the theme of nature and the outdoors. Visitors will have the chance to view artists working in a safe and socially distanced way while enjoying the outdoors and finding their own inspiration on the land.
The in-process and finished artworks will be photographed throughout the day by volunteer photographers from Mohonk Preserve and Roost Studios. The finished works will be included in an online auction following the event. Proceeds from the auction will benefit participating artists, Mohonk Preserve and Roost Studios.
"Last year's event exceeded all our expectations," Tom noted. "Over 200 people attended, feedback from the artists was overwhelmingly positive, and auction bidding was brisk. We're excited to present an even bigger and better version of the event on May 22!"
The event is open to Mohonk Preserve members at no charge and to visitors with the purchase of a day pass for $15 per person.
Banner photo: Million Dollar View by Siu S. Yuen; Article photo: Artist at Work During the Autumn Plein Air by Larry G. Arvidson