Million Dollar View by Siu S. Yuen
Spring has sprung at Mohonk Preserve and our 2021 season is already in full bloom! In this issue of Ridgelines we'll share exciting news about the return of the Plein Air Art Walk and Auction on May 22, 2021. We'll also profile our returning Peregrine Falcons and highlight how we are focusing on land and climate through a new internship supported by the Land Trust Alliance.
This is a great time of year to get outdoors for one of our on-land programs or learn something new on one of our online programs. Click here to see our upcoming programs and events.
---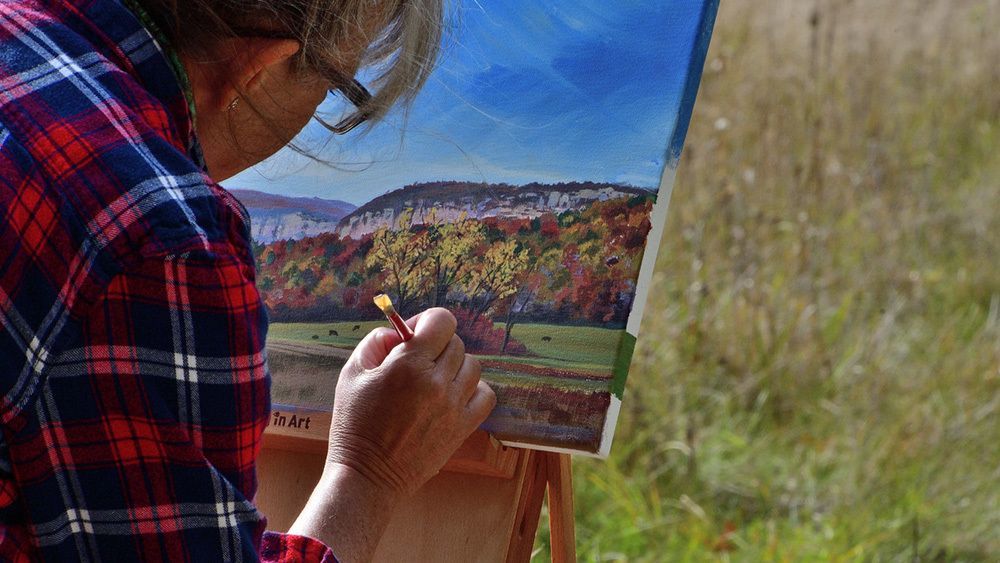 Artist at Work During the Autumn Plein Air Art Walk by Larry G. Arvidson
The Art of Nature
Mohonk Preserve and Roost Studios are collaborating once again on a Plein Air Art Walk and Auction, an inspirational project connecting land, art and community, at the Mohonk Preserve Testimonial Gateway Trailhead, on Saturday, May 22, 2021 from 10 a.m. to 3 p.m. (rain date Sunday, May 23).
"Last year's October event featuring 19 Hudson Valley artists was a great success," said Mohonk Preserve Special Events Manager Tom Leader. "We're  working together with Roost Studios on selecting this year's expanded group of 24 artists, which will include some returnees from last year's event, along with first-time participants."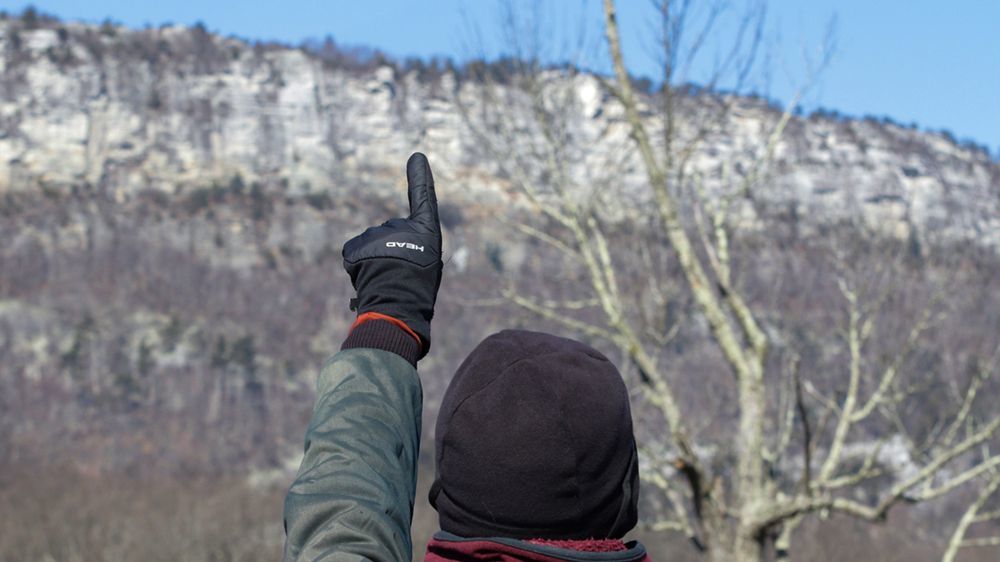 Peregrine Watch by Deborah Tracy-Kral
Protecting the Peregines
Since 1998, Mohonk Preserve staff and volunteers have been monitoring the annual return of Peregrine falcons to the Shawangunk Ridge. These birds may not be the largest raptors in North America (that distinction belongs to the Bald Eagle), but what they lack in size, they make up for in speed and stamina!
About the same size as a large crow, Peregrines have black backs and facial "sideburns," long pointed wings, and a narrow tail. Their habitats are diverse, including cliffs, bridges, and even city skyscrapers. They are carnivores, and their meals include birds of many sizes as well as bats and other small mammals.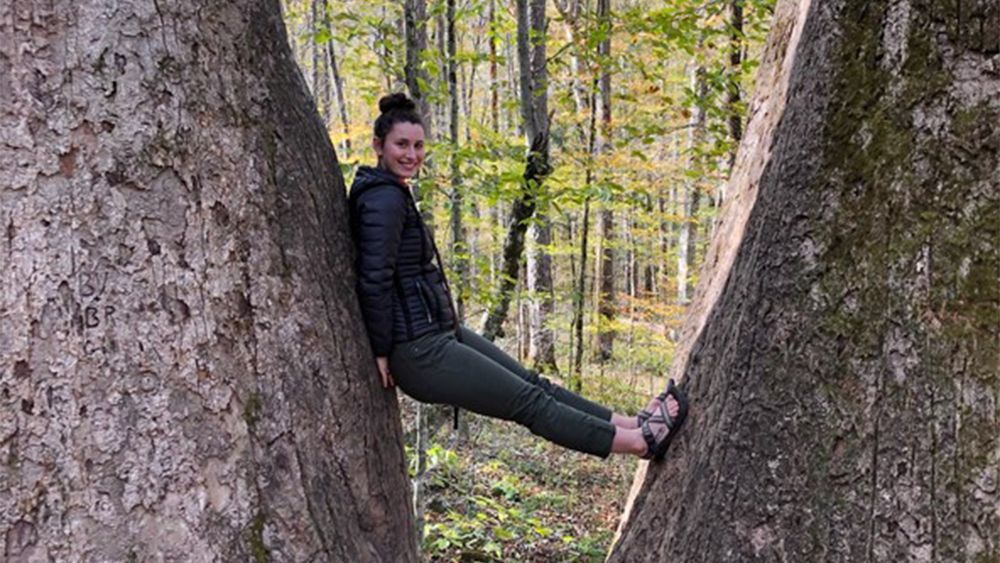 Rayna Berger between two old-growth tulip poplars by Steve Rasovsky
Conservation in a Changing Climate
In 2021, Mohonk Preserve hired its first-ever Land & Climate Intern, Rayna Berger. Rayna will fulfill a part-time position through the spring and summer working mostly remotely, but she also looks forward to meetings on the land.
 Rayna brings deep skills and experience to this role. She is currently working on a Master of Science degree in Climate Science & Policy at Bard College's Center for Environmental Policy, where she focuses on local climate action planning. Her undergraduate work centered on environmental policy and justice at Warren Wilson College in Asheville, North Carolina. She specialized in how institutions can integrate climate policy and action, and we look forward to working with her to integrate climate impacts into our work here at the Preserve.
---
Seasonal Updates
View seasonal photographs by our volunteer photographers.
See more photos by the Mohonk Preserve Volunteer Photographers on their Facebook page.
Photo: Playful Fox by Karen Maloy Brady
GET INTO NATURE. See a full list of upcoming programs including a "iNaturalist: The Citizen Scientist's Best Friend" Webinar. New this spring, check our website and Facebook page for special "Pop Up" Programs like Waterbugs, Turtles, and Tadpoles- Oh My!
IN APPRECIATION. Go to our listing of Memorial and Honorary Gifts, Premium Members, and Business Members received January 1 through March 31, 2021.
The Preserve's Daniel Smiley Research Center is very thankful for the recent donation of mycology texts and laboratory equipment from Bill Bakaitis. Bill has worked extensively with fungi, including as a professor at SUNY Dutchess, lecturer at the Culinary Institute of America, founder of the Mid-Hudson Mycological Association, and consultant to the New York and New England Poison Control networks. He is also a writer and editor for mycological publications, and educational speaker throughout the Hudson Valley and beyond.
CHECK THIS OUT.
COVID-19 Visitation Protocols. In accordance with state and CDC guidelines and to ensure the health and safety of members, visitors and staff, Mohonk Preserve has instituted several important protocols for visitation. Please be sure to wear your mask and practice social distancing. Click here to read more.
Bring a digital Mohonk Preserve trail map with you on any mobile device! Our new trail map is now available on Apple iOS and Android devices using the Avenza Maps app.
Mohonk Preserve is pleased to sponsor The Ride for Mental Health on June 19 and 20, 2021 in New Paltz, NY. The proceeds raised will be donated to McLean Hospital, a Harvard Medical School affiliate, for the education, research and treatment of mental illness including anxiety, borderline personality disorder, depression, eating disorders, and substance abuse. For more information, visit rideformentalhealth.org
Our Annual Healthy Ulster Pass program is happening on Wednesday, June 2 through Sunday, June 6, 2021. Click here to learn more.
MOHONK PRESERVE MEMBER REWARDS PROGRAM. Show your valid Mohonk Preserve annual or life membership card at nearly 40 local businesses listed here, and receive a discount or special offer.
We welcome our new business members who joined between January 1 through March 31, 2021: