Winter Cardinal by Marianne Markle
Winter is a great time to bundle up and get into nature at Mohonk Preserve or bring the outdoors inside with one of our upcoming nature webinars.

In this issue of Ridgelines, Preserve President Kevin Case will share some of our goals for 2021 and beyond. We'll also highlight the latest accolade for our legacy weather and climate program and announce new support and an expanded role for the Preserve's Trailhead Ambassadors.
We'd also like to acknowledge that this marks the 200th issue of a publication that began in 1967 as The Mohonk Trust Newsletter. We are grateful to the many writers, editors, photographers, and designers who have helped share the Preserve's stories.
Thanks to all our members and donors for your steadfast support in 2020 and we wish everyone a healthy and safe 2021!
---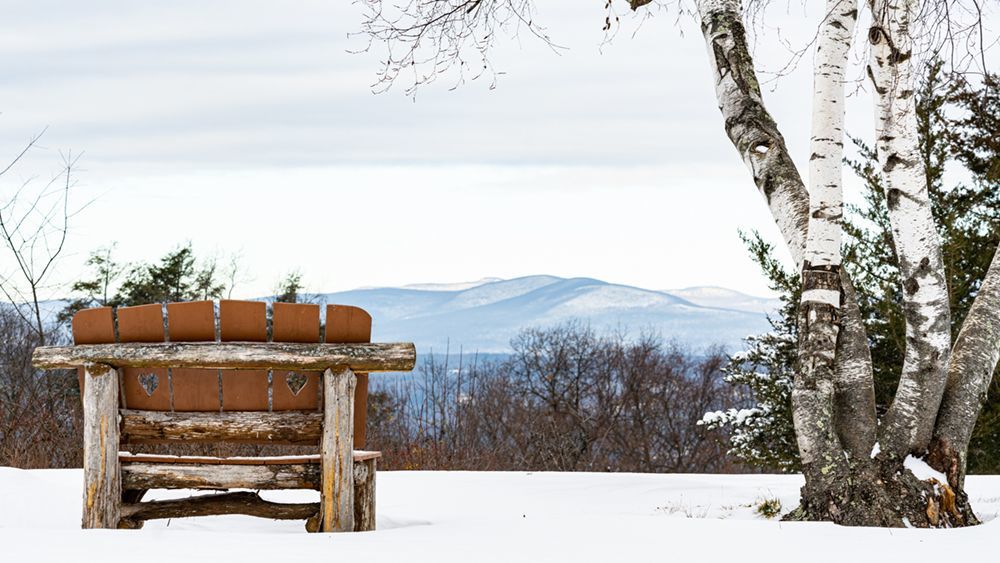 Winter View of the Catskills from the Bench at Slingerland Pavilion by Maryalice Citera
Seizing Nature's Moment
A Message from Mohonk Preserve President and CEO Kevin Case
A colleague of mine recently noted that our entire careers have been focused on getting people outside and into nature. In 2020 we achieved that goal with overwhelming success! It's like the dog that chases the car and finally catches it – now what? We're humbled that Mohonk Preserve is playing such an important role for people during these challenging times. We also recognize that 2020 was not just a year of record-setting visitation, it was also a time when local communities felt the brunt of the pandemic in many ways, issues of inclusion and diversity increasingly took center stage, and climate change became impossible to ignore. 
As the Preserve looks ahead, these challenges are framing how we think about our priorities. What has become apparent is our growing responsibility to support our local communities as healthy, vibrant places for all. In the short term this may mean hosting food drives for local food pantries or partnering with local businesses to help raise their profiles. In the longer term it's evolving into a community-based organization that is authentic, responsive, connective, and inclusive.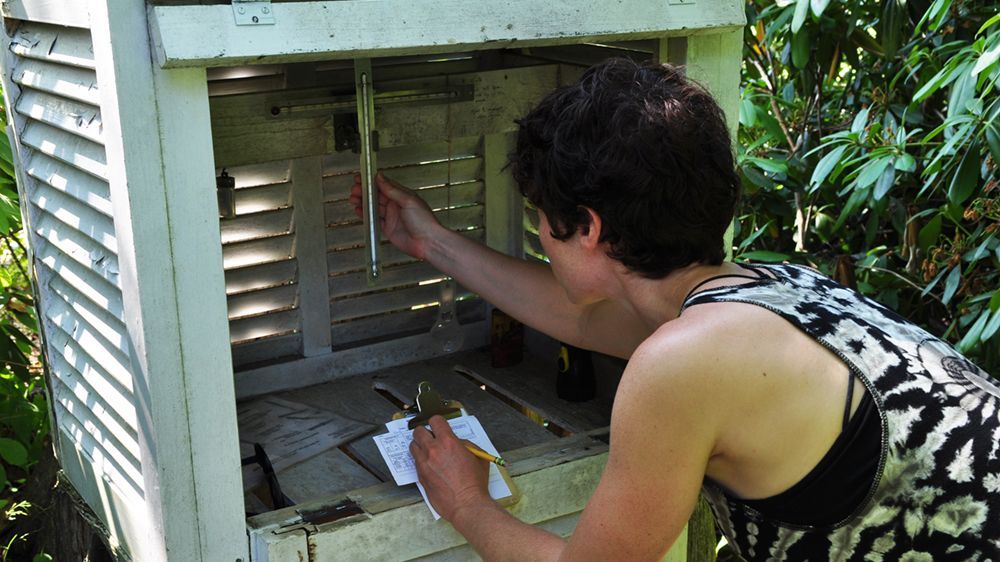 Climate Tracker Recording Weather Data at the Lake Mohonk Weather Station by Jolie Parker
Counting on the Weather
While the weather on the Shawangunk Ridge may sometimes be unpredictable, you can count on the fact that it is being carefully tracked and recorded daily at the Mohonk Lake Cooperative Weather Station as it has been since 1895. This rich legacy was saluted by the National Weather Service on Jan. 22, 2021 when the prestigious Honored Institutions Award was presented to Mohonk Preserve at a ceremony hosted by Director of the National Weather Service Dr. Louis Uccellini and featuring staff from across the country.
Honored Institution Awards are given to cooperative observation institutions such as police departments, universities, and other organizations where observations have been taken for a minimum of 25 years. During the virtual awards ceremony, Mohonk Preserve was acknowledged for over 125 continuous years of weather observations at the Mohonk Lake Cooperative Weather Station.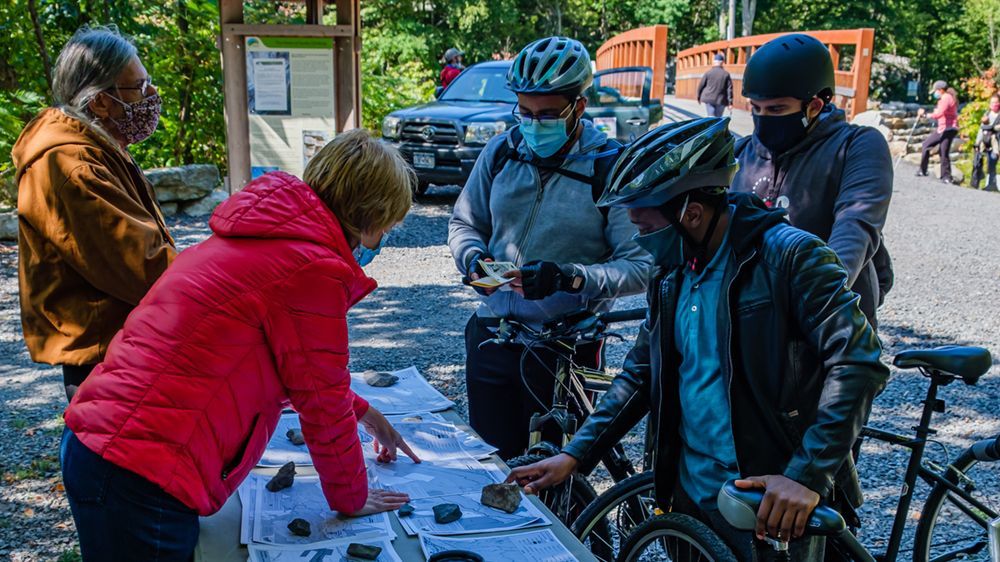 Trailhead Ambassadors Assisting Cyclists at Welcome Boulder by Gerald Liddelow
Trailhead Ambassadors Help Visitors Get Into Nature With Support From M&T Bank
Mohonk Preserve has experienced a significant and dramatic increase in the number of members and visitors looking for a rejuvenating outdoor experience during the COVID-19 pandemic. Thanks to the generous sponsorship of M&T Bank, the Preserve's volunteer Trailhead Ambassadors will continue to ensure that everyone can have a safe and enjoyable visit. The M&T Bank sponsorship will help support the cost of equipment and supplies, including personal protective equipment such as masks, gloves, hand sanitizers, and plexiglass barriers, as well as training for Trailhead Ambassadors.
"With record visitation throughout the summer and fall, the Preserve's Visitor Experience staff needed greater support at trailheads to orient visitors, especially those visiting the Preserve for the first time, and to help encourage proper social distancing," said Mohonk Preserve Volunteer Programs Manager Andy Reynolds. "To address this growing need, we expanded our existing volunteer Trailhead Ambassadors group to a full-fledged visitor experience program to help welcome these new visitors and let them know about the options available for healthy outdoor activities."
---
Seasonal Updates
View seasonal photographs by our volunteer photographers.
See more photos by the Mohonk Preserve Volunteer Photographers on their Facebook page.
Photo: Snowshoer enjoys the Million Dollar View of the Catskills by Glenn Koehler
GET INTO NATURE. See a full list of upcoming programs including free webinars DIY Forest Bathing with Jane and Morels, and get into nature on the land while Forest Bathing with Jane Dobson.
IN APPRECIATION. Go to our listing of Memorial and Honorary Gifts, Premium Members, and Business Members received October 1 through December 31, 2020.
CHECK THIS OUT.
COVID-19 Visitation Protocols. In accordance with state and CDC guidelines and to ensure the health and safety of members, visitors and staff, Mohonk Preserve has instituted several important protocols for visitation. Please be sure to wear your mask and practice social distancing. Click here to read more.
Bring a digital Mohonk Preserve trail map with you on any mobile device! Our new trail map is now available on Apple iOS and Android devices using the Avenza Maps app.
Check out our 2021 line up of exciting events:
MOHONK PRESERVE MEMBER REWARDS PROGRAM. Show your valid Mohonk Preserve annual or life membership card at nearly 40 local businesses listed here, and receive a discount or special offer.
We welcome our new business members who joined between October 1 through December 31, 2020: