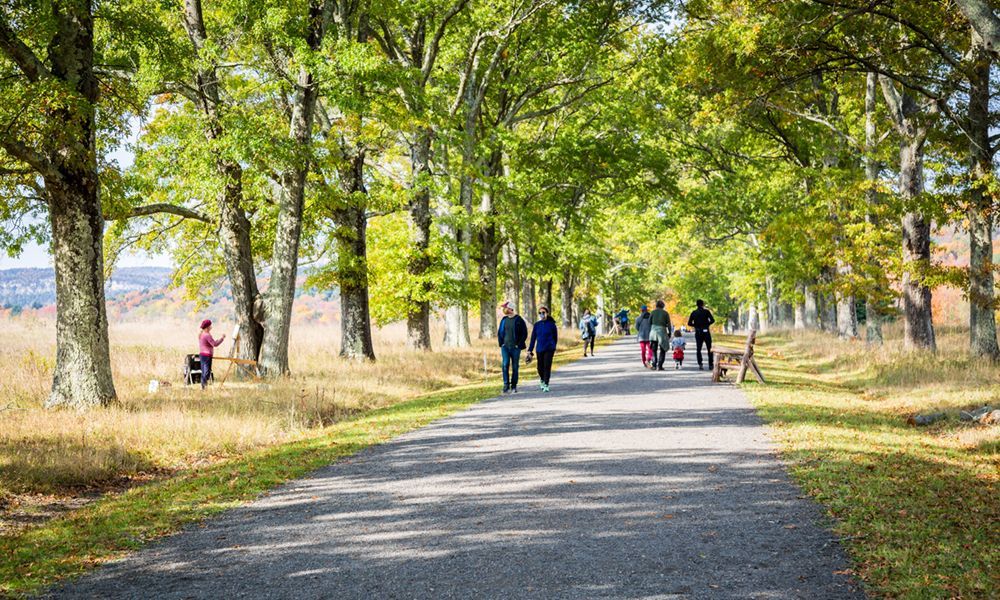 The Crossroads of Art and Nature
Mohonk Preserve and Roost Studios collaborated to create the Preserve's first-ever Plein Air Art Walk and Auction, an inspirational project connecting land, art and community, at the Mohonk Preserve Testimonial Gateway Trailhead, on Sunday, October 18, 2020.
"Roost Studios Executive Director Marcy Bernstein contacted me back in early August to discuss the possibility of doing this event and I thought it was a fantastic idea from the start," said Mohonk Preserve Special Events Manager Tom Leader. "We worked together to carefully plan how to involve artists, map out vantage points, and spread the word to the broader community."  
The participating curated group of recognized Hudson Valley artists included Rosalind Banks, Greg Correll, Mira Fink, Stacie Flint, Lynne Friedman, Katherine Gray, Emeline Hastings, Barbara Holt, David Holt, Eva Kusmirek, Ward Lamb, Laura Martinez-Bianco, Howard Miller, Jacqueline O'Malley-Satz, Arthur Raphael, Daniel Shornstein, Gerald Teters, Marianne Tully and Marlene Wiedenbaum. For more information about the artists and their work, click here.
The Testimonial Gateway Trailhead is the first new trailhead at the Preserve in over 26 years. The landscape in which the artists worked features the historic Testimonial Gateway Tower, which served as the entrance to the Mohonk Mountain House until 1945. From many vantage points, the views of the Shawangunk Ridge and surrounding foothills, fields and historic farms are magnificent.
The artists were stationed along the tree-lined Pin Oak Allée on the Lenape Lane carriage road and the new Ridgeview Trail, part of the Mohonk Preserve Foothills Loop of the River-to-Ridge Trail. Each artist created one or more works in the form of a painting or drawing, on site in plein air based on the theme of nature and the outdoors.
The in-process and finished artworks were photographed throughout the day by volunteer photographers from Mohonk Preserve and Roost Studios. The finished work was included in an online auction for 48 hours following the event. A portion of the sales from the event benefitted participating artists, Mohonk Preserve and Roost Studios. While the auction has ended, the artwork may still be viewed here.
"The event exceeded all our expectations," Tom noted. "Over 200 people attended and were able to experience artists at work in a safe and socially distanced way. The feedback from the artists was overwhelmingly positive and auction bidding was brisk. We are already planning another Art Walk in May of 2021."
Banner Photo by Sami Shub; Plein Air Art Walk by Kate Schoonmaker