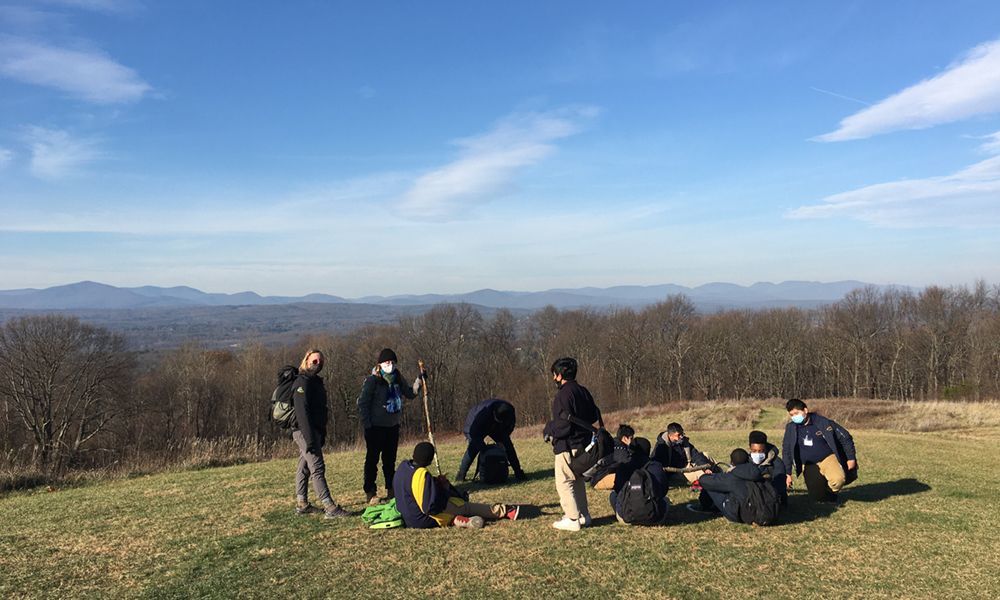 Expanding the City Kids on the Ridge Education Program
Thanks to support from the John T. and Jane A. Wiederhold Foundation and The FairWays Foundation, Mohonk Preserve will be continuing its existing City Kids on the Ridge program, forging new relationships with underserved urban school districts, and offering new outreach and remote learning components in response to student needs during the COVID-19 pandemic.
Since 2013, the Preserve has been developing the City Kids program, first working with underserved students in Newburgh from the San Miguel Academy and then expanding to include the Nora Cronin Presentation Academy. Funds from the John T. and Jane A. Wiederhold Foundation and The FairWays Foundation will support participating educators, additional transportation required under social distancing regulations, outdoor education and recreation programs, and other program equipment and supplies.
The grants will also support forging new relationships with other underserved students in urban centers throughout the region, new outreach and remote learning components in response to the COVID-19 pandemic, integrating a new arts component to increase student engagement, and piloting a new educational project at Kleinekill Pool in the Mohonk Preserve Foothills.
For 2021, we will take formative steps to increase access and program participation. Program expansion is expected to result in new relationships with regional urban schools expressing interest in future participation.
The Preserve's Education team is also designing new arts-based modules to better engage students in nature-based STEAM (science, technology, engineering, arts and math) education. We will introduce more artistic opportunities, including nature photography and more writing, journaling, drawing, painting, crafting, and modeling to help them access science and conservation content.
"Our school-site outreach programs, including Pond Keepers, were underway when COVID-19 school closures began. We quickly switched gears and provided lessons via video designed for home learning. These lessons covered a variety of indoor and backyard activities including nature explorations, math in nature, daytime astronomy, homemade weather instruments and more," said Mohonk Preserve Director of Education Kathy Ambrosini. Click here to view an example. "For 2021, we will continue to explore, develop, and pilot new ways of delivering remote learning where needed to supplement our outdoor programs, adding innovative technologies and methods to enhance student engagement and increase the number of schools and students served."
"The overall goal of the City Kids program is to improve student motivation, confidence, and ingenuity in STEAM and environmental conservation, resulting in improved problem-solving abilities, intellectual capacity, and high school readiness," Kathy noted. "Long term, we expect that these students will become important voices in their communities for responsible stewardship of the environment."
Thanks to generous grants from the John T. and Jane A. Wiederhold Foundation, The FairWays Foundation and the Dorr Foundation, along with donors to the Sean E. Davis Memorial Fund and the Preserve's annual auction, Mohonk Preserve's City Kids on the Ridge will continue to grow and inspire students today and into the future.
Banner Photo by Sami Shub; Students from San Miguel Academy at Spring Farm by Gabby Tait