Sunrise from Millbrook Ridge by Gerald Liddelow
It's high summer at Mohonk Preserve and a great time to take a stroll on the shady Pin Oak Allee at the Testimonial Gateway Trailhead or splash in the Coxing Kill at Split Rock, our small but mighty waterfall! In this issue of Ridgelines, we'll share exciting details about our first-ever virtual livestreamed auction coming up on Sept. 12, introduce our new enhanced trail map, and provide information about how you can participate in our latest conservation science program!
We encourage you to continue to get into nature at the Preserve or in your own neighborhood and wish you a happy, healthy summer!
---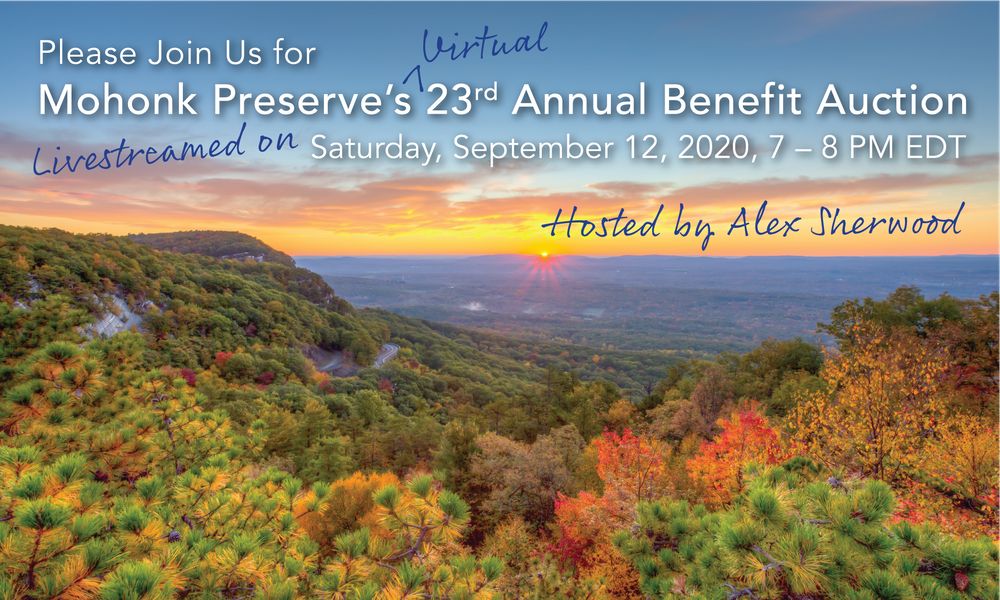 Sunrise from Hawk Watch by Kate Schoonmaker
Mohonk Preserve's 23rd Annual (and First Virtual) Benefit Auction
Mohonk Preserve has reimagined one of our most popular legacy events for 2020. This year, our 23rd Annual Benefit Auction will be a virtual, livestreamed event on Saturday, September 12, from 7 to 8 p.m.
This fun and entertaining evening will once again be hosted by Alex Sherwood, Director of Hotel Operations at Mohonk Mountain House, and will feature messages from very special guests including legendary climber, photographer and Academy Award winning filmmaker Jimmy Chin, trailblazing female marathon runner, author and activist Kathrine Switzer, and musical performances by singer-songwriter Mikaela Davis.
---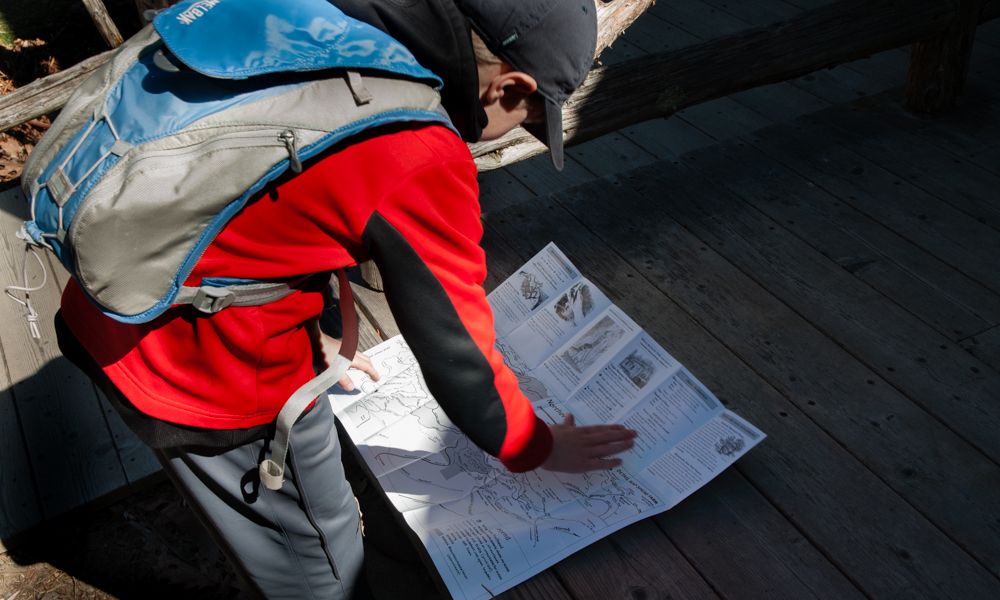 Hiker using the Preserve's hand-drawn map by Renee Zernitsky
Mapping a New Course at Mohonk Preserve
With over 8,000 acres of mountain cliffs, forests, fields, streams and other beautiful natural places, developing and maintaining excellent wayfinding tools for Mohonk Preserve's 300,000 annual visitors is imperative – and a tall order.
Over the past two years, led by the organization's GIS-expert and Land Projects Manager Ed Pestone, the Preserve has been engaged in a comprehensive evaluation and redesign of its maps, on-land signage and other wayfinding tools.
---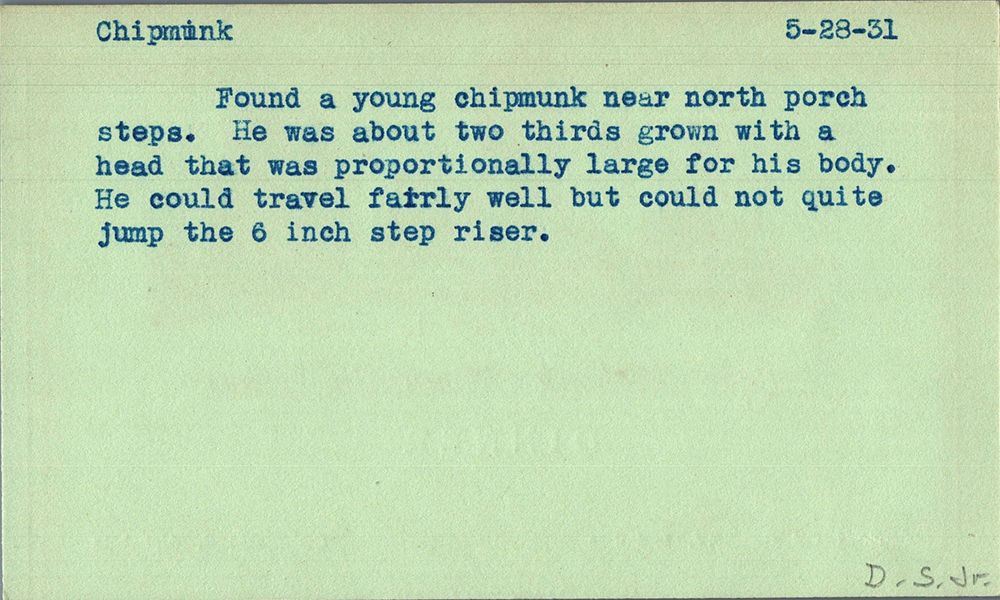 Index Card File for Eastern Chipmunk by Jordan Williams
Natural History For All!
For over a century, the team at Mohonk Preserve has been diligently collecting data on all aspects of natural life in the Shawangunk Mountains region. Everything from weather patterns to the phenology of local species is carefully monitored and catalogued each year, creating a treasure trove of data for anyone who wants to know more about the phenology of the "Gunks." Today we use technology to store and track our data, but this was not always the case. Daniel Smiley, the creator of this project, would walk the Shawangunk Ridge lands with notecards in hand, writing down whatever he saw. Over the course of his lifetime, over 14,000 notecards were created by him and researchers with whom he worked.
These notecards are rich with detailed information that is useful in a multitude of research projects in areas like ecology, land-use change, animal migration, and species' range changes. Rather than keeping this important research tool tucked away in file cabinets, we want to make these cards digitally available to scientists, students and all who want to use them.
---
Seasonal Updates
View Spring and Summer photographs by our volunteer photographers.
See more photos by the Mohonk Preserve Volunteer Photographers on their Facebook page.
Photo: Checkerspot Butterfly by Karen Maloy Brady
IN APPRECIATION. Go to our listing of Memorial and Honorary Gifts, Premium Members, and Business Members received January 1 through June 30.
CHECK THIS OUT.
COVID-19 Visitation Protocols. In accordance with state and CDC guidelines and to ensure the health and safety of members, visitors and staff, Mohonk Preserve has instituted several important protocols for visitation. Please be sure to wear your mask and practice social distancing. Click here to read more.
Pfalz Point Trail Challenge 2020 is now virtual! Participants have two options: Visit Mohonk Preserve any time between Saturday, September 26 – Sunday, October 4 and run the Pfalz Point Trail Challenge course which will be marked OR Run 10 miles on a course of your choosing during the same time period.  Click here to learn more!
MOHONK PRESERVE MEMBER REWARDS PROGRAM. Show your valid Mohonk Preserve annual or life membership card at nearly 40 local businesses listed here, and receive a discount or special offer.