Pin Oak Allée by Walter C. Earl
Autumn is amazing – and active – at Mohonk Preserve! During "leaf peeping" time, the Preserve welcomes visitors from across the country and around the world who come to enjoy nature's fall splendor.
In this issue of Ridgelines we'll recount how we bid farewell to longtime president Glenn Hoagland and update you on recruitment of our next leader. We'll also share exciting news about a prestigious new grant awarded to our Conservation Science program, and inspire you with the top 5 reasons to Rock The Ridge, either as a participant or supporter.
We hope you'll get a chance to experience one of our newest trails - the Mohonk Preserve Foothills Loop - which opened to the public earlier this month. Part of the River-to-Ridge Trail, this 2.2-mile loop is perfect for a fall stroll!
---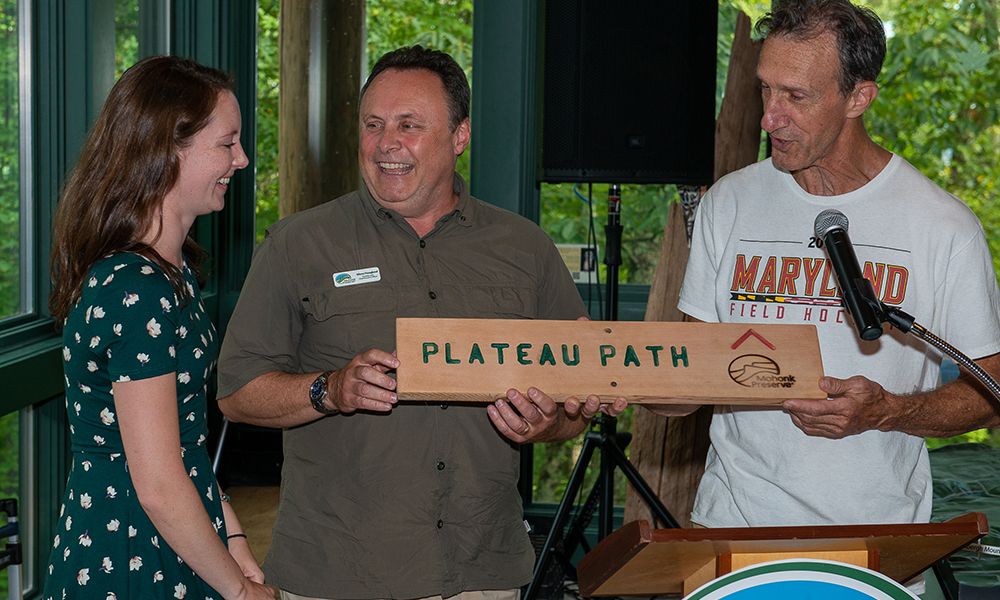 Erin Hoagland, Glenn Hoagland, and Russ Clune during the farewell reception by Stephen D. Stewart-Hill
To Everything There Is a Season
When Glenn Hoagland announced in July that he would be stepping down as President and CEO of Mohonk Preserve after nearly 26 years, the Board and staff knew that we and the entire community wanted to provide a special farewell for such as special individual.
Throughout the summer, between Glenn announcing his decision and his actual departure, we had a number of occasions to acknowledge his many contributions to the Preserve and wish him well in his new role as President and CEO of The Seeing Eye, the leading organization providing service dogs for people who are blind.
---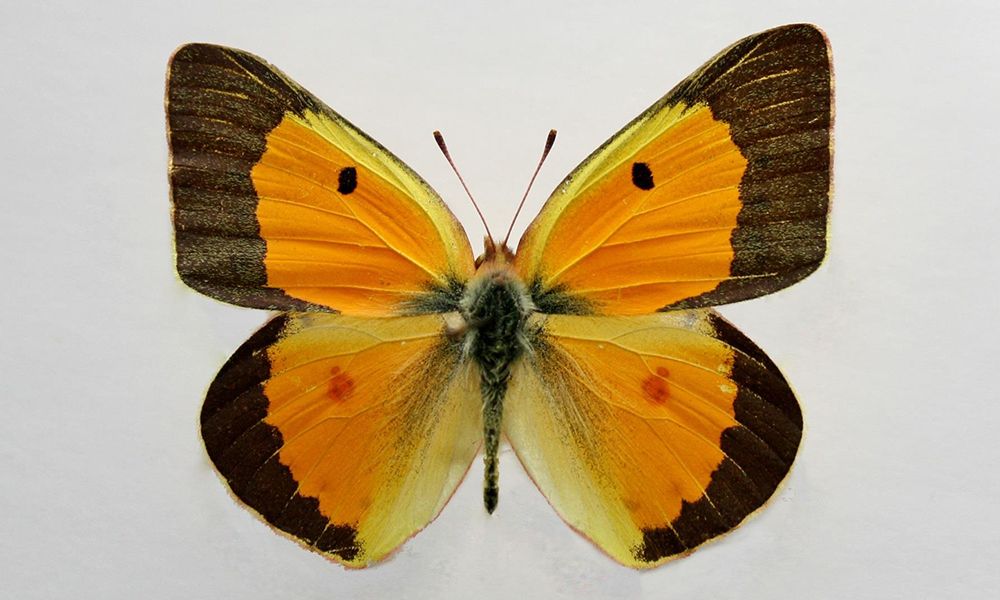 Photo by Natalie Feldsine
Item: Butterfly Specimen
Common name: Alfalfa butterfly
Scientific name: Coliaseurytheme
Date: 20 August 1969
Collector: Fred Hough
Locality: Overlook Mountain, Ulster County, NY
ID #: N/A
Sharing Our Science
With over a century of weather and natural history records, Mohonk Preserve's Daniel Smiley Research Center (DSRC) is an important source for research on climate change, biodiversity, bird migration, and human impact on the environment. This legacy data has been used by organizations including the National Audubon Society, the Lamont-Doherty Earth Observatory at Columbia University, the National Weather Service, and the USA National Phenology Network. Now, the DSRC is being supported by the Institute of Museum and Library Services (IMLS) with a $79,678 federal grant to improve access to the collections.
Over the next three years, the Preserve's Conservation Science program will digitize over 14,000 note cards and 3,669 items from the Preserve's Specimen Collection. Citizen science volunteers, trained and supervised by DSRC professional staff, will perform the digitization work. The digitized images and corresponding information will be uploaded into open-access websites supported by the National Science Foundation, along with our own website, making them available to students, researchers, scientists, and the general public across the nation and around the world.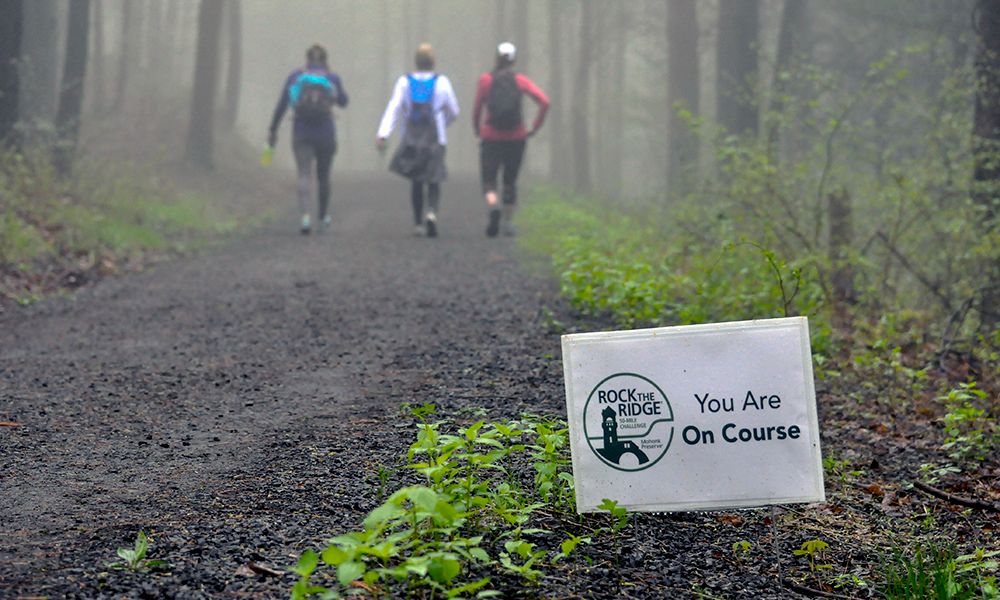 On the 2019 Rock The Ridge Course by Renee Zernitsky
Five Great Reasons to Rock The Ridge
There are at least 300 great reasons to lace up your running or hiking shoes and get ready to Rock The Ridge - one for each of enthusiastic participants who have already registered to complete the 50-mile course on May 2, 2020. With so many options, it's hard to choose just five - but that didn't stop us from trying!
---
Seasonal Updates
View seasonal photographs by our volunteer photographers.
See more photos by the Mohonk Preserve Volunteer Photographers on their Facebook page.
Photo: On Top of Bonticou Crag by Marianne Markle
GET INTO NATURE. See a full list of upcoming programs including a Dog Hike with Ranger Ennis, Forest Bathing with Jane Dobson, Mohonk Preserve Hikes and Bob Babb Wednesday Walks.
IN APPRECIATION. Go to our listing of Memorial and Honorary Gifts, Premium Members, and Business Members received July 1 through September 30.
CHECK THIS OUT.
Looking for the perfect holiday gift? Give the gift of year-round adventure with a Mohonk Preserve gift membership, click here or call 845-255-0919.
We have many other great nature-themed gifts available at the Visitor Center, including Mohonk Preserve hats, mugs, sweatshirts, and more. Visit the Nature Shop or call 845-255-0919.
Our Online Holiday Auction is back from November 29th to December 1st! More information will be coming soon, but click here to subscribe to our Holiday Auction email list for the latest updates.
MOHONK PRESERVE MEMBER REWARDS PROGRAM. Show your valid Mohonk Preserve annual or life membership card at nearly 40 local businesses listed here, and receive a discount or special offer.