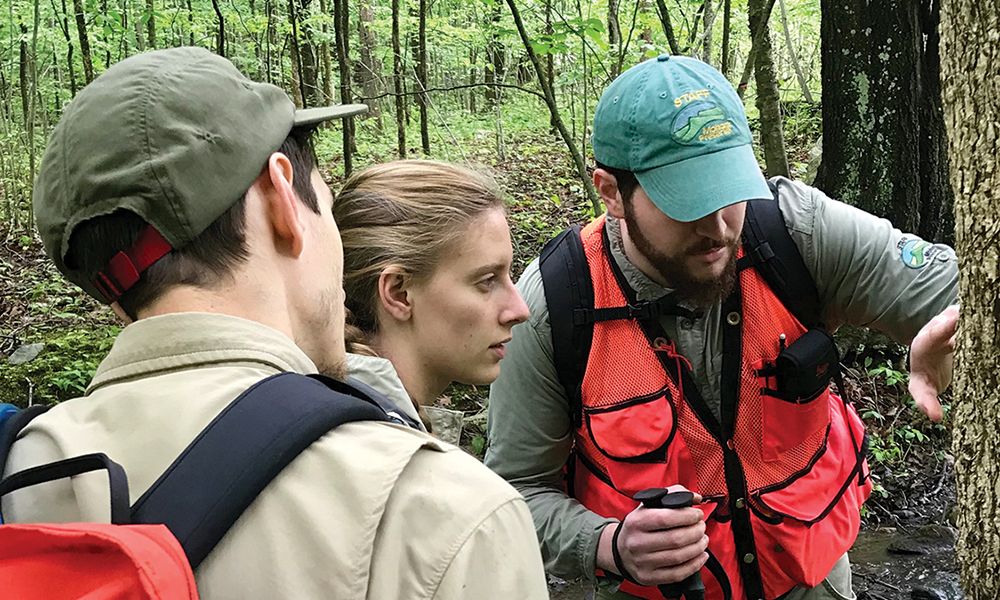 Partnering For Protection
For over 50 years, Mohonk Preserve has been partnering with other organizations to help preserve and steward natural lands in the Shawangunk Mountains region. For example, in the past decade, we have worked with the Open Space Institute (OSI), Palisades Interstate Park Commission and American Alpine Club to establish and co-manage the Samuel F. Pryor III Shawangunk Gateway Campground in Gardiner, and with OSI on the River-to-Ridge Trail in New Paltz. Most recently, we've entered into a cooperative land management agreement with the New York State Office of Parks, Recreation and Historic Preservation (OPRHP) for the Marakill Woods property off Route 299 in Gardiner.
The Marakill Woods is a 58-acre property featuring a chestnut oak forest, a wetland sedge meadow, and a shallow cattail marsh. It also includes some of the headwaters of the Mara Kill stream, a tributary to the Wallkill River, which in turn is a tributary to the Hudson River. Formerly a New York State Department of Environmental Conservation (NYSDEC) Multiple Use Area, the property received heavy use in the past as a rustic campground and recreation area. After the nearby Samuel F. Pryor III Shawangunk Gateway Campground was established, NYSDEC discontinued use of the property as a campground.
In 2017, New York State transferred ownership of the parcel to OPRHP. Since that time, OPRHP has been working with Mohonk Preserve to develop a cooperative land management agreement, which took effect on April 1, 2019. Under this agreement, the Preserve will post, monitor and maintain the property and make the land available for our visitors to enjoy. The Marakill Woods are adjacent to the Preserve's Visitor Center property, offering the potential for future development of additional trails in the Trapps foothills and expansion of the Center's interpretive area to over 90 acres. Like the trails surrounding the Visitor Center, the Marakill Woods are is free and open to the public. As part of the management agreement, all Mohonk Preserve rules and regulations apply to the Marakill Woods.
Mohonk Preserve has completed mapping and boundary marking for the area and is working on a trail connectivity and recreation plan for the Marakill Woods property. Currently, the Marakill Woods can be accessed from the existing Foothills trail at the Mohonk Preserve Visitor Center, and via on-site parking spaces off Route 299.
"We are delighted to be partnering to protect this sensitive and special property right in the backyard of our Visitor Center," said Mohonk Preserve's Director of Land Protection Julia Solomon. "This kind of collaboration makes it possible to connect and integrate protected areas all along the ridge, which is important for both the environment and recreation."
Mohonk Preserve looks forward to continuing collaborations with OPRHP and our other colleagues in the region to protect environmentally important lands and provide opportunities for healthy outdoor recreation for our community and visitors.
Banner Photo by Gerald Liddelow; Boundary monitoring on the Marakill Woods property by Julia Solomon