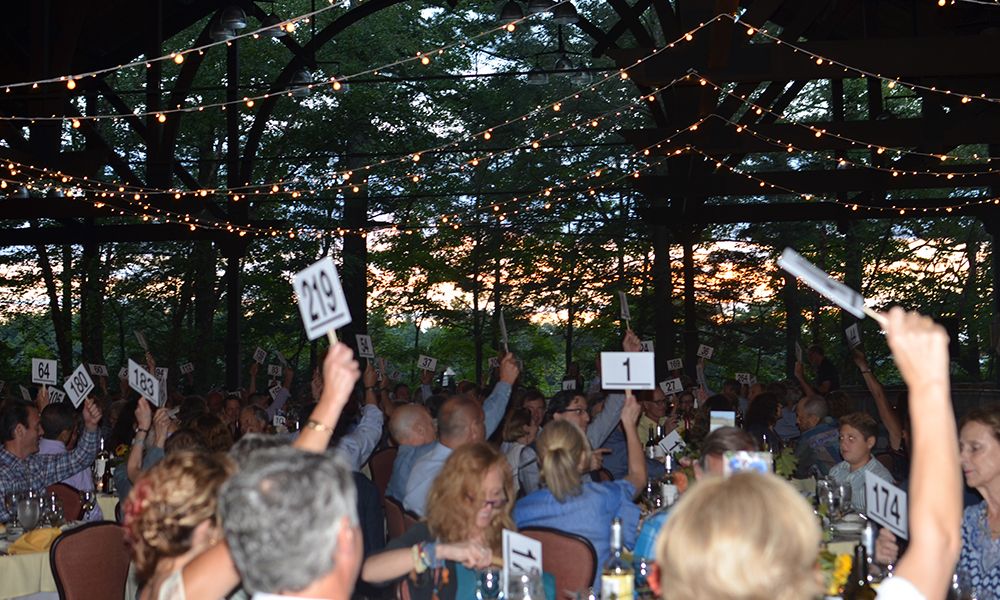 Kick Off Autumn at the Preserve's Annual Benefit Auction
Autumn is amazing on the Shawangunk Ridge and guests at Mohonk Preserve's 22nd Annual Benefit Auction on Saturday, September 14, 2019 will have the opportunity to welcome the season and support the Preserve's conservation mission by bidding on extraordinary experiences and enjoying a festive evening of great food, drink and friends. The event will raise funds to provide critical support for conservation science, land protection and stewardship, and outdoor education programs that yield long-term environmental and public benefits.
This year, Auction guests will have even more time to enjoy themselves with neighbors, friends and family. An earlier start, streamlined auction and more creative and delicious food options at multiple Chef's Action Stations, including vegan and vegetarian options, will combine to make an unforgettable evening! 
Guests will gather at Mohonk Mountain House's Ice Skating Pavilion, where they will enjoy a silent auction full of fantastic finds for home and garden, special items just for kids, goods and services for beauty and wellness, works of art, adornments, activities and outings, along with cocktails and hors d'oeuvres. An early dinner will precede the exciting live auction, with the Mountain House's own Alex Sherwood as auctioneer.
Featured live auction items will include a birding and cultural tour of Chiapas, Mexico with Chiapas Birding Tours and rafting on Utah's Green River through the Gates of Lodore in Dinosaur National Monument with OARS. Closer to home, bidders may raise their paddles for an exclusive campout at Spring Farm, Tower-to-Tower Hike with Chief Ranger Andrew Bajardi, and Spring Birding Tour with Research Ecologist Megan Napoli. Or they can create their own water adventure with a stand-up paddleboard and accessories.
Attendees will also have an opportunity to support exciting Preserve initiatives, such as outdoor education programs that help city kids experience the natural world; important new pollinator programs and research in the Mohonk Preserve Foothills; restoration and stewardship of key historic carriage roads; funding to foster additional land protection and conservation; and equipment and training to keep rangers search-and-rescue ready.
"We are so excited to continue the legacy Benefit Auction with improvements designed to enhance the guest experience and offer more opportunities to support all of the wonderful programs and services Mohonk Preserve provides," said Preserve Board Member and Auction Committee Chair Laurel Sweeney. "My favorite part of attending this event is seeing paddles raise in air to help the Preserve fulfill its mission to inspire visitors to care for, enjoy and explore their natural world."
The Preserve's auction sells to capacity each year with over 275 patrons. For more information or to order tickets or tables, click here.
 
Banner photo by Gerald Liddelow; At the 2018 Annual Benefit Auction by Linda Moriarty