It's high summer at Mohonk Preserve and a great time to take a stroll on our shady J&S Grafton Sensory Trail or splash in the Coxing Kill at Split Rock, our small but mighty waterfall! In this issue of Ridgelines, we'll share exciting news about our upcoming Annual Benefit Auction, introduce an important new land protection partnership in the Marakill Woods, and profile the Preserve's Legacy Society, whose members provide critical long-term funding for the future.
As most of you know, after 26 years at the helm Glenn Hoagland will be leaving the Preserve at the end of September. We will include a tribute to Glenn in the autumn issue of Ridgelines, but in the meantime, please view an article about him from the New Paltz Times here.
We encourage you to enjoy the rest of the fleeting summer season by getting into nature at Mohonk Preserve and hope to see you soon on the land.
Banner Photo by Gerald Liddelow
---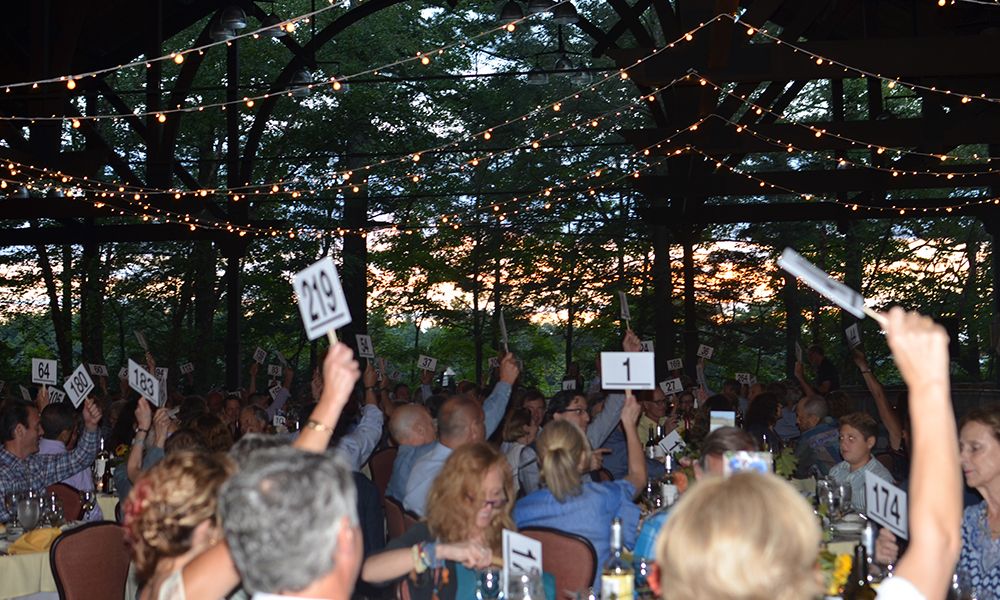 Kick Off Autumn at the Preserve's Annual Benefit Auction!
Autumn is amazing on the Shawangunk Ridge and guests at Mohonk Preserve's 22nd Annual Benefit Auction on Saturday, September 14, 2019 will have the opportunity to welcome the season and support the Preserve's conservation mission by bidding on extraordinary experiences and enjoying a festive evening of great food, drink and friends. The event will raise funds to provide critical support for conservation science, land protection and stewardship, and outdoor education programs that yield long-term environmental and public benefits.
This year, Auction guests will have even more time to enjoy themselves with neighbors, friends and family. An earlier start, streamlined auction and more creative and delicious food options at multiple Chef's Action Stations, including vegan and vegetarian options, will combine to make an unforgettable evening!
Photo by Linda Moriarty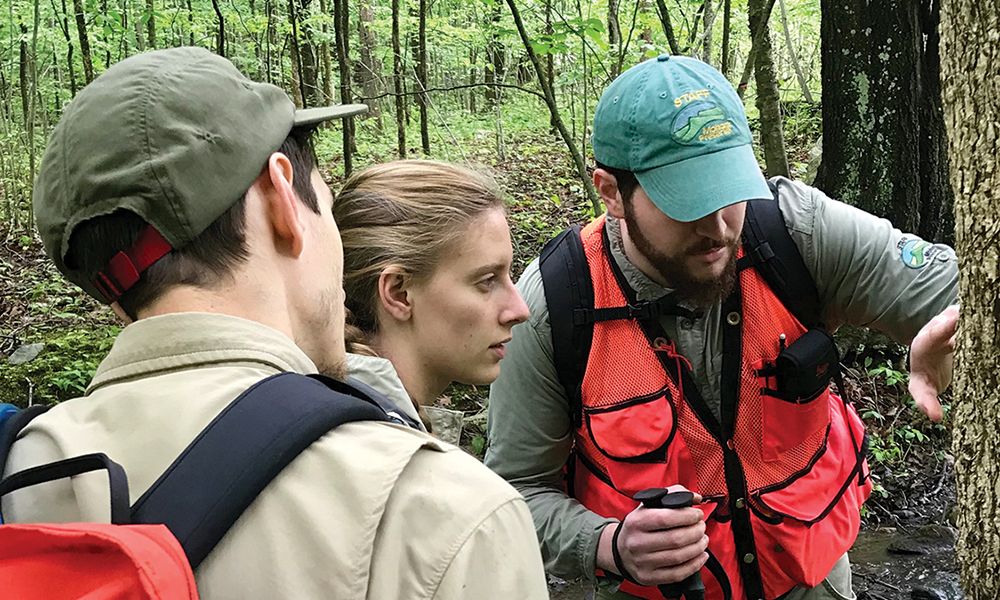 Partnering For Protection
For over 50 years, Mohonk Preserve has been partnering with other organizations to help preserve and steward natural lands in the Shawangunk Mountains region. For example, in the past decade, we have worked with the Open Space Institute (OSI), Palisades Interstate Park Commission and American Alpine Club to establish and co-manage the Samuel F. Pryor III Shawangunk Gateway Campground in Gardiner, and with OSI on the River-to-Ridge Trail in New Paltz. Most recently, we've entered into a cooperative land management agreement with the New York State Office of Parks, Recreation and Historic Preservation (OPRHP) for the Marakill Woods property off Route 299 in Gardiner.
The Marakill Woods is a 58-acre property featuring a chestnut oak forest, a wetland sedge meadow, and a shallow cattail marsh. It also includes some of the headwaters of the Mara Kill stream, a tributary to the Wallkill River, which in turn is a tributary to the Hudson River. Formerly a New York State Department of Environmental Conservation (NYSDEC) Multiple Use Area, the property received heavy use in the past as a rustic campground and recreation area. After the nearby Samuel F. Pryor III Shawangunk Gateway Campground was established, NYSDEC discontinued use of the property as a campground.
Photo by Julia Solomon
---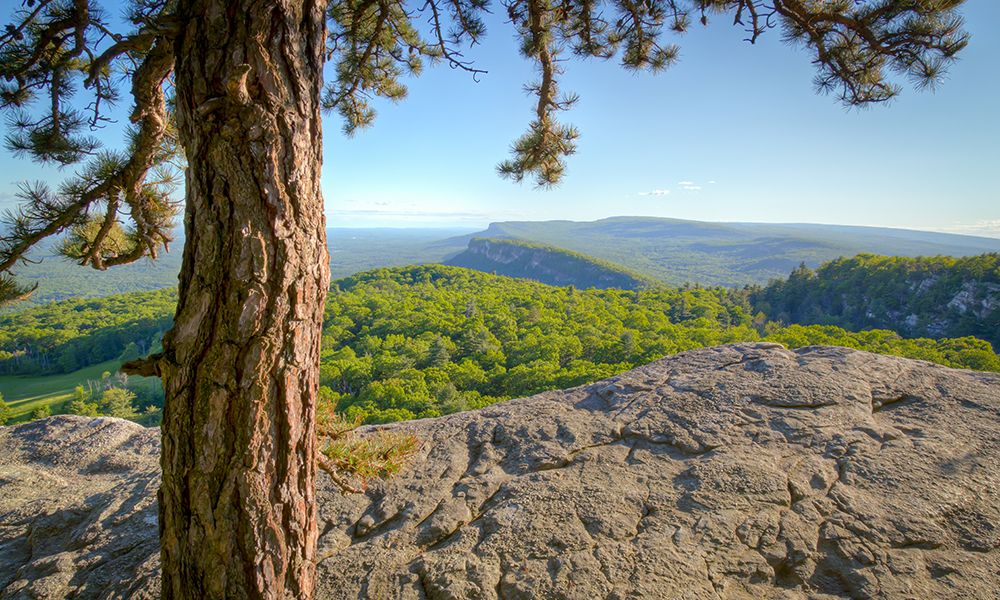 Creating a Legacy of Support for Mohonk Preserve
As an organization dedicated to the perpetual protection of the lands in its care, Mohonk Preserve is truly in the "forever business." From its inception, the Preserve has benefitted from the exceptional generosity of supporters who have included the organization in their estate plans.
The Preserve produced an early brochure about planned giving, and in 1993, the spring Ridgelines newsletter included the first specific mention of bequests and provided sample language for those wishing to include the Preserve in their wills.
A decade later in 2003, during the Preserve's 40th anniversary year, Bobbi Esmark joined the Preserve as director of development, noting in Ridgelines that she hoped to "help the Preserve protect and deepen our financial resources with the same long-term view that we have regarding the land." As one of her first initiatives, she introduced the Legacy Society to formally recognize donors who express their commitment to the environment by making planned gifts to the Preserve.
Photo by Kate Schoonmaker
---
Seasonal Updates
View seasonal photographs by our volunteer photographers.
See more photos by the Mohonk Preserve Volunteer Photographers on their Facebook page.
Photo: Mountain Laurel by Oliver Goland
GET INTO NATURE. See a full list of upcoming programs including Yoga at the Pavilion, Early Spring Bird Walks, Weekend Hikes and Bob Babb Wednesday Walks.
IN APPRECIATION. Go to our listing of Memorial and Honorary Gifts, Premium Members, and Business Members received April 1 through June 30.
CHECK THIS OUT.
Registration is now open for our Rock The Ridge 50-Mile Endurance Challenge on May 2, 2020! Our 2019 event sold out — accept the challenge NOW 
to secure your place! *New for 2020* Rock The Ridge's time limit was adjusted to better reflect the actual cutoff times for the course legs and provide a great experience at the finish line for all participants. The vast majority of Ridge Rockers have finished well within the new 18-hour limit. We will also be offering specific training tips and pacers for various finish times. Looking to join a relay team but having trouble with finding a group? Our Rock The Ridge matchmaker can help! Click here to complete the form for our relay team matchmaker.
Healthy Ulster is back for autumn! The Preserve is offering a free, one-month membership to Ulster County residents. Visitors with proof of residency may obtain their passes at the Preserve Visitor Center from 10am-8pm on Friday, August 16th, and at the Visitor Center and Spring Farm Trailhead from 10am-4pm Saturday, August 17th and Sunday, August 18th. The membership passes will be valid through September 15, 2019. Passes must be picked up in person, with the exception of minors, whose parent or guardian may pick up a pass on their behalf. Sponsored by Ulster Savings Charitable Foundation.
Registration is also open for the 2019 Pfalz Point Trail Challenge 10-Mile Benefit Run on Sunday, September 29th. Sign up today!
MOHONK PRESERVE MEMBER REWARDS PROGRAM. Show your valid Mohonk Preserve annual or life membership card at nearly 40 local businesses listed here, and receive a discount or special offer.
Mohonk Preserve welcomes Business Members who joined between April 1 and June 30.