Spring has sprung at Mohonk Preserve and our 2019 season is already in full bloom! In this issue of Ridgelines we'll share exciting news about our national accreditation renewal from the Land Trust Accreditation Commission! We'll also explore the parenting skills of our returning Peregrine Falcons and highlight how we are sharing our science through the Preserve's Daniel Smiley Research Center Digitization Project. 
This is a great time of year to get out on the land on one of our many guided hikes for nature lovers of all ages. Check out our Early Spring Wildflowers walk on April 20 to see annual favorites coltsfoot, bloodroot, hepatica, and spring beauties. Thanks for helping to protect these and other species of plants and animals through your support of Mohonk Preserve!
Banner Photo by Celeste Brunell
---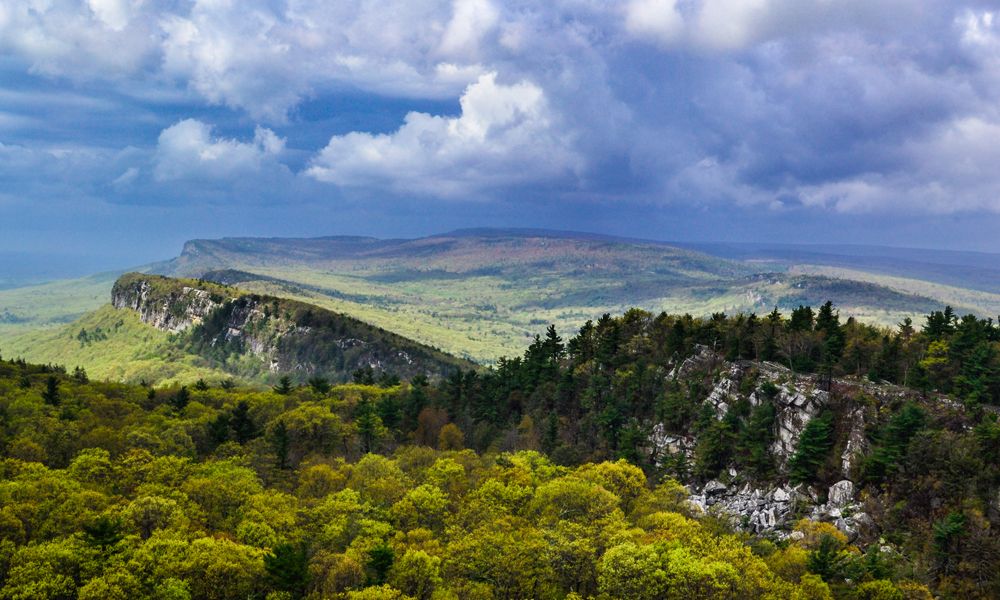 Excellence, Trust and Permanence
For 56 years, Mohonk Preserve has been setting the standard for long-term land stewardship as New York's largest member and visitor-supported nature preserve. As part of our commitment to excellence in land protection, the Preserve is a longtime member of the Land Trust Alliance, and adheres to LTA's Land Trust Standards and Practices, the ethical and technical best practices for securing lasting land conservation. 
In 2012, the Preserve took the next step in ensuring the promise of perpetual land protection by applying for accreditation with the Land Trust Accreditation Commission, an independent program of LTA. The land trust accreditation program recognizes land conservation organizations that meet national quality standards for protecting important natural places and working lands forever. In 2013, as we celebrated our 50th anniversary, the Preserve received our official accreditation.
Photo by Steven Aaron
---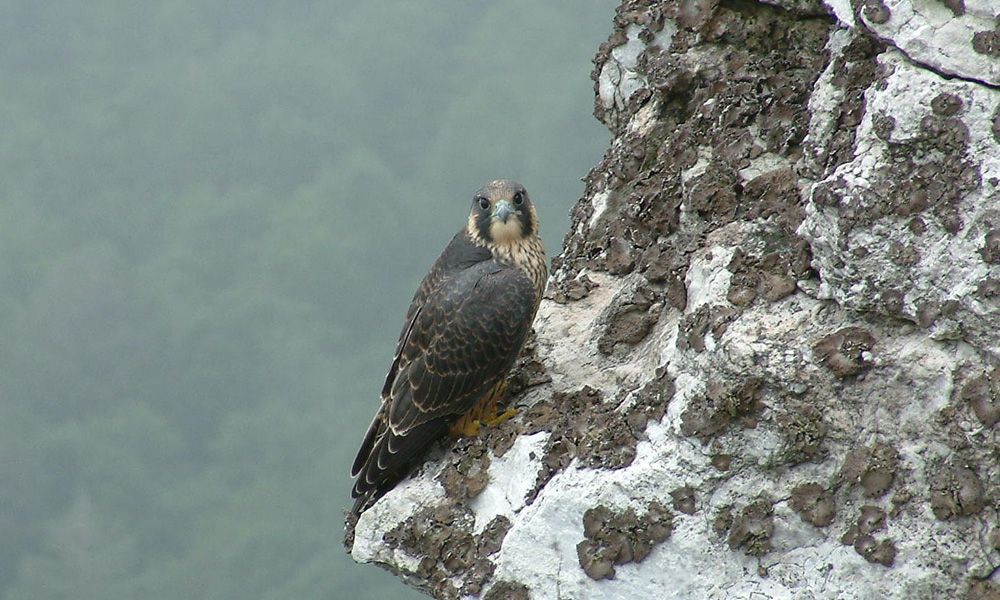 Meet the Peregrine Parents
The onset of spring marks the return of many bird species to Mohonk Preserve, including the Peregrine Falcon. Peregrines are drawn to the Shawangunk Ridge, where the cliffs provide ample breeding sites.
One of the ways Peregrines distinguish themselves is as exceptional parents. Their intense parenting style is both a blessing and a curse as these remarkable birds try to rebuild their population in the wake of human-induced decline.
Once found throughout North America, the breeding population of Peregrine Falcons went extinct in the eastern United States by the 1960s. The major cause was eggshell thinning due to DDT poisoning. Eggshells were so thin that incubating mothers crushed the eggs with just their body weight, so no young birds hatched to begin a new generation.
Photo by Tom Sarro
---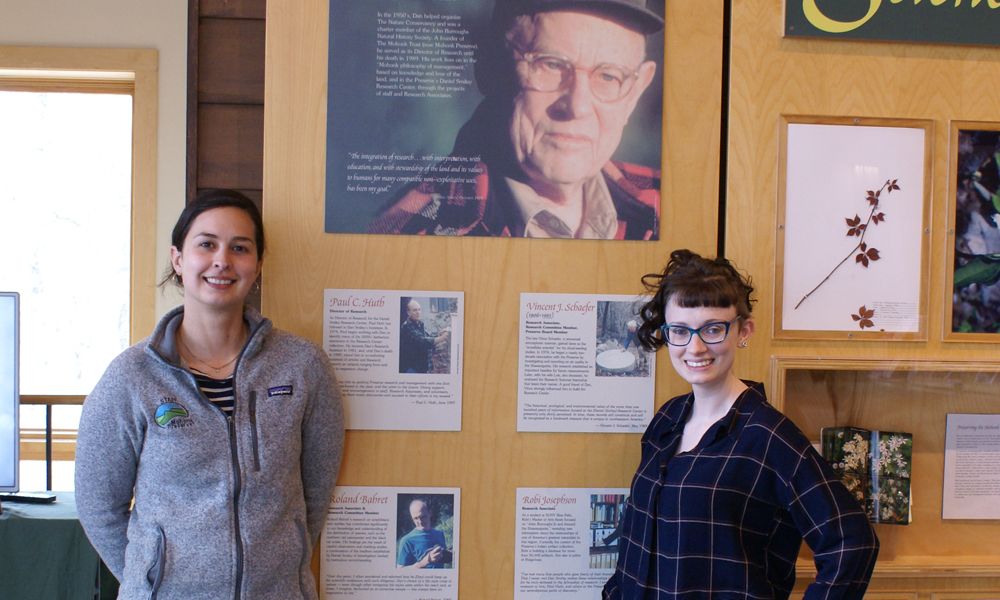 Sharing Our Science
While some college students are off on spring break, Courtney McNamara is hard at work on an internship involving digitizing the Natural History Observation Card File at the Preserve's Daniel Smiley Research Center. A graduate student at Johns Hopkins University working on a Master of Museum Studies and Digital Curation degree, Courtney is combining her interests in archives and accessibility by helping to preserve and perpetuate some of the Preserve's 14,000 index cards containing documentation of 1,535 species of flora and fauna on the Shawangunk Ridge.
Courtney is no stranger to the ridge – her father worked at the Mohonk Mountain House golf course and her mother worked in the greenhouse. Courtney fondly remembers tackling the local rock scrambles at the Mountain House and Mohonk Preserve as a child.
Photo by Stephen D. Stewart-Hill
---
Seasonal Updates
View seasonal photographs by our volunteer photographers.
See more photos by the Mohonk Preserve Volunteer Photographers on their Facebook page.
Photo: Red Spotted Newt (Eft) by Siu S. Yuen
GET INTO NATURE. See a full list of upcoming programs including Tango at the Pavilion, Early Spring Wildflowers, Healthy Ulster, Weekend Hikes and Bob Babb Wednesday Walks.
IN APPRECIATION. Go to our listing of Memorial and Honorary Gifts, Premium Members, and Business Members received October 1 through December 31, 2018.
CHECK THIS OUT.
Save the Date! Mohonk Preserve's 22nd Annual Benefit Auction will be on September 14, 2019. Join your neighbors, friends, and special guests for a magical evening while helping to support Mohonk Preserve's mission.
Healthy Ulster has a new schedule this Spring! The Preserve is offering a free, one-month membership to Ulster County residents. Visitors with proof of residency may obtain their passes at the Preserve Visitor Center from 10am-8pm on Friday, April 26th, and at the Visitor Center and Spring Farm Trailhead from 10am-4pm Saturday, April 27th and Sunday, April 28th. The membership passes will be valid through May 19, 2019. Passes must be picked up in person, with the exception of minors, whose parent or guardian may pick up a pass on their behalf. Sponsored by Ulster Savings Charitable Foundation.
MOHONK PRESERVE MEMBER REWARDS PROGRAM. Show your valid Mohonk Preserve annual or life membership card at nearly 40 local businesses listed here, and receive a discount or special offer.