An Important Message from Elizabeth Long, PhD
If nature teaches us one thing it's that the only constant is change.
---
Right now, we're witnessing dramatic change at our beloved Duck Pond. In February 2018, the valves on the old drain pipes began to leak and water rapidly drained out of the pond. Fish and newts took refuge in the center, where shallow water remained, while turtles and northern water snakes found escape routes up the banks of the pond. In time, silt build-up on the valves temporarily stemmed the outflow and spring rain filled the pond.
Mohonk Preserve has to address the failing infrastructure and determine the next phase for this special place. Dams are regulated by the NYS Department of Environmental Conservation, which means we have to engage a professional team of engineers to work with our stewardship staff to complete an initial assessment of the dam and pipes and then develop a remediation plan.
We set a goal to raise $100,000 to pay for the engineering segment of the plan. At our NYC Spring Benefit, we kicked off this appeal and raised the first $55,000.
We're more than halfway to our goal! Would you please consider a gift of $250 to complete the remediation plan? With your help, we will determine the best conservation outcome for Duck Pond.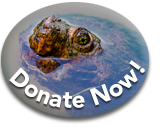 We don't know what the future holds for this changing landscape. We are committed to being responsible stewards of the land and with your support we can continue this work. Thank you.  
Sincerely,

Elizabeth Long, PhD
Director of Conservation Science
Banner photo by Jolie Parker; Snapping Turtle by Jeffrey D. Haines