Week Seven "Nature Nugget" Outdoor Activities:
Land Art Lifecycles  |  Abiotic & Biotic Backyard Survey
Trees as Habitats  |  Nature Inspired Memory Match Game
Natural Material Sun Catcher
---
Land Art Lifecycles with Cathy Shiga-Gattullo |  Nature Nugget  | May 4th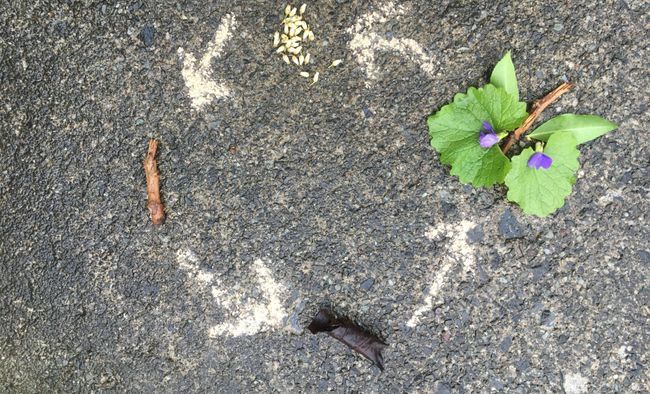 Location: Indoors/Backyard 
Great for: Students and families, ages 6 and up 
Make lifecycle diagrams using found items from around outside your home! Think about the lifecycles of common creatures: Butterfly, Bird, or Frog, for example. 

Butterfly: egg, caterpillar, pupae (chrysalis), adult butterfly 
Bird: egg, baby bird, adult bird 
Frog: egg, tadpole, froglet, adult frog 
 
Find natural objects (or things around your house if it's raining), to represent each stage of your creature's life cycle.  
 
Lay them out in a circle and draw chalk arrows in between (or use grass or twigs to make arrows). [photo] 
Bonus discussion: What threats are there to different stages of your creature's life cycle? For example, birds might want to eat butterfly's caterpillars. Or pollution could hurt tadpoles.  
Extra bonus: Try this same activity with a food chain. Remember, all food chains on earth start with the sun. The sun gives energy to plants, when which get eaten by a consumer, which gets eaten by a higher level consumer, etc., all the way to a top predator. Can you do sun to coyote? To black bear? To timber rattler? 
Selected resources: 
The Amazing Life Cycle of Butterflies; Kay Barnham and Maddie Frost; B.E.S., 2008. 
From Tadpole to Frog; Kathleen Weidner Zoehfeld; Scholastic, 2016. 
An Egg Is Quiet; Dianna Hutts Aston and Sylvia Long; Chronicle, 2013. 
Art from Nature ABCs; Chris Gluck; Studio Acanto, 2018. 
Andy Goldsworthy: A Collaboration with Nature; Andy Goldsworthy; Harry N. Abrams, 1990. 
---
Abiotic & Biotic Backyard Survey with Lauren Borer  |  Nature Nugget  |  May 5th
Additional Resource:
Abiotic & Biotic Backyard Survey Worksheet
---
Trees as Habitats with Lauren Borer  |  Nature Nugget  |  May 6th
---
Nature Inspired Memory Match Game with Kim Tischler
Nature Nugget  |  May 7th
---
Natural Material Sun Catcher with Christy Belardo
Nature Nugget  |  May 8th
---
View More Nature Nuggets:
Banner Photo by Christy Belardo