Week Four "Nature Nugget" Outdoor Activities:
Math in Nature: Ratios  |  Water Resist Art
Micro Hike  |  Eggs and Nests
Land Art
---
Math in Nature: Ratios with Lauren Borer
Nature Nugget  |  April 13th
---
Water Resist Art with Christy Belardo
Nature Nugget  |  April 14th
---
Micro Hike with Lauren Borer
Nature Nugget  |  April 15th
---
Eggs and Nests with Cathy Shiga-Gattullo
Nature Nugget  |  April 16th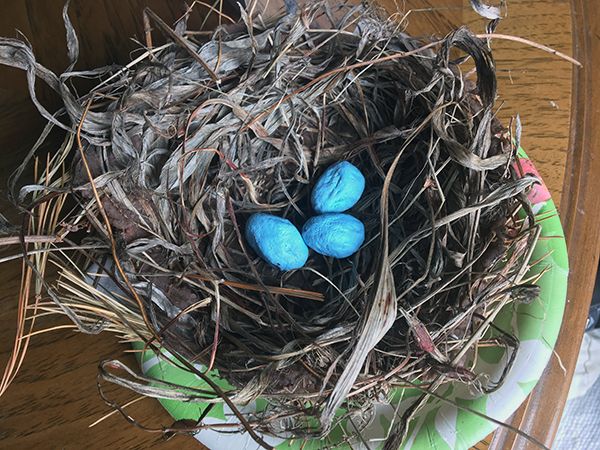 Location: Backyard 
Great For: Students and families, ages 4 and up 
"A robin feathering its nest has very little time to rest, when gathering its bits of twine and twig." Mary Poppins from "A Spoonful of Sugar"  
Birds are amazing architects! Watch the birds in your yard as they collect materials and build their nests. Now it's your turn – collect twigs, grasses and leaves for nest building. Use a base of play dough or homemade clay, which can also be used to make eggs to place in your nests.  
1. Find or make the play dough. If you didn't see the recipe from the scat activity, here it is again:  
If you don't have play dough or other modeling clay, you can easily make your own (if you can spare the ingredients). This very forgiving recipe for salt-flour dough came from my mom, who was an early elementary school teacher for 28 years. It keeps well if you wrap it tightly, and is great for hours of open-ended activity.   

All measurements are approximate (as if a kid is measuring – haha!)  

2 1/3 cups of flour  
1 cup of salt (regular table salt works best)  
2 Tablespoons of vegetable oil  
2 teaspoons of cream of tartar  
2 cups of water  
Food coloring – I used brown and black gel food coloring (fancy). Or you can continue your color theory studies by seeing how you get brown (Helpful hint: mix all the colors together a drop at a time). You can use a bit of paint mixed into the water, or even dot it with marker after the dough is done and cool (it'll mess up your marker, though), but then it's not necessarily non-toxic.  

Empty all ingredients into a large pot and whisk to combine. Heat slowly, over low heat, whisking constantly. When the mixture starts to feel like it's sticking to the bottom, switch to a heavy wooden spoon or silicon scraper. Continue to stir, scraping the bottom until the dough is a ball and isn't looking wet anymore. Cool in the pot for a while, then transfer to a bowl or cutting board to cool completely if you're in a hurry. Knead the dough until smooth. (Mine looks grainy because I only had kosher salt). *The pot looks like a mess, but don't worry - it'll clean up after soaking for a bit.   
2. Collect grasses, pine needles, twigs, and leaves. It's a great way to get the kids to help clean up the garden! 
3. Flatten your clay into a disk. Press the nest materials into it. 
4. Use a spatula to flip it over. Press more twigs and grasses into it 
5. Scrape it up again and gently mold it into your desired nest shape. You can place it in a bowl to dry. You can build it right into a bowl with glue, too. Bonus: if you have craft feathers, add them in for a soft layer. Try adding bits of string or yarn, too. 
6. Sculpt your eggs from more clay. After they dry, you can paint them. Use guides like this one to help you make eggs of a specific bird.  
Bonus for the birds! Leave a loose wad of dryer lint in branches for birds to use for their nest building. All those cut threads from mask sewing could be useful for your feathered friends, too. 
**Important Note** Never disturb nests or eggs.

Watch from a respectful distance, but don't touch!  Many birds are protected by federal law. Mohonk Preserve has a Salvage License which allows us to possess certain specimens.
Selected resources: 
This Is the Nest That Robin Built; Denise Fleming; Beach Lane Books, 2018. 

A Nest Is Noisy; Diana Hutts Aston & Sylvia Long; Chronicle Books, 2015. 

Birds, Nests and Eggs: A Take-Along Guide; Mel Boring; Cooper Square Publishing, 1998. 

Who Took the Farmer's Hat?; Joan L. Nodset & Fritz Siebel; Harper Collings, 1988. 

The Best Nest; P.D. Eastman; Random House, 1968. 
Steps 1 & 2

1. Find or make the dough.
2. Collect grasses, pine needles, twigs, and leaves. It's a great way to get the kids to help clean up the garden! 

Steps 3 & 4

3.    Use a spatula to flip it over. Press more twigs and grasses into it 

4.    Scrape it up again and gently mold it into your desired nest shape. You can place it in a bowl to dry. You can build it right into a bowl with glue, too. Bonus: if you have craft feathers, add them in for a soft layer. Try adding bits of string or yarn, too. 

Step 5

5.  Sculpt your eggs from more clay. After they dry, you can paint them. Use guides like this one to help you make eggs of a specific bird.  

Bonus for Birds!

Bonus for the birds! Leave a loose wad of dryer lint in branches for birds to use for their nest building. All those cut threads from mask sewing could be useful for your feathered friends, too. 

American Robin Nest (real)
Land Art with Kim Tischler
Nature Nugget  |  April 17th
Banner Photo by Christy Belardo