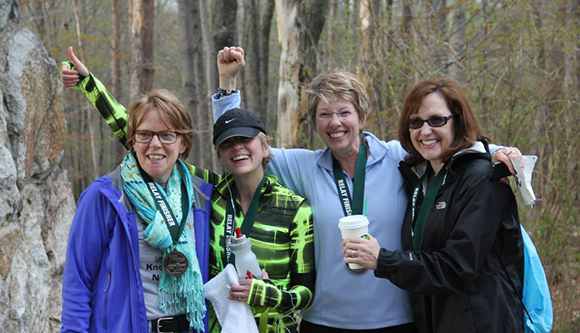 First Time Fifty Milers
Ridge Rockers Terri Fortuna and Carol Brandmaier-Monahan are no strangers to Rock The Ridge at Mohonk Preserve. For the last three years they have completed the course three times over as a relay team. This year, they're taking on the full 50 miles.
"Since we've done the course three times now as relays, I figured it was time for a new challenge," Terri said. "I also want to see the entire course. I've only done Leg 2 and Leg 4 of the relay and my friends have raved about their parts of the course."
Terri and Carol come from different running backgrounds. Before training for her first Rock The Ridge relay, Terri hadn't run more than a 5K. Since then, she's completed two more relays, a half-marathon, and now enjoys running 7-10 miles. "This race has meant so much to me over the past few years," she said. "I've gained the confidence to run longer distances than I ever thought I would."
Carol has participated in sprint triathlons, but had stopped due to injury until participating in the Rock The Ridge relay with Terri. "I have had my best run/walks ever during Rock The Ridge," she said.
Their running backgrounds exemplify a unique aspect of Rock The Ridge. "It draws in all kinds of people, no matter their fitness or training level," Terri said. "You have serious ultra marathoners and people who walk it with a three-foot Subway sandwich stuffed in their backpacks – and everything in between. We're all just people who want to enjoy the outdoors and challenge ourselves on an adventure. It's truly a great experience."
"I love this race because it doesn't feel like a traditional race. I've created new friends and built on friendships with older friends while getting to enjoy this great preserve," Carol added.
When asked why they've decided to come back year after year, the team cited the course and venue as a huge draw. "I just love Mohonk Preserve," said Carol. "It is gorgeous!" "Something speaks to me about Rock The Ridge," Terri added. "I love the venue. The course is just beautiful – spectacular views and trails."
Both agreed that they would like to finish within 12 hours, hoping to complete their 50 miles without needing headlamps.
---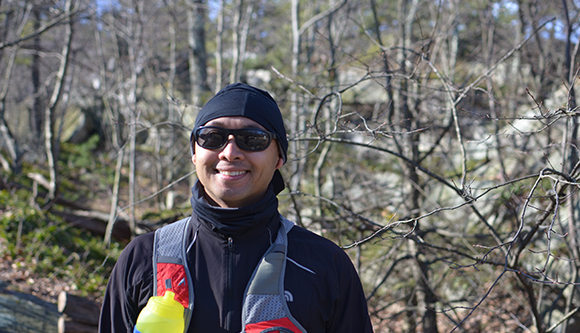 Jay Ballesteros
When Brooklynite Jay Ballesteros first took up running six years ago, he had no idea that he would eventually be getting ready to Rock The Ridge at Mohonk Preserve.
"I was at a turning point in my life," Jay remembered. "I was a bit overweight with a family history of diabetes. My doctor said that I needed to make a change. At the same time, my company was starting a program to encourage healthy lifestyles. At first, it was a challenge to just run a mile. After training and finishing my first 5K race, I was hooked on running and wanted to learn more."
Jay began researching different running techniques and styles of races, including ultramarathons.
"I was searching online for ultra events near New York City and came across Rock The Ridge," Jay said. "I was interested in participating last year, but wasn't quite ready. I wanted to get a marathon under my belt first."
Jay and his fiancée went on to complete the Walt Disney World Marathon together, and afterward, with her support, he signed up for Rock The Ridge.
When asked what attracted him to Rock The Ridge, Jay noted both the location and the cause.
"Living and working in the city can sometimes be stressful. I've been up to the Hudson Valley on several trips and always enjoyed my time there, unplugged and away from the hectic pace," Jay said. "I am also happy to be a part of a fundraiser to support conservation and preservation of the trails at Mohonk Preserve. I want to help pass on all the beauty of the area for the future."
Jay has been training at Central Park in Manhattan and Prospect Park in Brooklyn.  He also participated in the "Taste of Rock The Ridge" event on March 19, 2016 to get a better feel for the Preserve's carriage roads.
When asked about his personal goals for Rock The Ridge, Jay said he hopes to finish in 12-13 hours, before sunset, using a walk/run strategy.
"My number one priority is to finish happy and healthy," Jay shared. "I want to   enjoy the experience, get to meet other runners, and soak in the beauty of the trails!"
Jay's advice for others considering a first-time Rock The Ridge registration? "The 24-hour cutoff is very encouraging. You can choose to run or walk at your own pace with time to finish the course. The support has been amazing, the race organizers outstanding, and it's all for a great cause!"
Photo by Linda Moriarty
---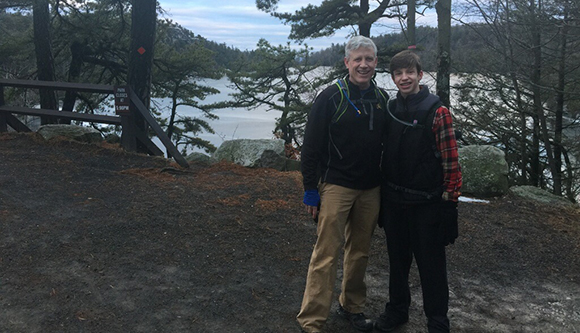 John and Tim Hogan
Mohonk Preserve's Rock The Ridge Endurance Challenge is an exceptional ultramarathon that attracts many elite athletes, but at the heart of the event are the "everyday" Ridge Rockers who participate at their own experience levels.
Father and son team John and Tim Hogan discovered Rock The Ridge while researching hiking opportunities online. "Tim is the youngest of my four children and I was looking for an activity we could do together," John said. "We had been to the Gunks last September and we were both blown away by the amazing scenery."  
Still, signing up for a 50-mile event was a big decision for the pair. "We're active people but the only real hiking we've done is with our dogs on the nearby Ward Pound Ridge Reservation – definitely nothing of this nature," John said. "We weren't sure if we were going to do it or not," John added. "We had to figure the out math and how to train for it."
"Tim and I went for a 12-mile hike and afterward I asked him, 'could you do three more of these?' And at that point, we couldn't, but we decided to keep trying and come to decision by end of the year," John said.
A turning point came in November when the pair signed up for a "Taste of Rock The Ridge" training hike led by Preserve Deputy Executive Director for Strategic Advancement Joe Alfano.
"After walking the 10 miles and learning about the event and the Preserve from Joe and Sarah Topping, a three-time Rock The Ridge participant, Tim and I both decided to give it a try," John said. "Joe was so calm and encouraging, and meeting Sarah was very reassuring. The 'Taste' hike was a safety net that reaffirmed our decision."
John and Tim also look forward to fundraising for the Preserve. "I think it is a great cause," John said. "Mohonk Preserve is very special place that is kept up tremendously well. You don't find places like that often and when you do, you should cherish and support them."
While John and Tim do have a goal of finishing the event in around 17 hours, they fully intend to take in the spectacular scenery. "We want to stop and enjoy the beautiful things along the way," John said. "This is a perfect challenge for both of us, and we'll be making lifelong memories together." 
Banner Photo by John Aylward