Photo by June Archer, Volunteer Photographer
Volunteer Voice #3 • Winter 2021
Editor: Margi Conklin
Assistant Editor: Jill Feldman
If you are looking for a way to stay informed about all things volunteers at Mohonk Preserve, then look no further. The Volunteer Scribes are here!
In this issue:
Hollywood Near the Hudson
My Favorite View
Happy Trails
Lost City
Ski Patrol
---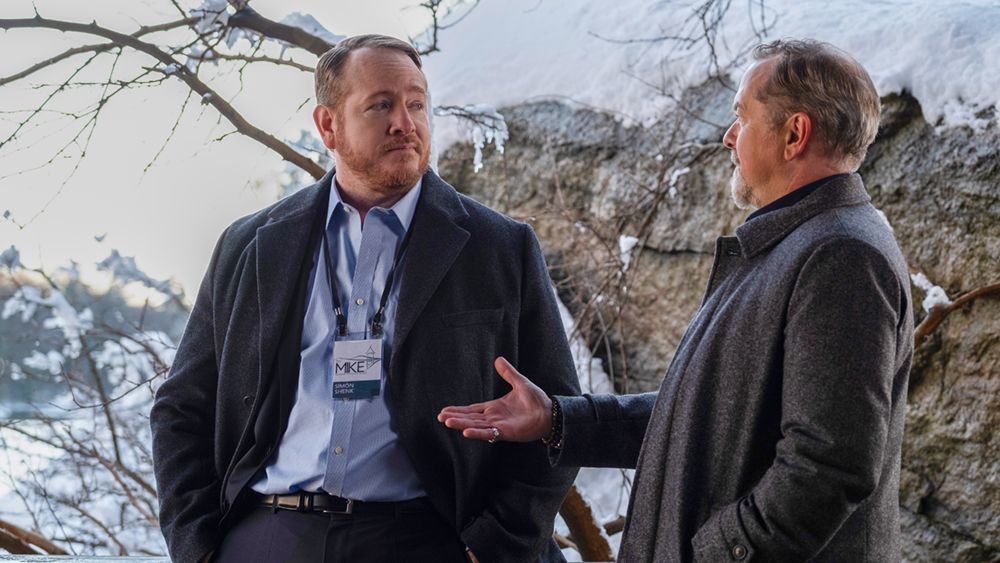 (L-R) Darren Goldstein as Simon Shenk and David Costabile as Mike "Wags" Wagner in BILLIONS. Photo Credit: Jeff Neumann/SHOWTIME
Hollywood Near the Hudson
How I got a taste of fame volunteering for Mohonk Preserve
By Larry Feldman
Opposite Photo: Larry Feldman in his volunteer work as a Climate Tracker
During my work as a Climate Tracker, I usually encounter a critter or two, and I have met up with black rat snakes, porcupines, fisher cats and deer. But one afternoon in December 2019, as I headed toward Lake Mohonk, I came across a rarer species still: Hollywood stars.

Spread across the grand porch of the Mohonk Mountain House were dozens of film crew and truckloads of equipment. Trucks and trailers filled the parking lot. Big black cases everywhere bore the name "Billions" stenciled on the sides.

I realized they were filming an episode of the Showtime series "Billions." With the sun setting on this winter afternoon, the serious faces of the crew told me they were in a hurry to finish up.

A busy-looking woman in her late 20s, hair tied back, casually dressed, holding a clipboard and wearing a headset, saw me standing there — bundled up, my equipment case in hand. She walked over and asked me who I was.

I told her I have been a Climate Tracker for five years on the beautiful grounds of the Mohonk Mountain House, where I do my lake fieldwork. The Daniel Smiley Research Center is the only part of Mohonk Preserve not located on Preserve land. It is on the grounds of the historic Mohonk Mountain House and the DSRC is the former home of third generation Smiley family member Daniel Smiley, a renowned naturalist who created a large collection of records and observations over his lifetime on the mountain.
"You will have to wait another 30 or 40 minutes before I can let you go there," she told me.
I nodded okay. Besides, I was busy looking for ginger-haired Damian Lewis, the star of the series. I had to settle for David Costabile, who plays "Wags" on the show.
"Quiet on the set.  And…action!" 
I hung out with two sound technicians who were monitoring equipment and standing by. Costabile and another actor were doing a scene at the far end of the grand porch, about sixty feet away from where we were standing. I could hear the dialogue during the three or four takes before the director finally yelled "Cut!"
Once the scene was finished, I was allowed to get my work done.
I measure and record air and water temperatures on site at Lake Mohonk, and then bring water samples back to the DSRC where pH gets entered and compared to historical records dating back to 1896. (That's 125 years of data at one of the oldest stations still reporting to the National Weather Service.) When it is really cold out and the lake is frozen over I have to use an axe to break through the ice in order to lower my sampling device. (By the time I finish, my fingers and toes are numb.) And the dock can get quite slippery when it's icy out.
Normally it is rather serene and quiet on the boat dock, but Mohonk Preserve's Associate Director of Visitor Services Jon Ross told me it's not uncommon to come across movie and television production companies filming on the grounds of Mohonk Preserve.
In spring 2011, Jake DeVito (son of actor Danny DeVito), who has roots in New York, wanted to produce a film about the early days of Abraham Lincoln. Terrence Malick co-produced the film. Ross drove DeVito and Malick around different Preserve locations until they found the spot they thought looked most like Kentucky and Indiana where young Lincoln grew up. They found the location near Spring Farm. In mid 2012, they received the go-ahead and a log cabin replica was built that summer. Filming continued through the fall and the historical drama "Better Angels" debuted at the Sundance Film Festival in 2014.
The Lincoln log cabin set "looked so realistic, but it was all veneer," Ross told me.
Commercials for companies as varied as Pfizer, Ford, Canon and Mountain Dew have also been shot at the Preserve. One of the "I Love NY" commercials was filmed here, as was a North Face ad which used an SUV — painted taxicab yellow — with a kayak on top and bicycle rack behind. Subaru filmed a commercial on the grounds at Coxing Falls.
Ross, who is the Preserve's main contact for film crews, grew up with parents in show business. His father, David Ross, was a radio personality and his mother, Beatrice Pons, a character actress for stage, radio, TV and film. Beatrice regularly appeared on the TV sitcoms "The Phil Silvers Show" and "Car 54, Where Are You;" she played Yente in "Fiddler on the Roof" on Broadway, and was the first to voice the character of Olive Oyl on the radio, Ross said.
And yet, "both my folks were unimpressed with celebrity," he added. "So we lived a very normal middle-class lifestyle." That could be why Ross is so comfortable working with members of the film industry at the Preserve.
I asked him, why do filmmakers love the Preserve's grounds so much?
"We have an extraordinary variety of terrain: meadows, a small waterfall, dense forests, carriage roads and cliffs. You can get all different types of landscapes. You could be almost anywhere," he said. "For rock climbing, we are it on the East Coast. It's an international destination. If you're going to do anything climbing related in the area, you're going to come to Mohonk Preserve."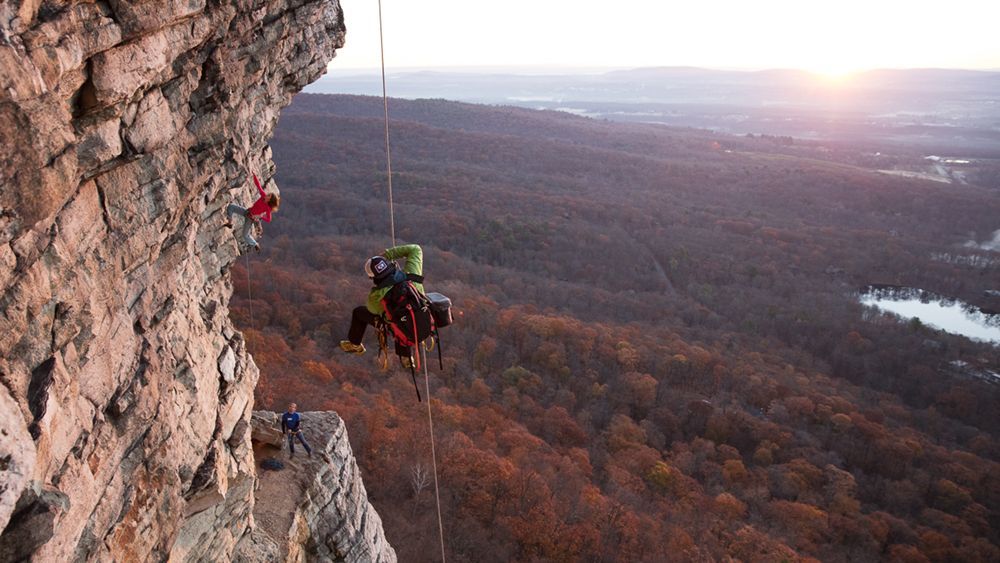 Jimmy Chin Shooting a Canon Commercial at Sunrise. Photo Credit: Mikey Schaefer 
Jimmy Chin, a world-renowned climber who won a 2019 Academy Award for the documentary "Free Solo," has shot more than one Canon camera commercial along the Preserve's ridge. And the NBC drama "Blindspot" filmed a climbing sequence at Mohonk Preserve. (Any filming that takes place at Mohonk Mountain House is organized by the hotel, rather than Ross.)
Early in the pandemic last year, "Billions" aired its new season and it was fun watching the particular episode I saw being filmed at Mohonk Mountain House (Season 5, Episode 2, in case you're interested). This time, I saw Damian Lewis at the Mountain House, playing billionaire hedge fund manager Bobby Axelrod on a corporate retreat with his team. On TV, it all looks so seamless and polished but during that production it was anything but.
You never know what's going to happen when you volunteer for the Preserve. Some days you get spotted salamanders or owls. And other days you get Hollywood-near-the-Hudson. Just another magical day at Mohonk.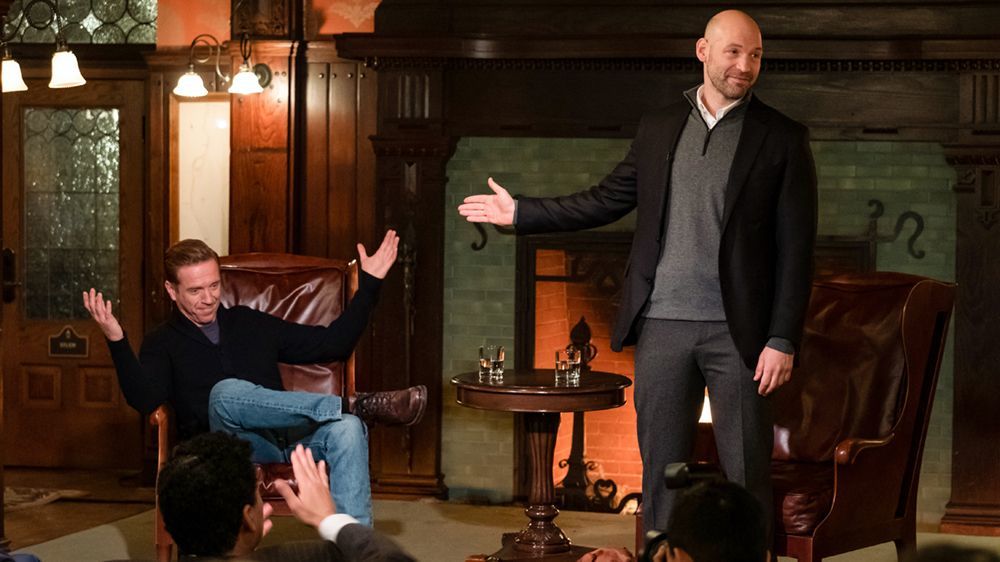 (L-R) Damian Lewis as Bobby "Axe" Axelrod and Corey Stoll as Michael Prince in BILLIONS. Photo Credit: Jeff Neumann/SHOWTIME
---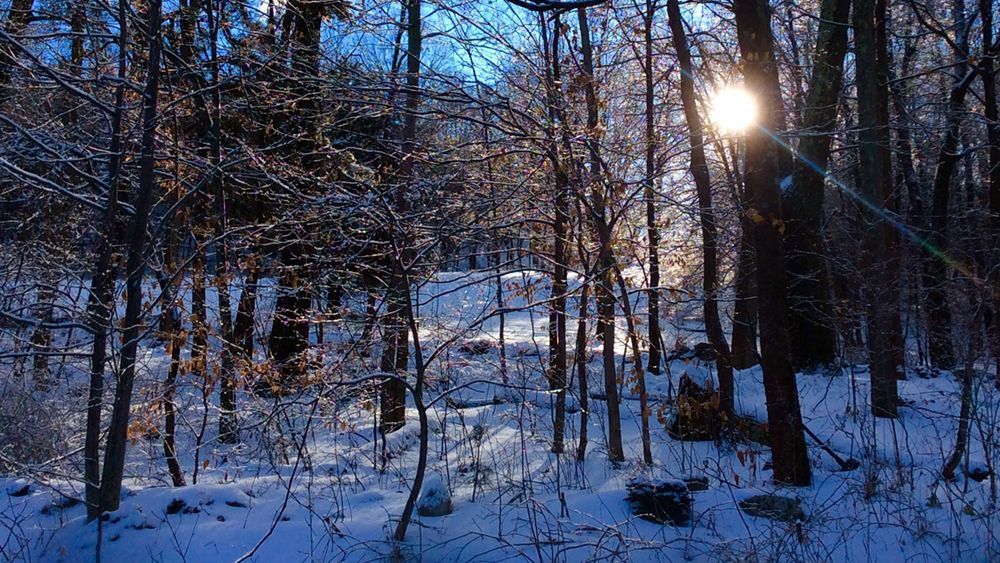 My Favorite View: Majestic Morning Near Spring Farm
By Laura Miller
Photo (opposite): June Finer on a Wednesday Walk
On a January morning in 2017, June Finer snapped this photo (above) near the Spring Farm trailhead.

The day was "cold, crisp, clear and silent, except for an occasional twitter in the trees," remembers June, a retired physician and longtime hike leader for Mohonk Preserve.

On that morning, June was waiting to meet a dozen others for a Mohonk Preserve-sponsored "Wednesday Walk" to Bonticou Crag. The Preserve's Wednesday Walks were started in the mid-1990s by the late Bob Babb, a retired "IBM-er" and volunteer, who wanted to offer an alternative to the Preserve's more rigorous weekend hikes.

The half-day walks mostly attracted retirees, many of whom formed long-term friendships. Almost all the participants were Preserve members or soon became members, and many went on to volunteer.

"We are all here because we love being here," says June, 85, who lives at the local retirement community Woodland Pond. "Almost everyone I know who lives locally really appreciates the environment, and spends time working hard to preserve it."
June began volunteering for the Preserve in the mid-1990s, first helping with the formation of the weekend hiking groups, then at the Mohonk Preserve Visitor Center front desk. She took over guiding the Wednesday Walks when Bob became too ill to lead them himself.
Right now, the Wednesday Walks have been paused due to the COVID-19 pandemic. June misses leading her hikes, and hopes they will be resumed soon. Of this photo, she concludes, "It was so beautiful, and the nice thing is that we shared this moment together as a group of friends."
Do you have a "Favorite View" you'd like to submit for an upcoming issue of Volunteer Voice? Please email your image to Laura Miller at yourwritemind1@yahoo.com along with a brief description of the moment, and we'll follow up. 
---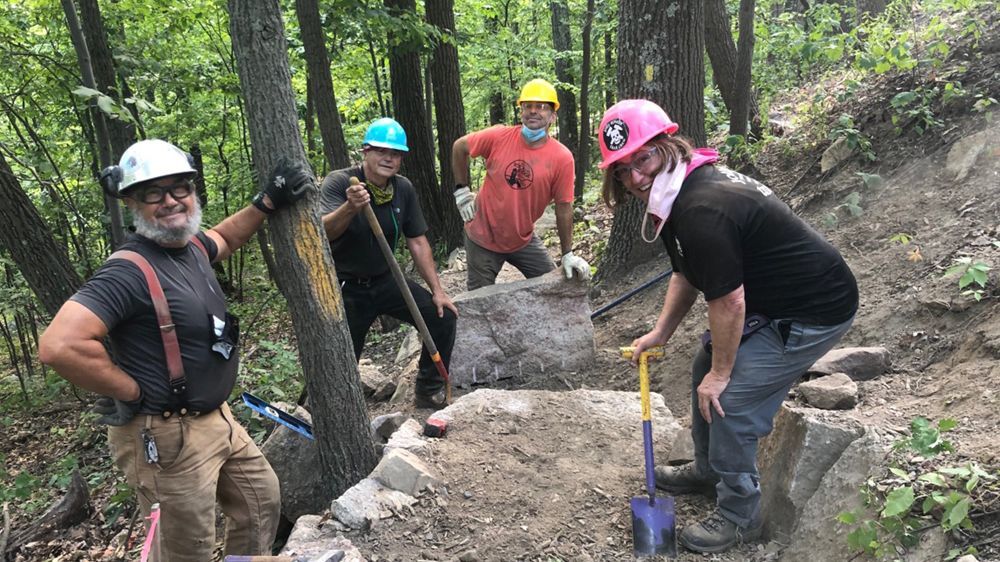 (Above) Some of the 2020 Trail Builders (Artie Hidalgo, Jeff Huth, Justin Key and Linda Shekita) enjoy a quick, well-deserved break from their hard work!
(Below) Detail of trail stretching between the Visitor Center and the entrance hut right before "The Stairmaster."
Happy Trails
Improving a path on Mohonk Preserve satisfies body and soul
Story by Jeff Huth; Photos by Patty Yorks
For three years, a small group of volunteers has been working to rebuild the lower section of the East Trapps Connector Trail. This wooded path had eroded under heavy foot traffic and needed to be made more robust and user friendly.

Trail building is hard work but it's also a lot of fun, especially under the guidance of Justin Key, the Preserve's Associate Director of Facilities and Grounds, and Artie Hidalgo and Linda Shekita from the Jolly Rovers Trail Crew, a local volunteer group that specializes in stonework.

For the East Trapps project, the Trail Builders were tasked with replacing some eroded components and improving the layout, number and placement of steps. Working over five Saturdays in the fall of 2020, we found and placed about 50 stones — some as heavy as 200 pounds — and completed a section up to 300 feet long.

With the COVID-19 pandemic inspiring more people to venture outdoors, the Preserve saw an increase in both membership and visitation last year. As a result, we frequently stopped to let hikers pass as we worked, and we also got to chatting with them (while wearing PPE, of course). Because visitors expressed almost universal gratitude for our team's hard work, the experience was especially rewarding.

Here's a quick look at what we did: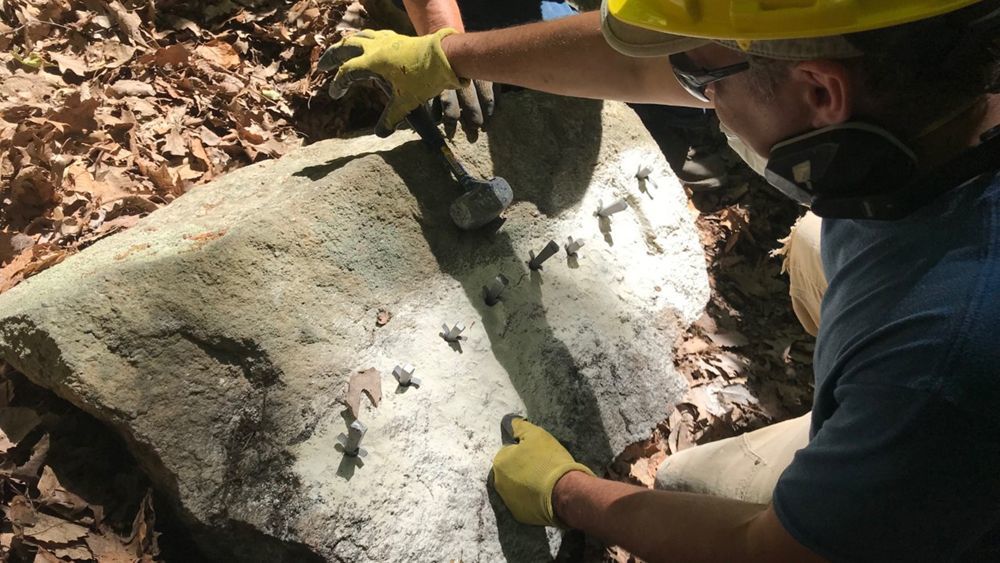 Breaking Up Is Hard To Do
Selecting and shaping stones into steps is the most difficult part of the job. Very occasionally the team was lucky enough to find exactly the right stone lying in the woods next to the trail. But more often, the perfect stone was about 100 yards away. Usually it was a huge piece of Shawangunk conglomerate that needed to be broken down to one-tenth its size. To do that, we drilled holes in the stone using an electric hammer drill, inserted wedges into each hole (nestled in between metal "feathers" or supports), and then hammered at the wedges until cracks emerged. The crew enjoyed mixing modern technology with more primitive wedges and rock hammers, which aren't unlike quarrying tools that have been used for thousands of years.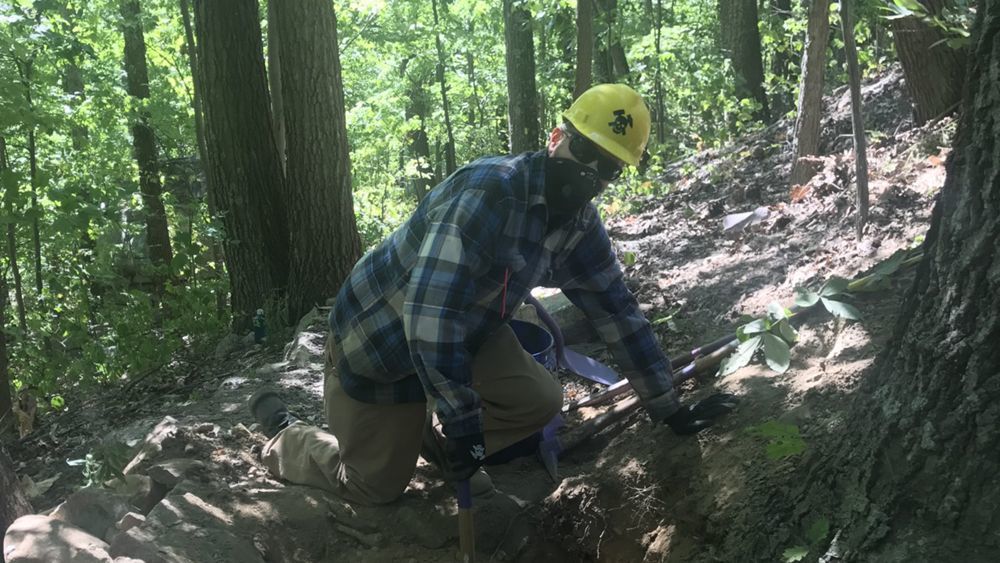 He Can Dig It
Before we could lay down any stepping stone, we had to create a solid, level resting place for it first. This process is called "excavating" — and we dug each spot by hand, making sure every stone would sit at a comfortable step height for hikers.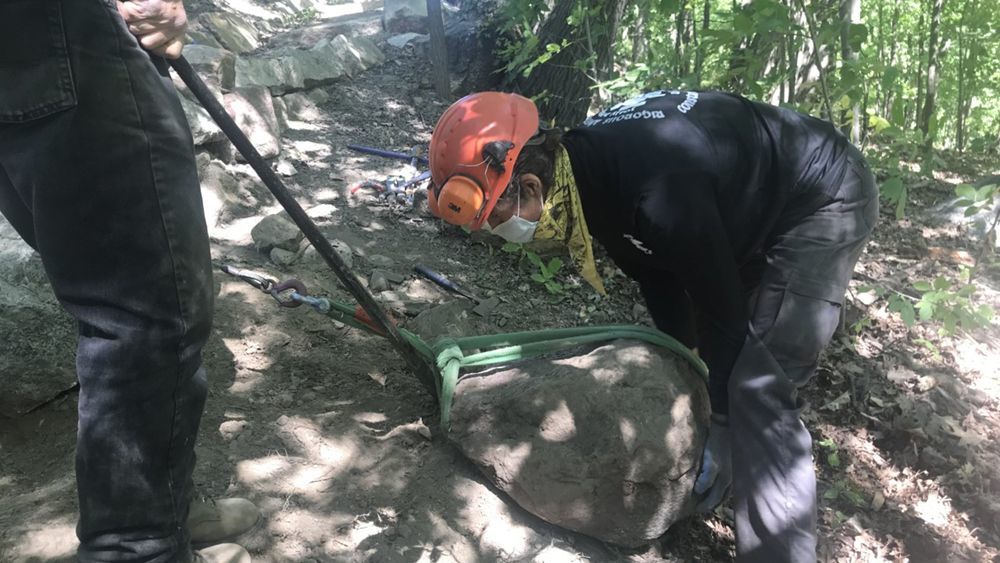 Rolling Stones
If we were lucky, we could harness the force of gravity and safely lower stones into position using slings and belaying techniques familiar to rock climbers. But more often, the stones needed to be moved uphill. Sometimes that required a dolly or maybe even a winch and cables — and always a heck of a lot of effort.
Next, we slotted the stones into place using two main tools: A rock bar (a long steel bar with a flat edge), and a pick mattock (a long pickaxe with a head that's sharp on one end, flat on the other).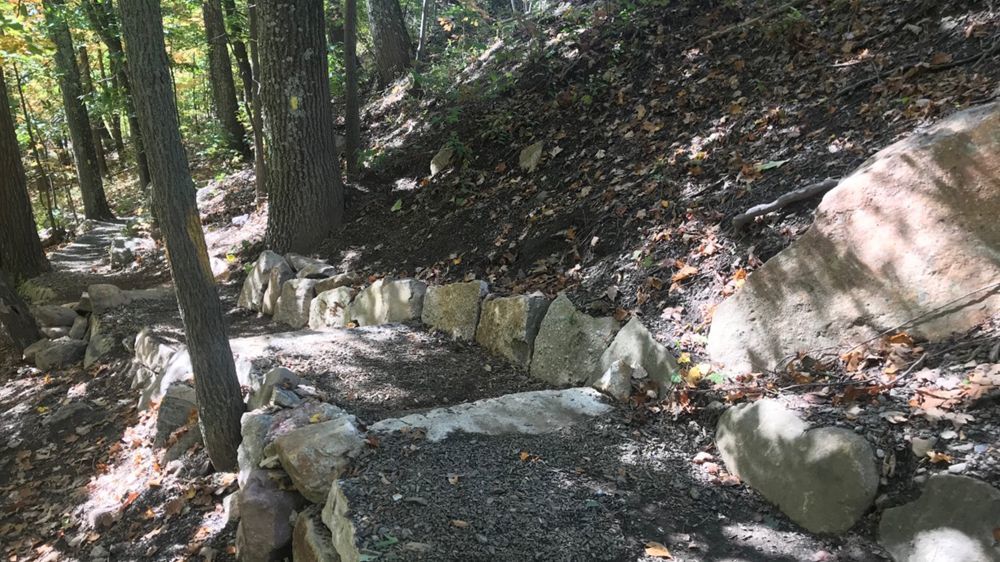 Pillars of Strength
To keep the trail's foundation stable, we fitted big "gargoyle" stones along its bottom edges. (Just like on Gothic cathedrals, gargoyle stones may not be pretty to look at, but they serve a useful purpose!)
We bulletproofed the trail by adding another row of stones — or "armoring" along its top edge. Finally, to keep the entire trail level and attractive, we covered the surface with a material called "crush" — tiny shards of shale found on certain slopes in the Gunks. Here you can see a finished portion of the trail with armoring above it and gargoyles supporting it from below.
I joined the Trail Builders to support the Preserve, which I have enjoyed in one form or another most of my adult life. I enjoy being outdoors and being physically active, but working on the trail also made me feel satisfied that I could help create something that will last for years and many people can enjoy.
If you want to support Mohonk Preserve (and find an alternative to the gym), the Trail Builders might be right for you. For more information, contact Andy Reynolds, Volunteer Programs Manager, at areynolds@mohonkpreserve.org.
Several of the most active volunteer Trail Builders are also members of the Jolly Rovers, which has built hiking trails up and down the East Coast, including sections of the Appalachian Trail and popular trails in the White Mountains. Learn more at www.jollyrovers.org.
---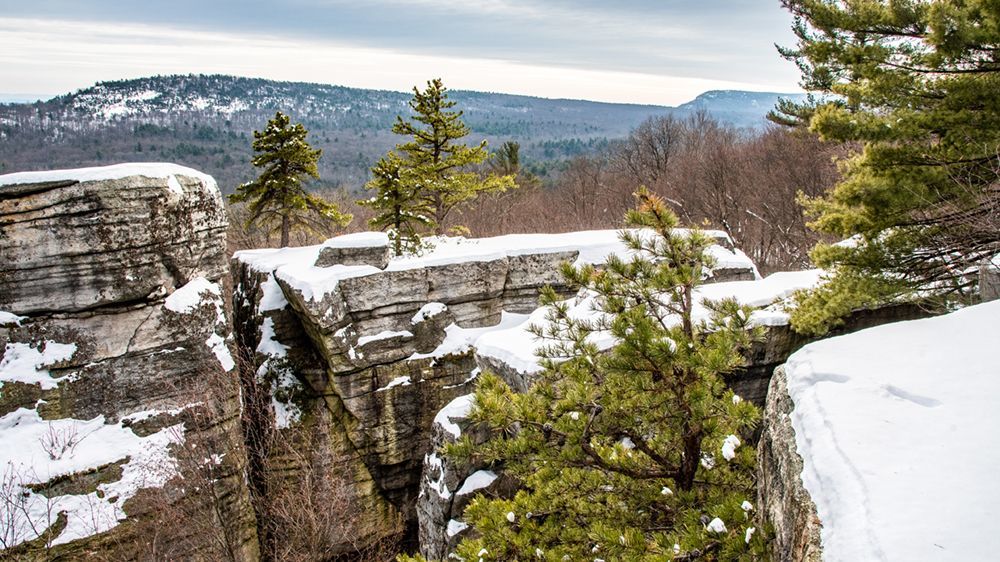 Lost City in Winter. Photo by Steve Aaron
Lost City: How Did It Get Its Name?
The first in a series, exploring the Preserve's most interesting features
By Michael Cohen
Some people believe that the most interesting hiking areas, in addition to offering natural beauty and views, should contain an element of adventure, offer a reasonable challenge and be located in out-of-the-way places. Lost City does all three.
Take the Coxing Trailhead to this magical cliff surrounded by massive boulders and monoliths, all nestled together in Mohonk Preserve. You can loop around the feature on the Lost City Escarpment Trail, which connects the lower part of High Peterskill Trail with the Kings Lane Trail.  
For anyone who has hiked the area, it's easy to see how Lost City got its intriguing name. Climbers first called it that because the 80-foot-tall stone blocks standing close to the cliff "create a feeling similar to being in a city surrounded by skyscrapers," according to the 1992 Mohonk Preserve Natural History Landmark Descriptions Report.
The "lost" aspects of Lost City do not end with its rock formations. The area is among the lesser used within Mohonk Preserve, a study by the research staff found. That's probably not surprising, given that it's obscured by trees and sits at the top of a steep hill.
The area is also "lost" in that it contains remnants of a bygone era. According to Paul Huth, Mohonk Preserve Director Emeritus, evidence of the local charcoal burning industry from the late 19th and early 20th centuries can be seen in Lost City. In some of the more level areas, circular charcoal pit bases and iron barrel bands are scattered across the ground. Charcoal was likely transported from the site via Kings Lane, which was then a public road and is now a hiking trail in the Preserve.
Huth said nests of hermit thrush appear in Lost City during the spring breeding season. Turkey vultures and ravens also live in its cliffs, where blueberries and wildflowers flourish. Standing on the upper portions of Lost City, hikers can feel like they've conquered a new land, surrounded by excellent views, including the Skytop Tower.
While Lost City is aptly named, if you manage to reach it, there is much to be found.
---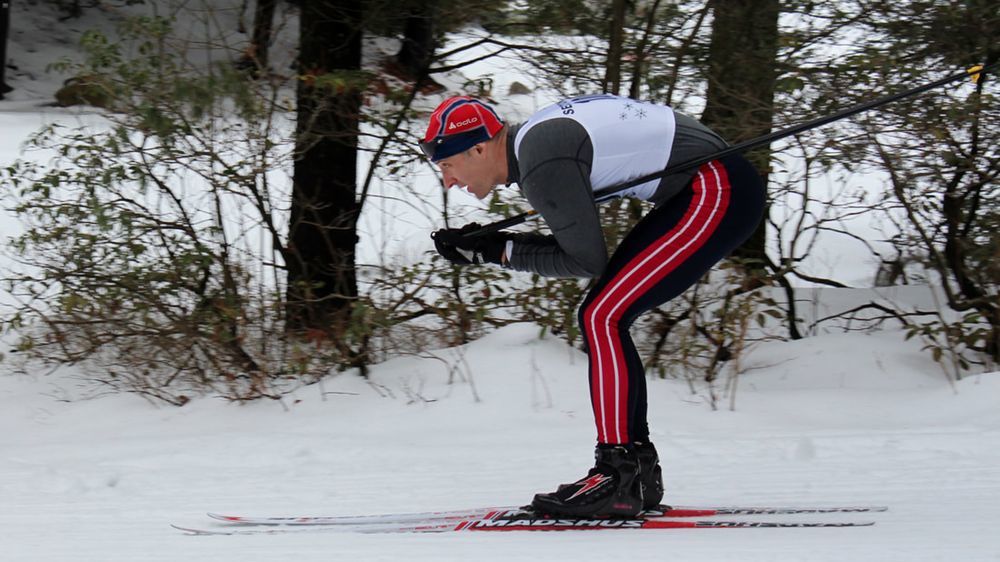 Mark Ruoff is an elite skier — and also a Mohonk Preserve volunteer.
SNOW PROBLEM!
Members of Mohonk Preserve's Ski Patrol put winter visitors on the right track
By Liz Hoskinson
What is possibly more heavenly than a day out on Mohonk Preserve in the green of summer?  
Answer: A day out on the Preserve in the white of winter. Winter snowfall re-shapes the Preserve into a strange and unknown terrain, and lovers of this enigmatic territory don skis, hiking boots and snowshoes to experience a wholly different display of Shawangunk beauty.
Snowshoers and hikers have an abundance of trails to explore in the Preserve in any snow condition, and these are often best enjoyed in their raw, untrammeled form. But for cross-country skiers, a well-groomed trail is a necessity. With each snowfall, the Preserve and Mohonk Mountain House groom the handful of trails that have proven to be excellent cross-country tracks, such as Overcliff and Laurel Ledge Carriage Roads from West Trapps and Spring Farm Road and Cedar Drive from Spring Farm.
The hitch? Should any hiker or walker tread over them, these groomed tracks are rendered impassable for skiing. Footprints make for divots, and any deep marks accelerate the snow melt. Within hours, a perfect track becomes unusable, and the skier often has to pack up and head home, deprived of a day in the Preserve.
Since 2016, a group of skiers have stepped forward to guide the many wintertime trail users and to help keep the paths pristine. Husband and wife Brad Anesi and Julia Vogelsang, both former computer engineers, are two such Ski Patrol volunteers, and they spend hours each snow season keeping an eye on these valued groomed trails.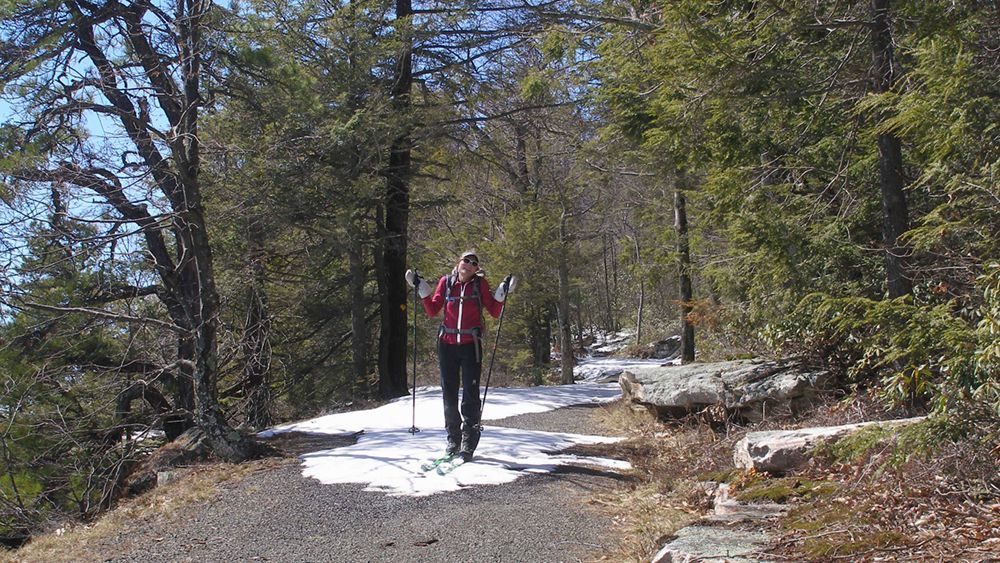 Julia Vogelsang makes the most of every snowfall at the Preserve.
"Guiding lost hikers back 'to being found' happens quite a bit," said Brad. "I've come upon some hikers and snowshoers who have been so turned around on the trails that I really wondered what they would have done if I or another ski patroller hadn't come along."
Julia said she regularly helps skiers figure out how to move forward. "I often come upon skiers, especially around the Mountain House, who are struggling to handle their equipment, or they've fallen, and they don't even know how to get back up on their skis," she said.
"I can show them how to do that and how to ski a bit. I can help them past their frustration. I can help them learn some skills and make the skiing more enjoyable.
"I used to be a math teacher, so maybe it's that desire to pass on something I like so much," she added.
Few ski patrols include Olympic-level skiers, but member Mark Ruoff trained for and participated in two Olympic selection biathlon trials before returning to the New Paltz area and joining the family-owned Mountain Brauhaus restaurant business in Gardiner.
He, too, spends what time he can out on ski patrol — any hours that might be left over from his restaurant commitments, serving as coach of the New Paltz Cross-Country Ski team, and his involvement with the Shawangunk Nordic Ski Association. Mark considers his Olympic training years as among "my favorite and most formative times in my life and it had a big influence on my appreciation of the natural environment." 
But, when out on the Preserve, he often finds it's not about skiing, but diplomacy. "People will say, 'We've paid. We have a right to be here.' But just explaining the reasons behind the restrictions, and with time and patience, hikers will be open to trying a different trail and be willing to leave the groomed trails unmarred."
While some conflict can be expected, being a Ski Patrol volunteer is mostly a serene experience. For Julia, it's been "beauty first, the [ski] conditions next. I'm a painter as well, so it's really amazing visually."
Brad added, "It's a magical experience, especially after a fresh snow. It's calming. We often find ourselves skiing all day when we come out on patrol."
Although from different backgrounds, the immersion in nature and the willingness to help others enjoy cross-country skiing unites the members of Ski Patrol. If you are interested in participating, please contact Andy Reynolds, Mohonk Preserve Volunteer Programs Manager, at volunteers@mohonkpreserve.org or 845-255-0919, ext. 1269.
---