Photo by Steven Aaron, Volunteer Photographer
Volunteer Voice #2 • Autumn 2020
If you are looking for a way to stay informed about all things volunteers at Mohonk Preserve, then look no further. The Volunteer Scribes are here!
In this issue:
Interpretive Guides Deliver Insight and Context to New Visitors By Laura M. Miller
A Day in the Life of a Trailhead Ambassador By Liz Hoskinson
Continuing a Scientific Tradition By Larry Feldman
A Century of Natural History Observations By Jill Feldman
---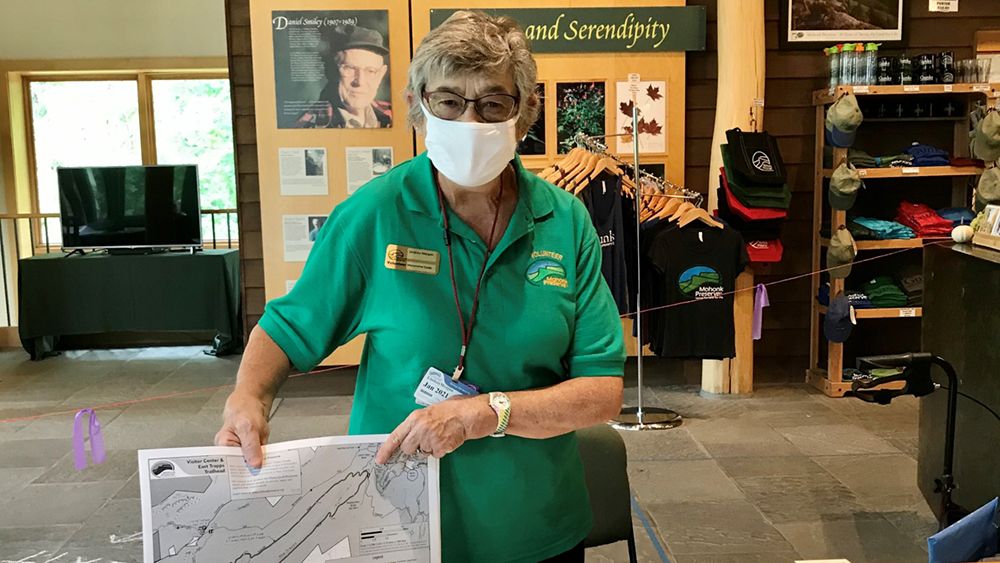 Photo: Lindsay Morgan, Volunteer Interpretive Guide by Andy Reynolds
Interpretive Guides Deliver Insight and Context to New Visitors
By Laura M. Miller
Anyone who lives locally or frequents Mohonk Preserve has been sure to notice the huge influx of visitors since the Preserve reopened on May 20. People looking to escape the confines of their homes after months in isolation sought outdoor recreation in record numbers during the spring and summer months. Many visitors are from in and around New York City – and many of them are first time visitors to Mohonk Preserve.
Those fortunate enough to stop in to the Mohonk Preserve Visitors Center are greeted by a friendly team of Interpretative Guides, led by Volunteer Coordinator Kenneth Pawson, in his second year in this role. There is some overlap in the responsibilities of Trailhead Ambassadors and Interpretive Guides; however, Ambassadors are out at the trailheads, whereas Interpretive Guides are stationed solely within the Visitor Center. The Trailhead Ambassadors take on more directional roles, while the Interpretive Guides aim to give visitors a sense of context to their surroundings by providing detailed information on specific hikes and what one might encounter in the way of geography, plant life and wildlife.
The number one question Guides get asked is about the probability of meeting up with a bear. This question may be fueled by the taxidermy bear cub on display in the Visitors Center, amidst the topographical maps and exhibits on local flora and fauna. It's a great teaching moment to explain the importance of not feeding the local wildlife, and visitors are ultimately relieved to hear that encountering a bear is extremely unlikely.
The Interpretive Guide group officially started at the Visitor Center in 2003. Mohonk Preserve currently has 17 Interpretive Guides and is always looking for more volunteers, especially with the recent increase in visitation. Pawson hopes to train the Preserve's next group of Guides in Spring 2021. Training is typically 3-4 hours – then the new guides "shadow" a more experienced guide, to get a better sense of the role and responsibilities. Volunteers are asked to commit to one four-hour shift a month.
While the Interpretive Guides all have various personal and professional backgrounds, they all have one thing in common – a passion for hiking at Mohonk Preserve and a personal knowledge of the trail system. "It's one thing to hand someone a map," says Pawson, "but it's another thing to have personal knowledge of the trails and to be able to let visitors know what they can expect to see." It's also helpful for Interpretive Guides to have knowledge of the Mohonk Mountain House and Minnewaska State Park Preserve lands, as the trails and carriage roads are all interconnected.
Another important quality for an Interpretive Guide is the ability to relate to people and communicate courteously, clearly and efficiently. Second-year Interpretive Guide Lindsay Morgan enjoys the challenge of matching visitors with the appropriate hike for their experience and skill level. "People often overestimate their skills," says Morgan. They might show up late in the day or bring along a young child and hope to take on a particularly long or challenging trail. She also reminds visitors about the importance of adequate hydration. "All I can do is try to guide them and hope they make the right choice," she says. Morgan and her husband spent many years hiking the trail system before becoming volunteers. They also volunteer for the Hudson Valley Rail Trail Association.
Says Pawson, "I've done a lot of volunteer activities here at Mohonk Preserve, but being an Interpretive Guide is probably the most fun and enjoyable assignment I've done here. I fell in love with it." Think you would make a great Interpretive Guide? Click here to learn more about the role or contact Andy Reynolds, Volunteer Programs Manager, at areynolds@mohonkpreserve.org or 845-255-0919, ext. 1269 for more information.
---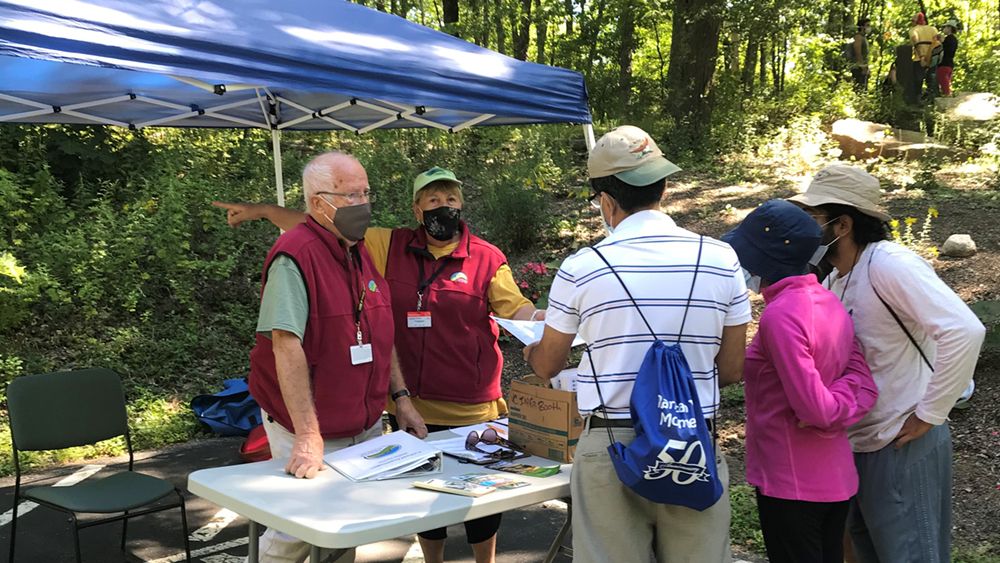 Photo: Trailhead Ambassadors Angelina Branche and Ron Seeley giving directions by Andy Reynolds
A Day in the Life of a Trailhead Ambassador
By Liz Hoskinson
During these challenging times, Mohonk Preserve has experienced a significant increase in the number of visitors hoping to enjoy the beauty and respite of our trails. Shortly after the Preserve re-opened in late May, volunteer Trailhead Ambassadors have been there to welcome and orient these new visitors. Angelina Branche, who started serving in this post since the position was created in 2018, volunteered again this summer at the Visitor Center Information Tent and, since then, has welcomed hundreds of new walkers and hikers. 
Angelina is enthusiastic about her ability to assist the hundreds of new visitors she greets and then guides to the most suitable Preserve trails. "They are just so excited to be [at the Preserve] and so excited to explore it," Branche said. Along with partner Ron Seeley, Branche takes up her post at the Preserve's Visitor Center on Rte. 44/55 on many Saturday mornings where she welcomes the vast number of enthusiastic walkers and hikers who enter the "VC" every weekend. She plays a key role in savvily guiding (and often redirecting) the newbies, who come armed with Instagram photos of the places they want to see, such as
Awosting Falls..."Maybe we should look at Coxing Trail instead given that it's 1:30pm already?"  
Lemon Squeeze ... "Not on the Preserve, and are you prepared to scramble?"
Sam's Point... "That's a good 20 miles away — a full day of hiking. Your kids might find it to be too much. How about Overcliff and Undercliff instead, especially if you would like some views and maybe a chance to see the climbers at work?"
There are also the high numbers of visitors who inquire, charmingly, about which trails have the restaurants and the gift shops along them. Branche is skilled in explaining that experiencing the essential nature of the trails and their surroundings is a main purpose of the Preserve. Within minutes, she has them off on a trail that will make for wondrous memories and, yes, have them excited to return and hike other routes. For Branche, this is all in a morning's work for her. As she says, "This is an easy job. All I do is share my love of the Preserve."
If, like Angelina, you want to share your love of the Preserve, its trails and its wonders, please sign up to volunteer as a Trailhead Ambassador. Training will be provided at the beginning of your shift and you'll be matched with an experienced volunteer. Preserve staff provide support, as well as snacks and beverages. Shifts are Saturdays and Sundays through the end of October. For more information, contact Andy Reynolds, Volunteer Programs Manager, at areynolds@mohonkpreserve.org or 845-255-0919, ext. 1269.
---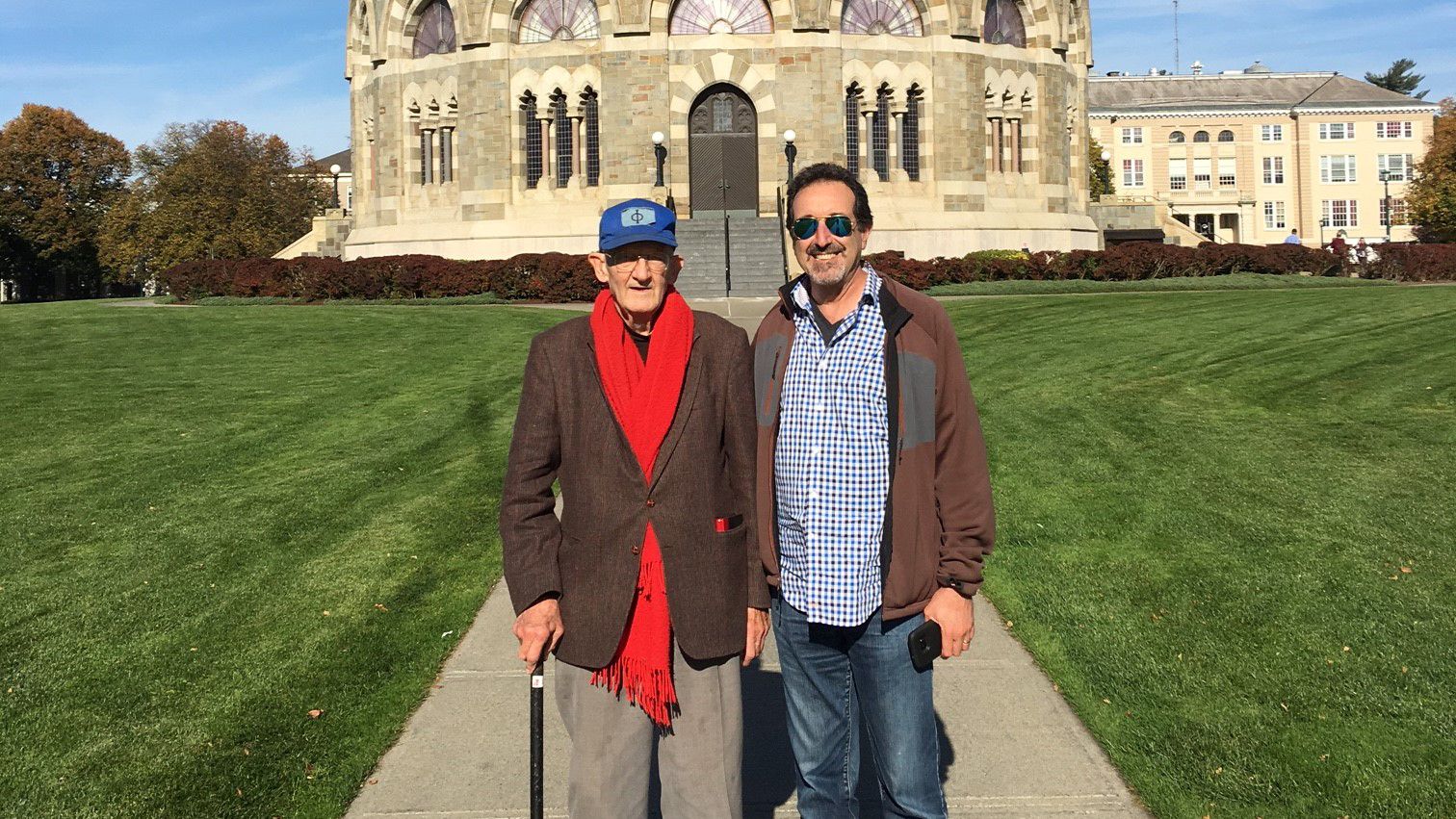 Photo: Climate Tracker and StreamWatch volunteer Larry Feldman with Professor Carl George, courtesy of Larry Feldman
Continuing a Scientific Tradition
By Larry Feldman
I have always enjoyed nature and the outdoors. Even as a young boy I found pleasure in exploring nature, turning over rocks in streams, observing my surroundings. So following my retirement I chose to volunteer at Mohonk Preserve, mostly in Conservation Science. Climate Tracking and StreamWatch are my primary assignments.
I began to follow in the footsteps of the late Daniel Smiley, who for most of the 20th century carefully observed, measured, and recorded data about the pristine land, the glacial lakes and the Shawangunk Ridge upon which the Mohonk Mountain House resides. Smiley reported on sky and lake conditions as well as phenology and animal behavior. 
When I became a Climate Tracker in 2015 my supervisor, Christy Belardo, introduced me to Paul Huth, Director of Research Emeritus/Associate Curator at Mohonk Preserve, and the successor to Daniel's work. Paul learned that I graduated with a Bachelor of Science degree from Union College in Schenectady, New York and he told me that he knew Professor Carl George, a Nature Conservancy colleague and friend of Daniel Smiley for many years. I recalled that Professor George, a biologist (and early ecologist), had organized Union student field trips to Mohonk Mountain House in the early 1970s to collect lake specimens for laboratory study. 
Paul and Carl were mutual friends of Daniel but had not seen each other in many years, so I arranged a lunch date at Union College for the three of us in October 2017. How interesting it was to listen in on these two naturalists recalling old times with Daniel Smiley! I realized the significance of their early work in the environmental movement and how critical that it be carried forward in the era of climate change.
After lunch Carl gave us a tour of the home he had built in the 1970s – a geodesic dome of the type made famous by Buckminster Fuller. We also took a short field trip to nearby Scotia on the Mohawk River to observe local flora and fauna. Now in his nineties, Carl did the driving!
It became clear to me that these two men viewed the natural world around them with the same boyish wonder that I always have. To be observant and curious is a lifelong journey and a way for me to connect the dots and circle back to the time in my life when I was considering a career in the sciences. Now, volunteering at Mohonk Preserve allows me to once more follow that forgotten green path.
---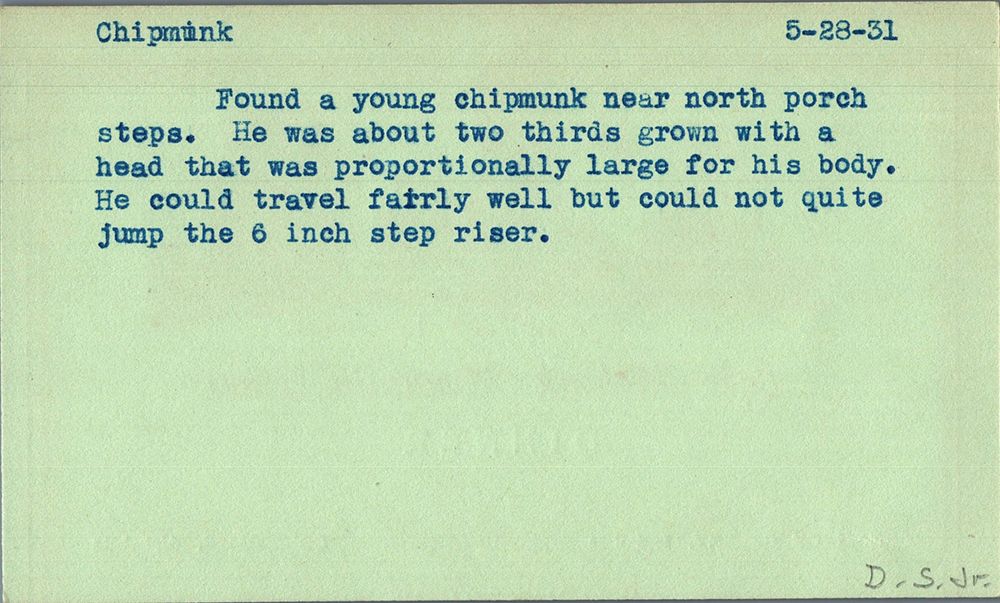 Photo: A card from the Daniel Smiley Research Center Natural History Archive
by Jordan Williams, Mohonk Preserve Digitization Technician
A Century of Natural History Observations
By Jill Feldman
We all know Mohonk Preserve is a treasure of natural wonders. But did you know that much of it has been chronicled and collected by scientists and lay observers, and is kept under lock and key in the Daniel Smiley Research Center's library? Besides having an extensive set of native plant and animal specimens, the DSRC houses a card catalog of observations dating prior to the 20th century. The most notable observers were Daniel Smiley and Paul Huth, former protégé of Daniel's and director emeritus of research at the Preserve. 
Prior to COVID-19 a small group of Preserve volunteers, under the direction of Natalie Feldsine, Research Collection and Citizen Science Coordinator, and Jordan Williams, Digitization Technician, took turns with the task of scanning each card in the catalog. (So far they have scanned 9,000 of the 14,000 cards. This process will continue once it is safe to do so.) 
In the meantime, the next step in the process has begun. It is not enough to simply scan the cards; the mostly hand-written data must be transposed into a database that can be easily used by researchers worldwide. The Preserve has enlisted the help of Zooniverse in tackling this otherwise daunting task. Zooniverse is the world's largest research platform, using over a million volunteers to participate in various projects. It is run by the Citizen Science Alliance (CSA), a collaboration of scientists, software developers and educators. At the heart of the CSA are nine institutions including Johns Hopkins University, University of Oxford, Adler Planetarium, and ASIAA in Taiwan.
After initial testing by Natalie late last year, Jordan continued with the project in January. Since being officially launched to the public on Zooniverse on July 21st, one half of the 9,000 scanned cards have already been processed by more than 1,200 volunteers from all over the world! Although we currently don't know who exactly these folks are, Jordan and Natalie have interacted with some of the volunteers on the site's talk boards. In Jordan's words, "most people found our project directly through the Zooniverse website and have been learning about Mohonk for the first time as they read through the cards. In fact, some of our most active volunteers live in the UK! I have really enjoyed getting to chat with them and see their excitement as they learn about a whole new range of flora and fauna that you don't find across the sea."
Anyone with a love of science, a knack for detail or simply a desire to help can do so. The Zooniverse site is easy to use.  Go to: https://www.zooniverse.org/projects/mohonkpreservedsrc/a-century-of-natural-history-observations. Click on "get started" and your first index card will pop up on the screen. Follow the prompts and type in the information. You can enter as few or as many cards in a session as you wish. Log in for as little as 15 minutes or even for an hour or two. There is no need to worry about making an error; each card is transcribed by 4 different volunteers. Any discrepancies are flagged by Zooniverse.
In Natalie's words, "With the impacts of COVID-19, having a remote project such as this has allowed us to continue outreach and engagement even when people can't visit us in person." So, if you think you might be interested, log on to Zooniverse and give it a try. Besides, what other volunteer duties can you do in your PJs? And make sure to record your Mohonk volunteer hours. Help us bring Mohonk Preserve to the world!
---
Each issue of Volunteer Voice is produced by Mohonk Preserve Volunteer Scribes. 
Writers:
Jill Feldman
Larry Feldman
Liz Hoskinson
Laura Miller
Editor:
Jill Feldman
Editors, Assistant Editors and Writers are needed. Writing, interviewing, and editing skills are helpful prerequisites, but training is provided. To join, contact Andy Reynolds, Volunteer Programs Manager, at areynolds@mohonkpreserve.org.