Photo by Karen Maloy Brady, Volunteer Photographer
Volunteer Voice #1 • Winter 2020
Introducing the Volunteer Scribes
By Jaden Thomas-Markarian
If you are looking for a way to stay informed about all things volunteers at Mohonk Preserve, then look no further. The Volunteer Scribes are here!
Volunteer Scribes is a new volunteer group devoted to creating articles for a quarterly newsletter, The Volunteer Voice, which will be all about volunteers and the activities they participate in at Mohonk Preserve. Volunteer Scribes create timely, engaging content aimed at informing readers of the volunteer opportunities and experiences available at the Preserve. You'll learn about the people, groups, places, events, and everything else that goes into making the Preserve such an amazing place to volunteer.
Editors, Assistant Editors, and Writers are needed. Writing, interviewing, and editing skills are helpful prerequisites, but training is provided. To join, contact Andrew Reynolds, Volunteer Programs Manager, at areynolds@mohonkpreserve.org.
---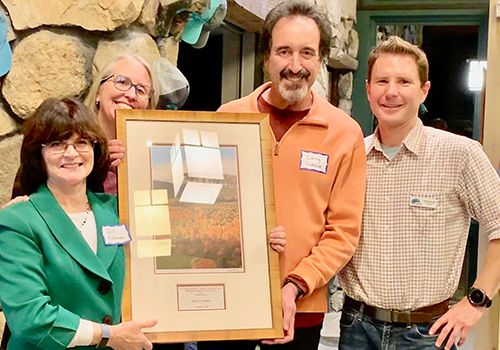 Photo: (Left to Right) Jill Feldman, MJ Martin, Larry Feldman, and Andrew Reynolds by Bonnie Hirschhorn, Volunteer Photographer
Jill and Larry Feldman Receive the 2019 Gregory Switlik, Sr. Volunteer Achievement Award 
By Andrew Reynolds and Natalie Feldsine
Each year, a committee of Mohonk Preserve volunteers, staff, and a member of the Switlik family meet to select a recipient of the Gregory Switlik, Sr. Volunteer Achievement Award. The award is to be given to a volunteer, who, like the late Greg Switlik, has done outstanding work over a period of time with the Preserve, either in one activity or many.
Greg shared years of knowledge, time and efforts with the Preserve in a variety of volunteer activities: Visitor Reception, Trailkeeper, Photographer, and Special Events Support, as well as serving on the Land Stewardship and Volunteer Committees, and as a Board Member.  Together with his wife, Penny, Greg touched thousands of lives through his volunteer activities.
Like Greg, our 2019 Gregory Switlik, Sr. Volunteer Achievement Award recipients, Jill and Larry Feldman, have shared years of knowledge, time and effort with the Preserve in a variety of volunteer activities and have made significant and invaluable contributions to this great place we all love.   
Jill and Larry began volunteering at the Preserve in November 2015. Since then, they have become mainstays, volunteering on a weekly basis and serving in important leadership roles. Additionally, they joined our Preserver Membership Program, which is our highest level of membership and provides critical operating funds. Jill and Larry also regularly attend our fundraising events, like our Annual Benefit Auction and NYC Benefit.
Larry immediately joined our Climate Trackers group, where he diligently volunteers every Tuesday to track weather data for our Conservation Science Department. He often picks up several extra shifts each month when we need someone to fill an open spot.   
Jill started by helping in an administrative capacity, steadfastly volunteering each Wednesday, tackling important clerical duties in support of our volunteer programs, special events, and membership and fundraising activities. When we need volunteers to help prep for a special event or a mailing to our supporters, Jill will come in an extra day that week to organize the project and do the work. She has also been instrumental in streamlining and organizing the barcoding process for our Conservation Science Department's Herbarium Project, which is an essential yet time consuming component of our efforts to digitize our legacy scientific records. 
In addition to these volunteer activities, Larry and Jill have also accepted important leadership responsibilities. Larry joined our Development Committee in 2016 and Jill became the Volunteer Committee Chair in 2018.  
Larry and Jill also volunteer together. When we started our StreamWatch program, they were among the first volunteers to sign up. Since 2017, they have been collecting data on a weekly basis at the Humpo Kill in the Humpo Marsh, which is a priority site for our Conservation Science team. Additionally, they have volunteered at our special events and represented the Preserve during community outreach activities.
Not only are Larry and Jill outstanding volunteers, but they also have a soft spot for animals. They adopted two kittens from Natalie Feldsine, our Research Collection and Citizen Science Coordinator, last year when she was unexpectedly tasked with taking care of a family member's cat and her new litter of kittens.
For these reasons and many others, we were honored to give Jill and Larry the 2019 Gregory Switlik Sr. Volunteer Achievement Award, which MJ Martin, our Vice President and Chief Development Officer, presented to them at the Volunteer Recognition Event on November 2. 
---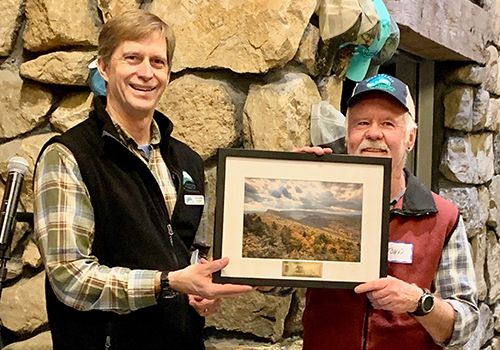 Photo: (Left to Right) David Toman and John Connolly by Bonnie Hirschhorn, Volunteer Photographer
John Connolly's Volunteer Legacy
By Andrew Reynolds and June Finer
Mohonk Preserve honors volunteers who have made outstanding and significant contributions to the Preserve over many years with our Volunteer Legacy Award. This year, we were honored to give this award to a volunteer who provided an unparalleled legacy of hiking, leadership, mentorship, and so much more at the Preserve. Our 2019 Volunteer Legacy Award recipient is John Connolly. David Toman, our Vice President and Chief Financial Officer, presented John presented the award at the Volunteer Recognition Event on November 2.  
John has been with our Weekend Hike Leader program since the beginning. Little did he know when he joined the second ever Mohonk Preserve Singles Hike for a walk in the woods in 1995 that he would be leading hikes with us for the next 20 years.
It all started with that hike. John would be a regular participant in the weekly hikes until he began leading his own hikes a year later. This was back when the Preserve's Visitor Center was located on Mountain Rest Road. After this building opened, John was among the first volunteers to serve at the front desk assisting the visiting public by answering their questions, suggesting hikes, and selling day passes.  
In addition to hiking the trails, John also helped maintain them, volunteering with Ed Reppart, the Coordinator of the Volunteer Trailkeepers, while also assisting longtime Trailkeeper, Tom Wilson, with the Rock Rift Trail.  
John became the Weekend Hike Leader Volunteer Coordinator in the year 2000 and served in this leadership capacity for the next 15 years. During this time, he continued to lead hikes, coordinated the Hike Leader schedule, trained and mentored countless volunteers looking to lead their own hikes, and served on the Volunteer Committee.     
We thank John for his legacy of service and leadership at Mohonk Preserve and are honored to present him with the 2019 Volunteer Legacy Award. 
---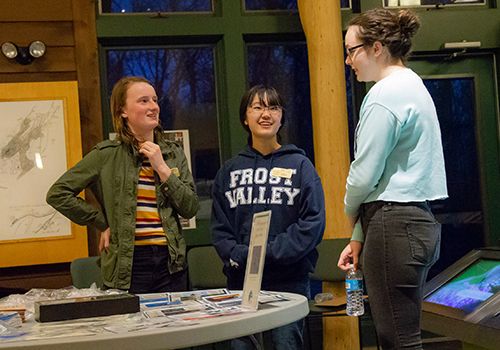 Photo: (Left to Right)  Amelia St. John, Kazu Shimada, and Kennedy Christiana during Youth Nature Ambassador orientation in 2018 by Karen Maloy Brady
Future Leaders at Mohonk Preserve
By Jaden Thomas-Markarian
High school seniors Amelia St. John and Kennedy Christiana received the Future Leader Award for their significant contributions to the Youth Nature Ambassadors (YNA) program. The award was presented at Mohonk Preserve's annual Volunteer Recognition Event on November 2 by Kazu Shimada, a YNA graduate and the 2018 Future Leader Award recipient. Amelia and Kennedy were recognized for their dedicated leadership in the program and their outstanding service over the past three years with the Mohonk Preserve.
The YNA program, available to teens, ages 13 and up, is a volunteer service-learning program at Mohonk Preserve. Using tools such as interpretive kits and hands on activities, YNAs utilize environmental science materials to educate the public. Each volunteer in the program is required to volunteer a significant number of hours. During weekends and school breaks, YNA's facilitate educational presentations for visiting families in the exhibit halls. During the summer these volunteers assist with outdoor camps.
Kennedy started the program toward the end of her freshman year at High Tech High School in Hudson County, New Jersey. "I just really like interacting with the kids," Kennedy explained. "It also helped me build a lot of confidence interacting with strangers. Of course, you'll never see half the visitors again, but you've never seen them before so it kind of bridged that awkward social barrier for me."
Kennedy estimates she's been coming up to the Preserve since 2012. "I enjoy it every time I volunteer here. It's nice to get to talk to the other volunteers and learn about their lives," she said. During her free time, Kennedy enjoys drawing, hiking, and the outdoors. "I'm a very outdoorsy person. If I get the chance, then I'm outside," Kennedy explained.
Amelia, a New Paltz High School senior, became a YNA in 8th grade. "I wanted to volunteer over the summer, and this was a great way to do that," she said. Amelia has very much enjoyed the volunteer work she's done at the Preserve. "It's something I enjoy doing and it's a good thing to do," she explained. Amelia also likes to run, ski, and hike whenever she gets a chance. 
Both Amelia and Kennedy understand how their work plays a crucial part in educating the public about environmental issues. "A lot of the kids come from the city so just connecting with the environment inspires them to be more educated and gets them thinking about what's actually going on," Amelia said. 
"We talk to the kids a lot. They just ask questions about the environment and we answer them. So, in a way, we are teaching them. But it's something they'll remember because the cool mentor who's only a few years older than them told them," Kennedy explained.
Amelia and Kennedy both intend to keep coming to the Preserve even though they have graduated from the program. Amelia plans to volunteer at camps next summer and is thinking of joining the ski patrol. Kennedy wants to become involved with the volunteer Hike Leaders and Climate Trackers. 
---