Hike and Draw Seasonal Workshop: Lady's Slippers and More!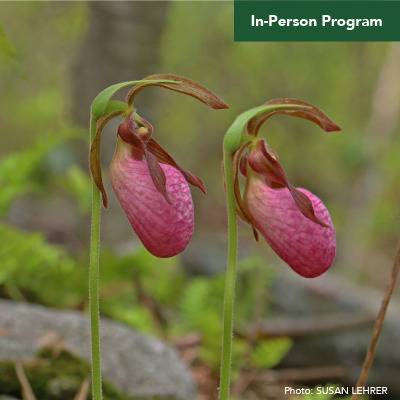 Join artist Wendy Hollender for a drawing hike and learn her techniques (new book The Joy of Botanical Drawing) at the peak of Lady's Slipper season. Learn to use a grisaille method for creating undertones in a neutral color for three-dimensional accurate drawing and clear structure of plants. Explore layering techniques that utilize watercolor pencil washes in combination with dry colored pencils, creating realistic vibrant color and rich depth.
Hike the trail in the morning and draw in place for about two hours to sit down in front of a bloom with your supplies and draw it. This minimizes disturbance while enhancing the joy of studying and drawing it. Take photos to continue drawing later if needed. The afternoon will be spent finishing the drawings on the trail or at the Pavilion. Bring lunch, water bottle and your own art supplies. Ages 15 and up are welcome and must always be accompanied by an adult. This program includes a moderate to strenuous, 4-mile hike. Registration is required and limited to 10. Masks are required. Fee: Mohonk Preserve Members: $80; Non-members: $90.